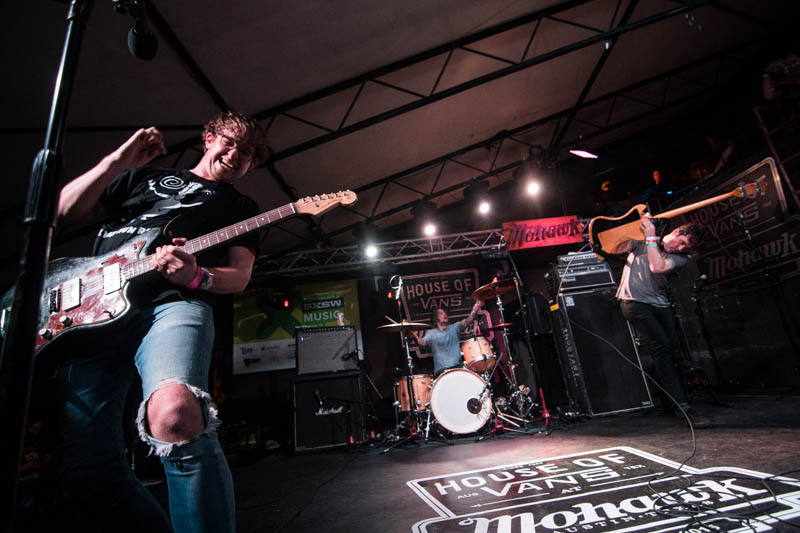 Photo Credit: Mike White
Someone got the memo. After several years of ramping things up to occasionally tragic degrees, South By Southwest—at least its music portion—has made good on its promise to reevaluate, streamline and reign itself in. Sure, it's still a heavily-sponsored event, but this year everything seems more proportionate. Gone is the gigantic Dorito's vending machine stage. (That space is a parking lot again.) And for all the pre-show press and tooth-gnashing surrounding those burger kings McDonald's having a presence on-site, casual attendees would have no idea. Even the fake Ronald McDonald bleating about conspiracy outside (courtesy of rabblerouser Alex Jones' Infowars—this is still Austin, after all) didn't do much to attract or divide people.
The fact is, this year's SXSW features noticeably fewer street teams and "brand ambassadors"; the money coming in seems to be flowing more toward the back-end via official sponsorships and less on unofficial pop-up events—although there are still many of those. There seem to be fewer college students spending spring break here, too. If this was someone's first time, it'd still seem overwhelming, but after several years of planting my feet in Austin each March, it feels positively chill.
Interestingly, although much of the talk concerning digital media and product placement has left the actual street, the conversation still raged inside the Austin Convention Center. Some of the most discussed panels were things like "Brandvertising: The Main Path For Artist Marketing", "21st Century Patronage: Brands Empowering Artists" and "Why You Matter To Brands/Why Brands Matter To You." Indeed, even the most practically useful economic panels for working artists tended to focus on newly emerging markets like micro-placement (example: placing 10 seconds of music into a content creator's YouTube video) and instructional talks like "Ear on Ads: Pitch, Produce & Place Successfully."
None of which seemed to matter or even touch the hem of Tom Brosseau's universe. Even though the North Dakota native has 10 albums under his belt and has enjoyed attention from such high places as the New York Times and NPR, he still plays as if he's in someone's living room. His unfortunate placement at party spot Cheer Up Charlie's meant the room was almost shaking with bass beats throbbing through the walls and floors. Brosseau didn't raise his voice, turn up his acoustic guitar or even even mention it. He didn't play as if he was ignoring the intrusion; he played as if it didn't exist. Eventually, the audience was able to listen as such, too.
If this was someone's first time, it'd still seem overwhelming, but after several years of planting my feet in Austin each March, it feels positively chill.
If I was to name a single artist who is the polar opposite of everything Tom Brosseau embodies, I'm gonna give the blue ribbon to Sam Hunt. In what is perhaps the single most incongruous booking I've ever seen at SXSW, Hunt played an afternoon show at The Fader magazine's Fader Fort presented by Converse.
Now, I've seen some ding-dongery. I've seen some weak-ass shows. This was beyond. Exactly what's going on with modern pop-country (shut up, yes he is) in that it thinks it's on permanent spring break? So many thoughts floated through my mind as he skinny-jeaned it all over the stage. This is Hootie & The Blowfish listening to the Soul Aslylum breakout album that only had one decent song. This is Luke Bryan's golf caddie. This is the muscular and cultural equivalent of binge-watching mall-fight videos on YouTube while munching on a bag of powdered donuts. This is as manly as remembering to turn your "Who Farted?" T-shirt inside out when grandma comes around. This is… just fucking awful.
But the Fort regained speed with a tight set by Detroit's DeJ Loaf and a positively inspirational set by Chance The Rapper & The Social Experiment. Impeccable live-streaming by the crew at Dell and The Fader's own production team meant you could be all the way in the back of the place and, if your phone could handle it, have basically your own visual stage monitor. Normally, I'd be loath to stare at a damn phone during a live show, but Texas has a lot of really tall people here and they're all full of Lone Star Beer and I just didn't feel like pushing anyone. (The live stream is happening all weekend at thefader.com for all you homesteaders out there.)
Other standouts so far have been Austin's own Gary Clark, Jr., another seemingly odd booking at the DJ/dance-heavy Empire Garage, but this one worked seamlessly. I could get all theoretical about how all dance music comes from the blues in the first place and try to figure Clark's place in all that, but the fact is he just plain rocked. That same night (Tuesday, Mar. 17) I banged hard on the stage-side window trying to get Patrick Ferguson's (Five Eight) attention as he was setting up his drums for their showcase at Valhalla, but he never heard me, and security was starting to get irritated at this person hitting their window and yelling "PATRICK!"—so I left.
The Mekaal Hasan Band from Lahore, Pakistan is the only group I've ever seen personally thank the U.S. Embassy for making their trip to Austin possible. Named for guitarist Hasan, the band never went past its stride, which is a very New Age-y, almost easy listening sort of thing. I gave them the old college try of, like, a full half hour of listening before I knew they weren't my thing.
Toronto, Ontario's Alvvays was much better than expected. Even though the person that turned me on to them—a professed fan who likes them a lot—describes them as being virtually no different from Best Coast, Rilo Kiley, et al, I'm compelled to disagree. I found Alvvays to have a fairly deep understanding of 1980s-style dream-pop and pre-shoegaze English-bred strummy-pop. And I enjoyed them thoroughly.
I'd never gotten to see METZ before, and they sounded exactly like their records. Everyone already knows METZ is a modern-day twist on that whole Jesus Lizard/Halo Of Flies/Amphetamine Reptile school of "let's rock in this really oddball, unexpected (yet, kinda expected) chord-change way, but actually be really huge Thin Lizzy fans at the same time," and they're still that. But dammit if they don't seem to have an overall better personality than any of their forefathers and, like the man said, personality goes a long way.
The Damned were beset by technical problems that delayed their start by a cool 15 minutes or so, thus giving them the opportunity to live up to their name. Captain Sensible told jokes in the interim, and when things finally got moving, The Damned played every bit as well as the wildly drunk English fellow behind me told me they would. "The Damned were my first fookin' gig ever, mate," he told me, and I know eactly what that type of excitement is like, so I didn't make any fuss when my shoes got sloshed as he danced wildly toward the end of the set. But, to be entirely fair, at that point they were playing "New Rose," "Neat Neat Neat" and "Smash It Up" all in a row, so we each deserved whatever we got.
As I write this, early evening Thursday, Mar. 22, I'm headed headlong into a string of performances over the next two days from BADBADNOTGOOD with Ghostface Killah, Mike Will Made It, Kevin Gates, Viet Cong, Hudson Mohawke, Atlanta's Two-9, Swervedriver, The Pop Group, Migos, Earl Sweatshirt, SOPHIE, Gorgon City, Public Service Broadcasting and, of course, the Athens In Austin party with 14 acts of our very own.
So, really, what's so different this year? I mean, the major brands are still paying for lots of stuff—most of which wouldn't happen otherwise—people are still partying everywhere, and there's still way more to do than you'll ever get done. For years, people have bemoaned that SXSW has gotten "away from its roots" as a music-focused event and accused it of growing into a behemoth marketing venture for the well-heeled. Both accusations are accurate, if a tad unfairly venomous.
The overall debate is not without teeth, but if nothing else, in the first year following the only deaths to ever occur during SXSW, I can report this: For all the focus on what artists can do to align themselves with someone else's idea of cool, the loudest voice during SXSW 2015 is the music itself. Which was always the point, right?
Like what you just read? Support Flagpole by making a donation today. Every dollar you give helps fund our ongoing mission to provide Athens with quality, independent journalism.