Editor's note: Local bluegrass group Packway Handle Band is currently sailing the high seas on Kid Rock's Chillin' the Most cruise. Thankfully for us, they'll be blogging about their experiences all week long.
Michael Paynter: It was a long day. Started out with too much breakfast and too much coffee. Then I headed to downtown Key West. Hit up a few souvenir shops and then found Sloppy Joe's, what looked to me like a good representation of the town. Had a local beer and then found an outdoor patio where I was able to witness a few groups of pub crawlers. We were told Key West has more bars per capita than Manhattan, and I believe it. One lady exclaimed, "This is so much fun! I'm so wasted!" It sounded like the pub crawling was working. Got back to the ship and ventured onto the pool deck for a Piña Colada and buckets—yes, plural—of beers. Way too much time in the sun breaking it down to miscellaneous party hits. Opted not to take a nap and push through to the evening. We started up playing in the elevator and then moved on to specific cabins. At one point, Zach was lying on the bed with his bass while we played a Peaches song.
Josh Erwin: I didn't realize that I'd said, "…yeah, and that happened Tuesday" while on the phone with my wife in Key West. The last two days of the cruise felt like they had been an entire week, and the 30-minute phone call explaining it all felt like only five minutes. Anyway, I took a break and walked down Duval Street to the beach to jump into the ocean for a few minutes, since we were now able to disembark for a few hours. Once I got back on board, it didn't take long to realize that everywhere we turn, people are recognizing us. Passengers know what it's like to get uber-sweaty in a party elevator because of us. For Wednesday, we booked a little mini-cabin tour for some of the guests who requested that we stop by their rooms to play. If we do well in packed elevators, we'd surely do better in the slightly bigger cabins, right?
More than one kind, concerned staff member calmly and sensitively explained to them that the Michelob Ultra was out on the whole ship and they were doing everything they could to have more brought aboard.
Before we embarked on our night's tour/walk-around, we took a second to learn the Peaches song Zach just figured out the bass line to. "I see you stuffin' yo face/ Why don't you stuff me up/ Eat a cookie, eat a big dick every day/ Whaaa…" repeat, repeat, repeat, last verse same as the first, etc, etc. We walked out the door to start the evening and two seriously coked out, sunburned guys yelled at us: "OHHHMANPLAYSOMETHINMANOHHDAMNOHOH!!!"
Needless to say, the new Peaches tune went over very well.
Onward to cabin 8117—Lucky from Calgary's room, who turned out to be MIA. Back to the elevators to get over to see Denise, who is from Savannah, in room 9606. This was the party spot. She opened the door and we stormed in. People were wearing our new shirts, cameras were flashing, and about 20 people were screaming from balcony to bathroom within a space that was maybe the size of two elevators, but with less standing room, due to furniture and a king-sized bed. Zach took the horizontal, prone position on the bed with the upright bass, and the only place for the rest of us to stand was encircled around him.
Fifteen minutes went by in a blur, and we were off to make our way to our new friends from Maine. We played our way back down to the fifth floor, but no one was home. Back to the elevators to knock again. "Oh my God, I didn't think you would be playing inside my room," they said when we finally found them. I clambered up the bunk bed ladder and everyone else stood. Taking a look at who was around, we had gained some followers from the evening's trek so far.
Familiar faces are comforting. Last stop was Nora's cabin on the 10th floor. She's from Texas and has been super stoked since she caught us in an elevator Tuesday night. I don't know how, but it looked like she spray-painted "TX Women Love Packway Bluegrass" on the giant mirror behind the bed. "Play that plow song you played for ME last night," she yelled, while jumping on the bed like it was a trampoline.
We were ready to wrap it up, but the new folks hadn't heard enough. Some drunk dude suggested, "Play something that says 'mutherfucker shit' in it, man" [*read in your best been-up-for-22-hours-in-Key-West-and-on-a-cruise-ship-drinking raspy voice]. Lightbulbs lit up in all of our heads, and we started it off: "I see you stuffin' yo face/ Why don't you stuff me up…"
Andrew Heaton: Let me tell you, it's not easy to stay up all night doing what we do and getting up in the morning to get this stuff written before a noon deadline. Yesterday was Key West, which meant cell service, which meant catching up on a landslide of messages, email, etc. Key West was accessed by an amusement-park trolley ride through a naval base and straight to a central square lined with trinket shops. I didn't stay long.
Back on the ship, I went running in the heat and finally spent some time in the insanely and reassuringly salty pool. Two getting-to-be-really-drunk-but-not-as-drunk-as-they-wanted-to-be women from Texas explained to me that the ship was out of Michelob Ultra and that was all they drank. They used to drink other beers until they went on the first Kid Rock cruise a few years ago, but now they only drink Ultra. More than one kind, concerned Asian-Pacific staff member calmly and sensitively explained to them with that the Ultra was out on the whole ship and they were doing everything they could to have more brought aboard. Their patience amazes me. These staff earn their keep—like really earn their keep.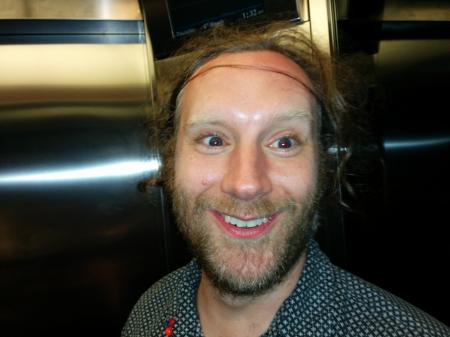 Eventually, it was time for Kid Rock on the main stage again. Everybody knew all of his songs. The sound was really good. I wish every venue and festival had sound like this. I missed the only Kid Rock song I actually knew while I was eating fried chicken, but I made it back for the beach balls. I had watched one woman trying to blow those up with a hand-held compressor earlier that day, and now the drunken people on the ship batting the balls around during Kid Rock's set were the fruits of her labor.
At 10:30 p.m., we headed out to do our job. Tonight we had a list—a list of cabins we were going to invade. Zach also had a Peaches song in his head, and we started with that. Like every time before, it was a blur. Zach spent a lot of his time lying on cabin beds with his bass lying on his chest. People freaked out. A girl wanted us to sing songs about plows. We did so. She sang along highly incorrectly but with the greatest of zeal. After our shift, we went to eat hot dogs, which was a really bad idea. I am realizing that right now.
Tom Baker: Day three was another good one. The ship was docked at Key West by the time we woke up. Shuttles took everybody down to the center of town, where there was shop after shop selling air-brushed shirts and shot glasses. I found a place to drink a beer and catch up on days of unchecked emails. When we got back to the ship, the staff was busy removing all of the deck chairs in preparation for the big poolside Kid Rock show.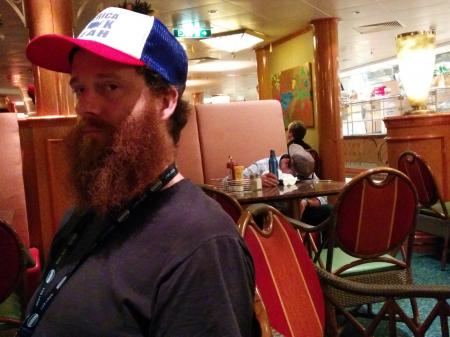 After two days of playing and wandering around the ship, people have started to recognize us. They'll come up and say how much they loved us playing in the elevators and stairwells. I ran into a bunch of Canadian girls who mistook me for the bassist of The London Souls (the other guy on the boat with a huge red beard). Once they realized I was the banjo guy, one of them pulled out a camera and showed me a video of herself dancing topless in front of us from the night before.
I walked around the boat for the hour before the Kid Rock show, and it was deserted except for the pool deck. I had seen Band of Heathens play at least two sets to large, enthusiastic crowds, but now they were playing in one of the larger venues to a small audience. Everybody on the boat likes all of the bands, but they are obsessed with Kid Rock, and were on the pool deck staking out their spots for the main event well before he hit the stage. The staff was correct to remove the pool chairs, because the deck was absolutely packed full. When Kid Rock took the stage, everybody knew every word.
Zach McCoy: Dear diseased man who propositioned me for sex on a street corner in Key West: Thanks, but no thanks. How about a little more discretion next time?
Key West: I challenge ANYONE to find a unique gift. Endless fucking gift shops, all with the same inventory. Beautiful town nonetheless, I suppose.
On the ship, I witnessed a woman attempting to carry a mound of eggs and at LEAST 15 strips of bacon outside. Unfortunately, a rogue wind came along and carried every piece of bacon out to sea. It was beautiful.
Like what you just read? Support Flagpole by making a donation today. Every dollar you give helps fund our ongoing mission to provide Athens with quality, independent journalism.