Rise and shine! Orchestral dream pop band Night Palace reveal a mesmerizing new lyric video this morning for "Nightshade," a track off of the upcoming album Diving Rings. Buoyed above an ethereal sea of glittering notes, singer Avery Leigh Draut's delicate vocals float their way through tender and poetic memories of her grandmother. With a nod to Magic Realism, "Nightshade" finds the inherent wonder and slight peculiarity of the everyday.
"My grandma first told me the magic that if you plant pennies under hydrangeas that the flowers will change colors," says Draut about the song's opening line. "She was full of this type of natural factlet, and I find myself echoing her magic all the time."
Demonstrating her roots in classical performance, Draut's arrangement for "Nightshade" calls for a chamber ensemble that includes Tereksa Grynia and Serena Scibelli on violin, Elizabeth Bennett on harp, Greg Hankins on harpsichord and JoJo Glidewell on keyboard and synth.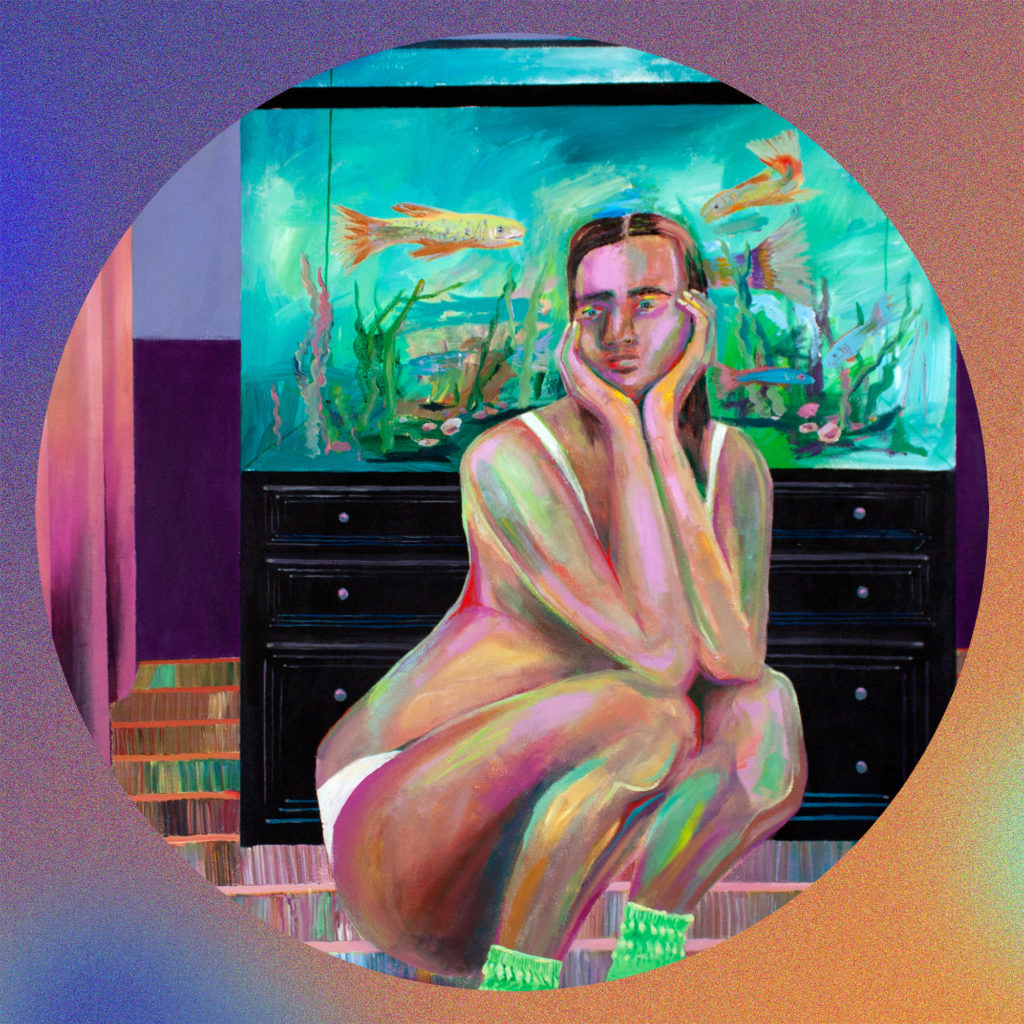 The lyric video for "Nightshade" depicts an immersive virtual environment called "The Gate (Journey)" created by Toronto-based artist Diana Lynn VanderMeulen. Based on a series of 2D mixed-media landscapes, "The Gate (Journey)" combines new media technologies and various techniques such as collage, painting and digital 3D modeling tools in order to present a meditative 360* exploration through a fantasy world. The result is an ethereal landscape full of hyper-saturated colors and unusual textures that spark curiosity and contemplate the tension between synthetic materials and natural occurrences.
"I first reached out to Diana about screening her art as live projections for a Night Palace chamber orchestra concert-play in 2018, and last year she created visuals for An Autumn Spell, the virtual music and animation special I put together (which featured Cecile Mclorin Salvant, Frankie Cosmos, Ohmme, Shamir and more!) to benefit The Okra Project. I've always felt like Diana's and my art call to each other, and I'm so over the moon to pair them in this way!"
Lyrics:
Burying pennies at the roots of hydrangeas
Violet florets in the eyes of strangers
Daylight and nightshade with your dark glasses on
Ears full of ocean and its shimmering song
You want to be buried in seafoam arms
Sunlapped limbs dressed in oceanic charms
Fair winds and following seas
You gave your voice to me
Salamander clouds, your wrists of Chanel no. 5
Your coral lipstick smile made the sun rise in the sky
Saltwater petrifying your sand dune hair
You've never been afraid of the unknown there
Fair winds and following seas
You gave your voice to me
With vinyl pre-orders kicking off tomorrow, Nov. 10, Diving Rings is slated for official release on Feb. 11 via Park the Van.
Like what you just read? Support Flagpole by making a donation today. Every dollar you give helps fund our ongoing mission to provide Athens with quality, independent journalism.