Over the past five years, Volumes has established itself not only as a platform for promoting the visibility of the local hip-hop scene, but a valuable resource for independent artists looking to fine-tune their skill sets. Spearheaded by Sam Lipkin, who joined Flagpole's editorial staff in 2021, Volumes will celebrate its fifth anniversary this weekend with the return of its annual festival, Scrapstock. 
"For the hip-hop community, Volumes is a resource to learn about music business, artist development and how to market music," says Lipkin. "Within the larger Athens community, Volumes brings hip hop to the spaces where other audiences are rather than trying to direct the broader community to the spaces hip hop is already present."
Several years ago, while navigating the career limbo that often follows college graduation, Lipkin and her hometown friend Trevor "Trvy" Wiggins became friends and moved in with members of the Space Dungeon collective. Though still holding out for a position in her field, she spent her time attending hip-hop shows, visiting the studio and otherwise deepening her roots within the local music community.
After a series of conversations with housemate Kevin Boyd (Son Zoo) about limited press coverage of hip-hop artists, Lipkin saw an opportunity to put her writing background to use and carve a new path, all while supporting the scene she had grown so fond of. Alongside Rusty Holcomb, who contributed his photography and graphic design skills, she launched Volumes Hip Hop in January 2017 as a print zine determined to serve the community through an events section, artist interviews and a music services directory.
Six months into running the zine, Lipkin put together the first-ever Volumes house party, which soon led to an invitation to present an official show downtown. After circulating print editions for roughly a year, Volumes pivoted to an online blog, where it continues to spotlight new releases by regional artists, and shifted its focus to booking more frequent showcases.
Left to re-evaluate everything in an industry extremely curtailed by the pandemic, Lipkin also rebranded her platform to include Volumes Media in December of 2020. Operating parallel to Volumes Hip Hop, Volumes Media specializes in providing services for independent musicians such as developing effective marketing rollouts, social media presences and electronic press kits.
"There's a string of cliches about how true growth takes place in the spaces where you're uncomfortable, but it's true," says Lipkin. "In the last five years, I've witnessed local hip hop flourish and finally get a lot of opportunities it never had here, and that's not to say there isn't always work to be done, but there is a lot of opportunity here for those who work."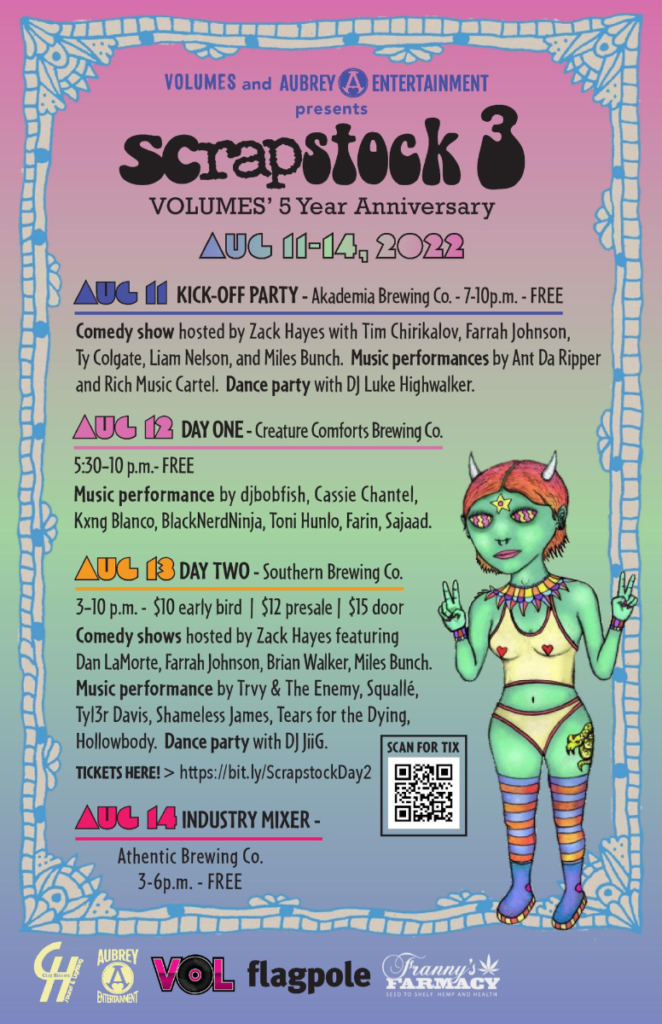 Returning after a pandemic-induced hiatus, the third iteration of Scrapstock will be spread across four different breweries over the course of four days. Steadily expanding in size and scope, the festival has kept hip-hop artists at the forefront while simultaneously incorporating musicians of all genres, local businesses and other creatives who have fueled Volumes over the years. This time around, the lineup brings several distinctive new acts into Volumes' fold, and also includes a pair of performers who won slots through an Instagram contest.
Co-presented by Aubry Entertainment, Scrapstock 3 will warm up with a kick-off party at Akademia Brewing Co. on Thursday, Aug. 11 from 7–10 p.m. Hosted by Zack Hayes, a comedy show will feature standup by Tim Chirikalov, Farrah Johnson, Ty Colgate, Liam Nelson and Miles Bunch. Performances by Ant Da Ripper and Rich Music Cartel will be followed by a dance party with DJ Luke Highwalker to close out the night.
On Friday, Aug. 12 from 5:30–10 p.m., the party moves over to Creature Comforts Brewing Co. for sets by djbobfish, Cassie Chantel, Kxng Blanco, BlackNerdNinja, Toni Hunlo, Farin and Sajaad.
Over to Southern Brewing Co. on Saturday, Aug. 13, Hayes, Johnson and Bunch will return alongside Dan LaMorte and Brian Walker for a second installment of comedy, while Trvy & The Enemy, Squallé, Tyl3r Davis, Shameless James, Tears for the Dying and Hollowbody take the stage for a night that spans across genres with hip hop, alt rock and death rock represented. A dance party led by DJ JiiG will start off the event, which is expected to run 3–10 p.m.
The weekend will then wind down with a free industry mixer with djbobfish, Clarkia and izzy at Athentic Brewing Co. on Sunday, Aug. 14 from 3–6 p.m. All Scrapstock events are free, with the exception of Saturday which runs $12 in advance (bit.ly/ScrapstockDay2) or $15 at the door.
"Five years feels very surreal, and mostly I feel very grateful and satisfied for where I am today, both professionally and as a person," Lipkin says. "When I started Volumes, I was very lost and insecure. It has been nothing short of a journey, but people reaching out to me to say thank you for giving them a shot and putting them on stage for the first time, or even for being the first person to ever pay them for a show, means so much to me. So really this anniversary is five years of so many connections and experiences that have permanently changed my life."
Like what you just read? Support Flagpole by making a donation today. Every dollar you give helps fund our ongoing mission to provide Athens with quality, independent journalism.