Three Athens companies have been named finalists in the annual Flavor of Georgia competition, a showcase for Georgia-made foods that has recognized dozens of barbecue sauces, salsas, honeys and other products in its 13-year history.
The competition is sponsored by the University of Georgia Center for Agribusiness and Economic Development, and is judged by distributors, buyers and other executives in the food service industry.
The three local companies that will participate in a Mar. 19 showcase event include Epting Events for its braised short ribs, Pouch Pies for its chicken butternut squash pie and Classic City Bee Company's smoked honey.
Founded 45 years ago, Epting Events is well known regionally for its event-planning and catering services. With the entry of its always-popular short ribs in this year's competition, the company is exploring a possible entry into the retail food space. Epting has teamed up with the UGA College of Agriculture to explore ways to label, distribute and market new products.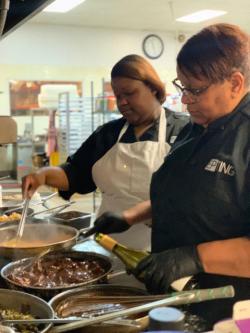 Keith Roberson, who runs Epting's special projects and business development, says the company "wants to take some crowd favorites and turn [them] into something that people can get at their local supermarket." Head chef Janice Witcher, who has been with Epting for 40 years, makes the short rib preparation sound easy: "Season the pan by sautéing carrots, celery and onion, then add short ribs and do the same process. Cover with stock, salt and pepper, simmer slowly… 'til they are nice and tender."
Pouch Pies opened its first outlet in downtown Athens in 2013 and has since gone on to serve pie-starved Anglophiles across the country. "We moved to the U.S. 10 years ago from South Africa and discovered a gap in the marketplace of what's considered to be a good savory pie," says Charmaine Enslin, who manages the kitchen that prepares the company's wholesale orders. "All countries except the U.S. have a savory pie in their cuisine," she says, adding that their customers can "experience flavors from all over the world."
A look at the company's menu bears this out, with cleverly named pies ranging from Australia's "Dinki Di," a pie with ground beef in a tomato-based gravy, to Thailand's "Yum Mi Pai," made with chicken in a green curry sauce. Offerings based on Moroccan, Russian, Irish, Scottish, German and Indian ("Mumpie") cuisines are also available.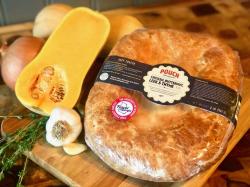 The company uses locally sourced vegetables for its pies and is searching for local sources of chicken and meat. The pies are available at the Broad Street restaurant for dine-in or to bake at home.
Classic City Bee Company founder and real-estate lawyer Doyle Johnson first became interested in bees during a vacation to Northern California, where he was introduced to a beekeeping family that had been in the business for 100 years. His interest grew during his first year in law school, when he "read everything [I] could about bees, their habits, reproduction, swarm locations. It's difficult for me to pinpoint what drew me to them." For spring break during his first year of law school, he built his first beehive.
Johnson formed the company in 2016 as a partnership with his father, Scott, who caught the beekeeping bug from his son. They submitted the company's smoked honey to the Flavor of Georgia, where it caught the judges' attention and is now a finalist in the competition. "The honey business grew as a byproduct of the beekeeping," Doyle Johnson says. "Collecting and selling honey allows me to spend time with the bees."
Johnson developed a special "cold smoke" process for the new product, in which the honey is dripped slowly inside a smoky chamber separated from the fire. Johnson says he and his wife like to make salad dressings with the honey, or use it to introduce a smoky note when they don't want to cook salmon on the outdoor grill. He expects the new product to be available on the company's website within the next two to three weeks, and it will be rolled out soon after at many local retailers, including the "Georgia Local" section at Publix stores across the state, the Daily Groceries Co-op and the Uncommon Gourmet.
The company's website is a fount of information on bees and their central role in the development of human societies and cultures. According to Johnson, ancient Egyptians traveled with the honeybees up and down the Nile so they could pollinate crops, and still-edible 4,000-year-old honey in clay pots was found in Egyptian pyramids.
UGA's Sharon Kane is the coordinator of Flavor of Georgia, and she is proud of the competition's positive impacts on the state's agriculture industry. "Georgia companies have submitted more than 1,400 products to the competition, and research shows that finalists and winners average an 11 percent increase to their sales," Kane says. "We want to take businesses that are ready to grow and give them the extra publicity and networking to get them to the next level of success."
The competition evaluates products from 13 categories, including barbecue sauces, condiments, honey, meats and seafoods, sauces and others. Judges select three finalists from each category, and those finalists are invited to the Mar. 19 showcase at the Freight Depot in Atlanta. Along with bragging rights, the 2019 grand prize winner will receive exhibit space at the Georgia Food Industry Association's convention and three consultations from the UGA Food Product Innovation and Commercialization Center.
Like what you just read? Support Flagpole by making a donation today. Every dollar you give helps fund our ongoing mission to provide Athens with quality, independent journalism.