PUMA YU'S (355 Oneta St.): It is an unusual experience to go to a restaurant whose guiding spirit is nonchalance, even more so to enjoy the experience thoroughly. From birth, we are told that the customer is king, able to shape the world at their whim, but what if a restaurant just did what it felt like and figured customers would come to it. This is not to say that there are no restaurants in Athens other than Puma Yu's that are built on that principle, or that it is some kind of Soup Nazi place at which clients must abase themselves for the promise of deliciousness. It's just that it's refreshing to encounter such a low-key, confident attitude in a young restaurant that also does its job so well. Like it or not, it is what it is without apology, and it turned out I liked it very much.
Is Puma Yu's a restaurant at all? Or is it a bar that also has food? The answer doesn't really matter, but the bar is quite important to the vibe, as well as a crucial contributor of smart, tasty drinks, boozy and non (there are always alcohol-free cocktails, and during Dry January there are more than usual). It also has its own social scene and takes up a large portion of the restaurant, which is tucked into a small space in the new Southern Mill development on Oneta Street. The cocktail menu isn't huge, and it's well considered, with a focus on rum and Japanese spirits. Get there between 4–6 p.m., and you can snag a happy hour deal on items like the Ti' Punch, which includes Steen's cane syrup, lime and your choice of Oaxacan, fragrant French West Indies or Haitian rum. It's simple, drinkable and fun, designed to show off the liquor. 
When your food arrives, you may want to switch to beer, specifically the Thai lager Singha, which pairs nicely with the strongly flavored dishes. Make no mistake, it is very easy to spend over $100 at Puma Yu's on drinks and small plates, but you can do well for less than that, too. One of the most delightful dishes on the menu is the Spicy Mama noodles, instant fare sassed up with chicken, fish sauce, lime juice and plenty of chili crisp. It's the kind of thing you might put together yourself after a night of drinking, and it is only $8, which you can't beat for the taste punch it packs. At the other end of the spectrum is the whole fried flounder, served with its flesh cubed like a mango (or a mojarra frita). It is a painful $36, but it is so damn well executed and, if not quite enough food to satisfy two people completely, at least a very substantial plate. Flip it over. Eat the fins. Chew on the bones. Every bit of it should be savored, unless you are on the kind of first date where you're not chomping on fish bones yet. Likewise for the large and excellent chicken wings, which come with a coconut milk ranch on the side and big spears of carrot and cucumber. They're lightly sauced but hardly shy.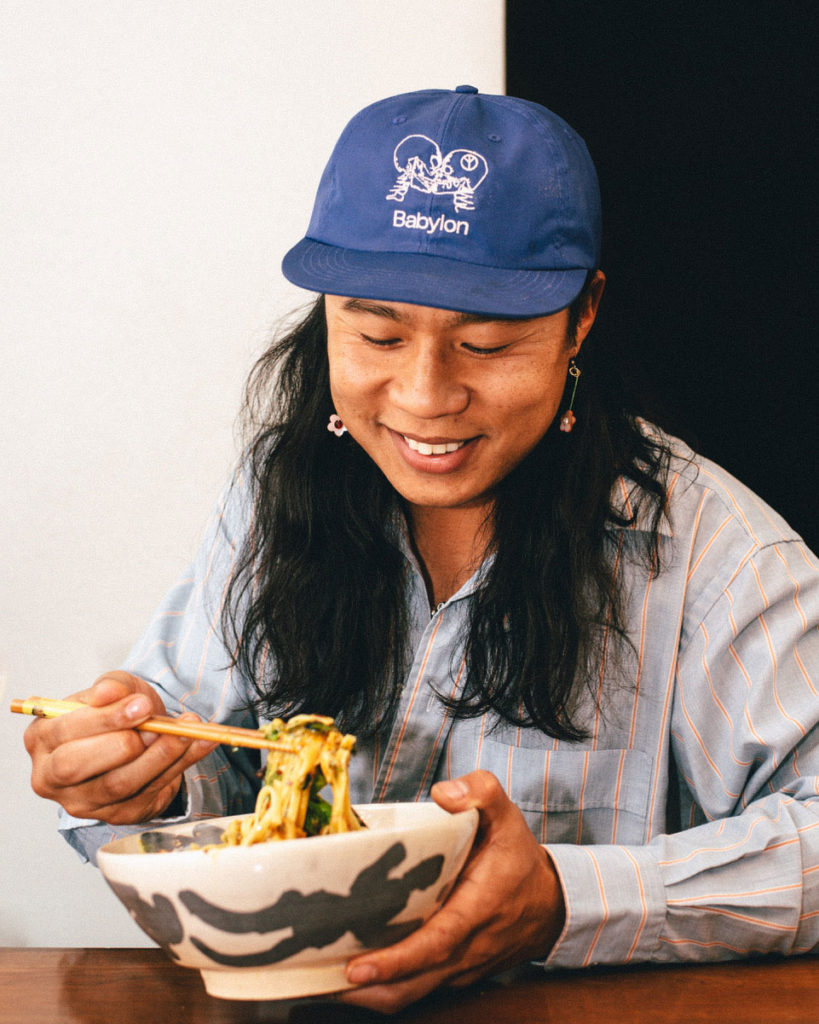 I tried nearly everything on the menu, and perhaps my favorite dish was the roasted local winter squash with hakurei turnips, which comes sliced, in a bowl of creamy, vegan, gluten-free coconut milk sauce flecked with chili and crunchy pepitas. It does not feel ascetic. It appreciates each of its components and knows how they'll play together. The three salads (one beef, one mushroom, one neither) are somewhat similar, but on the whole the dishes remain distinct from one another, despite using many of the same ingredients. If you are not a lime juice/fish sauce/chili person, Puma Yu's might not be your jam, but I am, and not everything the kitchen puts out is spicy. What is spicy varies in degree. Some things aren't hot at all. The pork-and-collard-greens curry is subtle and meaty, without going too hard on the iron-rich tang collards can have. Other things, like the tom yum soup (which includes a large, sweet, firm prawn that could not be more perfectly cooked) build heat slowly. There's rice alongside many of the dishes to fill you up and to moderate the spices if you need it.
Don't want to bump elbows with others or breathe their air? There is a large covered patio with heaters that probably seats as many people as the inside. You might end up out there anyway if it's a busy night and you don't have a reservation. The unisex restroom is stocked with anything you might need: condoms, breath mints, menstrual products, floss. Parking is ample. The area is new enough that it doesn't exactly feel like Athens yet, but in a nice way. All checks include a 20% service charge, with the option to tip more, which isn't as good as moving away from the tipping model entirely (everyone should just get paid a good wage) but is better than servers relying on customers' whims. Puma Yu's is open for dinner and drinks 4–10 p.m. Tuesday through Thursday and 4–11 p.m. Friday and Saturday, plus brunch 11:30 a.m.–3 p.m. on Sunday.
Like what you just read? Support Flagpole by making a donation today. Every dollar you give helps fund our ongoing mission to provide Athens with quality, independent journalism.