CLASSIC CITY EATS (1290 Greensboro Hwy., in Watkinsville, 706-705-6434): The first thing you need to know about this restaurant is that it's not, in fact, in the Classic City of Athens, but in Watkinsville, fairly close to that city's downtown. Here's the story: It opened originally in 2015 on Baxter Street, across from the library, as a location of Champy's World Famous Fried Chicken, a Chattanooga-based restaurant with a Mississippi Delta persona. The chain served fried chicken, Delta hot tamales, 40s of beer, blues and a nightlife-y atmosphere. In early 2020, the owners of the Athens branch decided to create their own thing, renaming the restaurant Classic City Eats and tinkering with it a little. A year later, they moved it to Watkinsville into a formerly industrial building, expanded the menu and kept the name. Sports memorabilia, including many signed jerseys, made the trip. The vibe is both similar (a big bar takes up a sizable chunk of the large space; fried stuff still makes up a lot of the menu) and different (white walls make it a lot easier to see what's going on; there's a well-stocked game room with skee-ball and the like to keep your kiddos occupied and, therefore, a family-friendly feeling).
The food is about the same, with strengths and weaknesses. Classic City Eats bills itself as "Bird, 'Que & Brew," and two of those things are decent. True to its beginnings, the fried chicken is pretty good, although if you order the half chicken plate (which you should), you can expect to wait 25–30 minutes for it to be fried to order. Just plan ahead. The barbecue, on the other hand, isn't so impressive. If you cover it liberally with the restaurant's own hot sauce found on the table, it's improved, but you can do better elsewhere. I'd assume it's prepared with the signature rub, which is also on the table in a shaker, but you can't detect a ton of that flavor. Plates come with two sides, which can include green beans, mac and cheese, coleslaw (too mayonnaise-y), potato salad, pretty good collard greens, mashed potatoes and barbecue beans. The Delta catfish comes with slaw, fries and good, dark hushpuppies, full of onion, as well as tartar sauce. It's well fried and fairly light, with a batter that's more flour than coarse cornmeal. But wait—there's more. Classic City Eats also makes pizza, which your kids will also like, and you may, too, because it's surprisingly good. I'm not saying you should make a trip out to Watkinsville to get pizza there, but if you're there, and your kids order pizza and don't eat all of it and, like many a mom, you end up eating the rest of what's on their plate in an effort to clean up, you won't be mad about it. It also has hot and cold sandwiches, a brief kids' menu, wings, salads, fried apps, Party Packs to go and Delta tamales on special.
The restaurant is open Monday through Saturday 11 a.m.–9 p.m. and has a big parking lot. Sundays are reserved for private parties.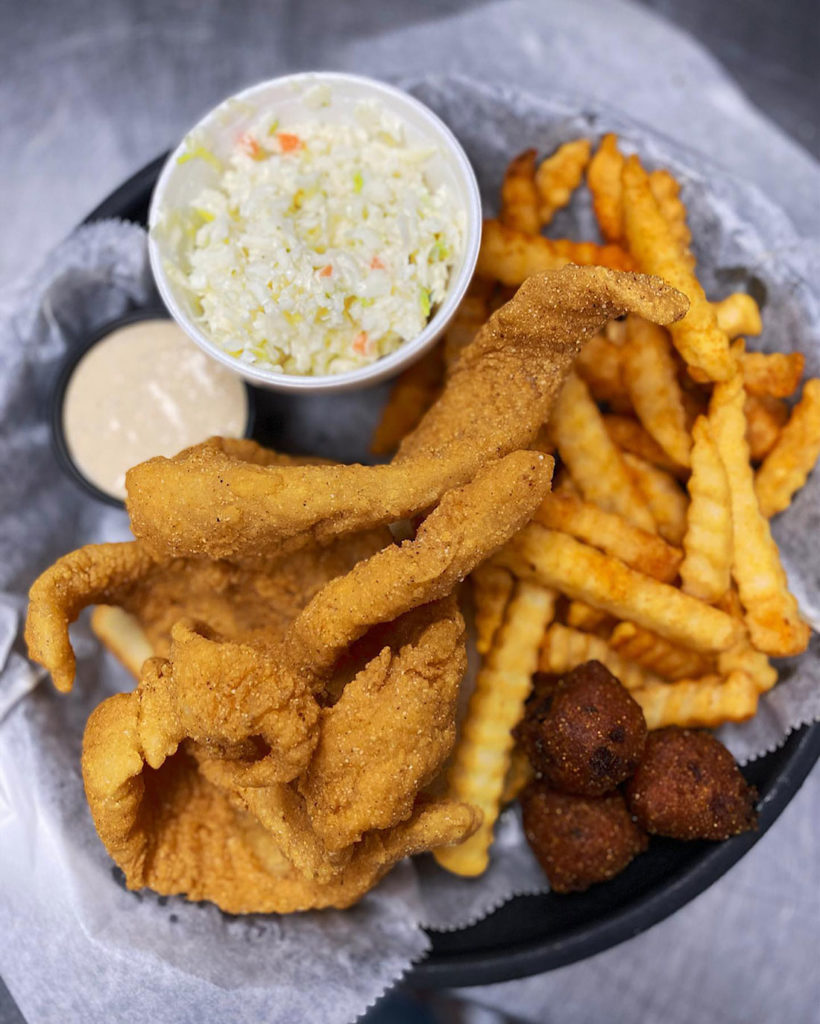 SURCHEROS (700 Baxter St., 706-842-6887): This rapidly growing franchise is pretty similar to a lot of other options we already have: Willy's, Chipotle, Barberitos. Why would you go here rather than there? Convenience? A s'mores quesadilla? (Yes, that is a real thing, and although it's a little gross, it's not as bad as it sounds.) The desire to pay slightly more and try a new place? I guess those are answers. Your best bets, as far as I can tell, are to choose a burrito or a quesadilla. There's no tofu, but if you're vegetarian or don't want chicken or beef, there are lots and lots of veggies that you can fill it up with. Nachos get too soggy and don't really work. The number of toppings/add-ins, all of which are included, is intense, and if you add too many, you may regret it, especially because the take-out containers are wimpy. The quesadillas are nice because they get cooked on the grill right in front of you, and there's only so much you can cram into one. You can order ahead of time on the website for pick up, but it might be better to go through the line when you arrive. It moves pretty quickly, and you can assess the add-ons on the fly and decide when you've overdone it. Prices could be lower. Salsa could be hotter. The parking lot is tight. It's fine! Most of these places are fairly comparable. The restaurant is open from 10:30 a.m.–9 p.m. Monday through Thursday, 10:30 a.m.–10 p.m. Friday and Saturday and 11 a.m.–9 p.m. Sunday.
Like what you just read? Support Flagpole by making a donation today. Every dollar you give helps fund our ongoing mission to provide Athens with quality, independent journalism.