WHITE TIGER DELUXE (64 N. Main St., 706-705-6115): The original White Tiger, in Boulevard, is one of my standard places to eat for pure pleasure—a fairly short list, because most of my eating out is taken up with this job. Those kinds of outings are pretty different from one another. Eat at a restaurant frequently, and you won't stray from your standards much, because that's what you're going there for.
I have more than one usual order at Taco Stand, but not a whole lot more than one. The same goes for White Tiger, where I order the Happy Top burger (American cheese, onions, mayo, nice lettuce). It is the best thing on the menu, and it makes me feel taken care of. Going to the snazzy and aptly named new place in Watkinsville, in a building that has never been so blinged out, is an entirely different experience, even if you're not writing about it. It is a lot to look at, with pink and tchotchkes and glitter and rainbows everywhere. Neon and fun lighting, frills and charm, a bathroom that kills the overhead light in favor of a brief dance soundtrack and a disco ball overhead—you could say it's overkill, but that's the point. It embodies the spirit of owners Ken Manring and Melinda Edwards, who are rainbow glitter unicorns themselves. It feels genuine, and even dudes who drive big trucks and might otherwise be found eating McDonald's breakfast together for a social outing are gathering around White Tiger Deluxe's tables.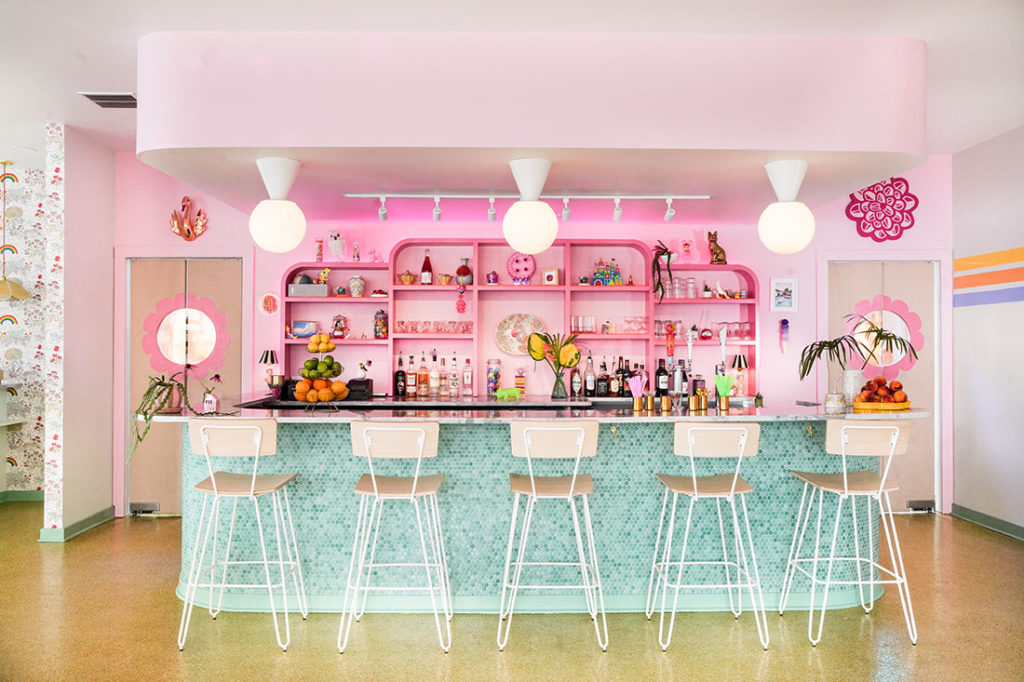 The food isn't quite as consistent yet as the Boulevard location, and the restaurant is still expanding its hours and adding things, but it has high points. Would I have ordered the tofu patty melt if I weren't trying to experience other parts of the menu? I wouldn't have. It wasn't bad, especially flavorwise, but the texture got a little too chewy in some parts. On the other hand, the new place has stuff the original doesn't, including alcoholic beverages and fries. The latter are fine on their own, but topped with barbecue, cheese sauce, scallions and barbecue sauce, they're damn delicious.
The bar mixes drinks, but it also has two frozen options. Currently, they're a wonderful frosé, topped with maraschino cherries, and a fresh-tasting piña colada with a triangle of pineapple on the side. Sit outside on the covered patio in the summer (especially if you're not comfortable eating inside yet), and they'll cool you off.
I was unimpressed with the smoked fish dip, and I think the crackers that come with it and the pimento cheese (which needs more pimentos) are too thick and wheaty, but the desserts are an upgrade. Provided by a former Ike & Jane worker, they include a slice of pie that changes weekly (mine was a nice cheesecake with a well-executed crust) and macarons (churro-flavored!) that are too chilled but otherwise real nice and very on-brand.
Service is still getting its act together, but where isn't that the case these days? I have faith in the restaurant's ability to train its folks and smooth out the experience, and who am I to poke a unicorn in the eye? White Tiger Deluxe is open for lunch Tuesday through Friday 11 a.m.–2 p.m., dinner Tuesday through Sunday 5–9 p.m. and brunch Saturday and Sunday from 10 a.m. –2 p.m.
SLUTTY VEGAN (700 Baxter St., 855-439-7588): Speaking of too-muchness, this location of the Atlanta restaurant that's managed to make vegan food decadent is pretty overstimulating. The workers yell "We got a SLUT in the building" at the top of their lungs for every person who walks in the door, and introverts may be scared off. That said, it's also good humored and oddly charming. Music is loud. The menu is sort of a mess to read (not everything is available every day, but you have to wait for the digital signage to rotate to the menu board). Food is to-go only and ready in a hurry.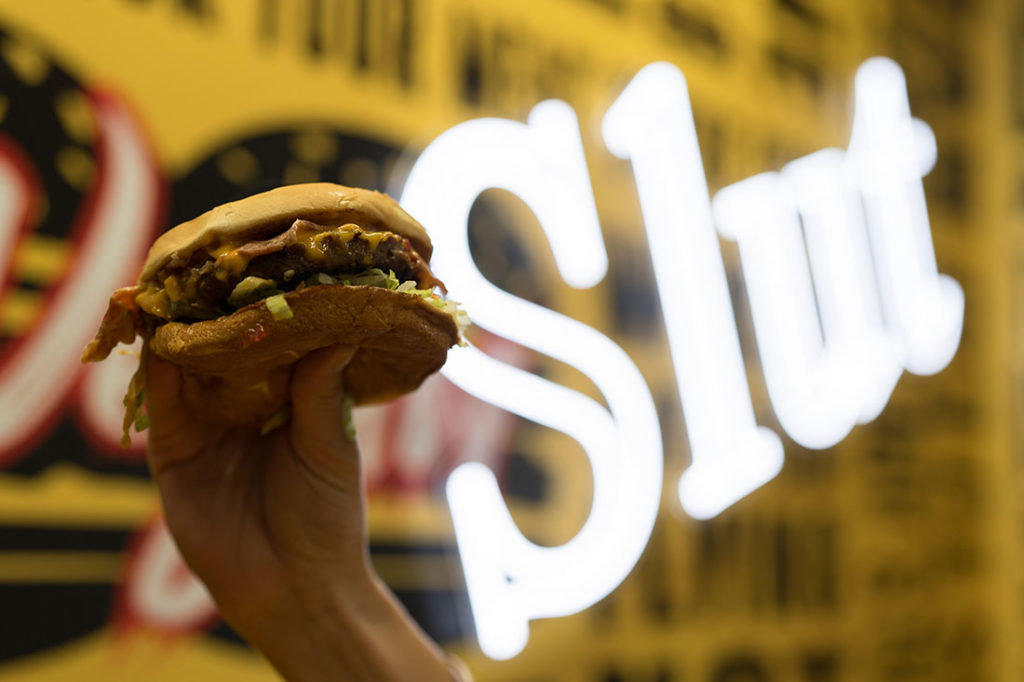 Is it convincing? Sometimes yes, sometimes no. The burgers use Impossible patties, which don't taste like much of anything and don't mimic the texture of beef, but are fine when used as a vehicle for toppings. The Fussy Hussy, for example, comes with pickles, Slut Sauce, caramelized onions, lettuce, tomato and "cheese," so there's plenty to taste. The fake chicken sandwich, on the other hand, is nearly indistinguishable from the real thing, meeting your teeth with a crunchy exterior and an interior that isn't mush. As someone who prides herself on her ability to tell the difference, I was shook.
Where you can see a difference is in the price. That chicken sandwich will run you $15 (fries included). Some of the burgers go as high as $19. Drinks are pricey, too, including boozy or virgin slushies that cost $8–$12. Popsicles are $5. It's OK to ask what you're worth, though, and the extra cost may be justifiable to many.
At the moment, Slutty Vegan is open 12–8 p.m. Tuesday through Thursday and 12–9 p.m. Friday and Saturday.
Like what you just read? Support Flagpole by making a donation today. Every dollar you give helps fund our ongoing mission to provide Athens with quality, independent journalism.