When I walked into ZZ & Simone's (1540 S. Lumpkin St., 706-395-6556), unannounced and sans reservation, they clearly clocked me at the door but made no mention of it. This happens sometimes, although not as frequently as you might think. I'm never going to give a restaurant a heads up that I'm coming in or go to a preview party or take a freebie of any sort, but I do respect a place that does its homework. Shae and Ryan Sims, who own and operate ZZ & Simone's, as well as Dinner Party farther down Lumpkin Street, are not only homework-doers, but strivers for extra credit. 
Much like their previous restaurant, the newer one is a teleportation device. Step through the door, and you could forget you're in Athens due to the vibe and general sense of professionalism. ZZ & Simone's is Italian, but not in a red-sauce way. Instead, it's a combo of light, vegetable-forward authenticity and New Jersey beach town, with a thoroughly Millennial-rediscovery-of-late-1970s-boho-chic aesthetic. There are a zillion things in the decor that remind me of my parents' house when I was growing up. What I like about the Simses' restaurants is the sense that someone thought carefully about every detail, from the music on the soundtrack to the size of the ice cubes in the drinks to the feel of a small, heavy spoon in your mouth. Does this mean that they limit the servers' clothing choices to a particular color palette? It does, but the result is to feel taken care of as a diner, and that's not an experience you get frequently in Athens.
As with Dinner Party (and, really, a lot of other high-end restaurants), the menu's strengths are in the vegetable-forward smaller plates and at dessert. This is not to say that the meats are lacking, but they're hampered by the need to have a hunk of protein on the plate, whereas the fried artichoke hearts can celebrate their thistley nature, crisped up so that you feel like you're eating flowers. You may groan a bit at paying $11 for a side of fingerling potatoes with parmesan and rosemary, sort of a swanky version of what Transmetropolitan used to serve, but they are beautiful and lovingly prepared⁠—and it is a sizable bowl of taters. I feel uncool for how much I loved the Caesar salad, but it's so well prepared, with the sweetness of the lettuce peeking through the delicately balanced dressing and fancy hand-torn croutons that don't dominate the dish.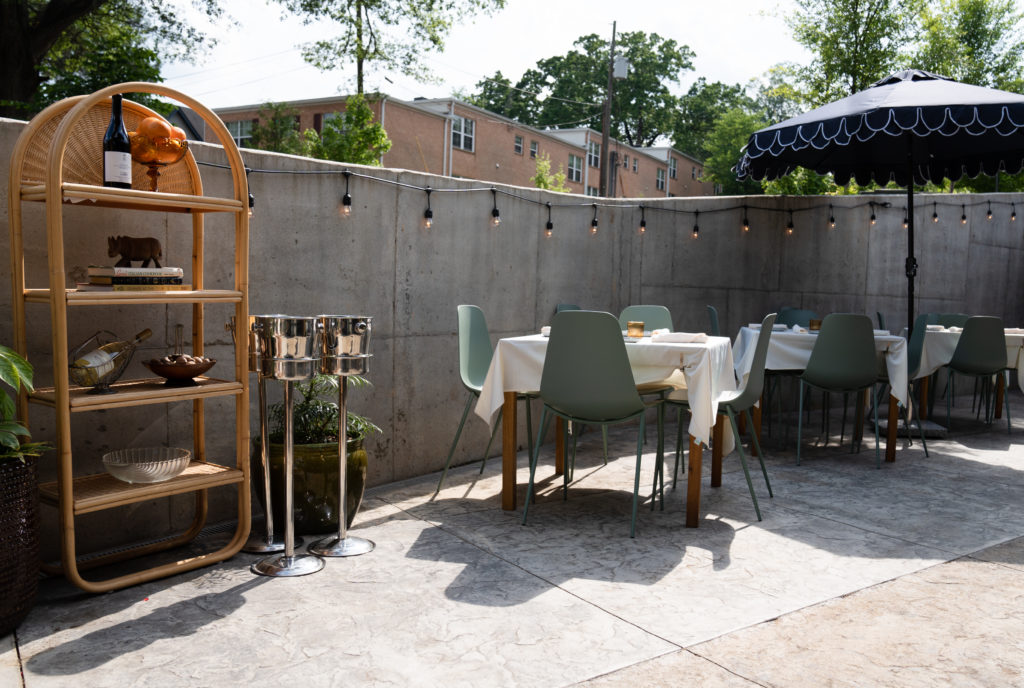 If you don't like lemon, you might have a hard time as it appears in many, many dishes on the menu: the salads, the crudo, the dip for the artichoke hearts, on the pizza, in the dessert. On the other hand, its presence throughout is emblematic of the kitchen's light touch. The fennel salad with celery root, pecorino, red onion and lemon vinaigrette also has dustings of what could be fennel pollen. Take a bite of what mostly looks like pale pieces of thinly shaved stuff and you'll get a wealth of different flavors: gentle anis, soft earthiness, sharp cheese, bright dressing. It's an example of what the restaurant is best at. The crudo, in contrast, although it's tasty and cheekily presented on a pearl-glazed half-shell dish, doesn't have the little taste journey from one flavor to another that sets apart the strongest dishes.
Pizza is a point of emphasis and probably better bang for the buck than other options. It'll run you $14–$19, sans add-ons, for a pie that's bigger than a personal pan but not enough to feed two hungry folks who haven't eaten anything else. Sometimes it could do with 30 seconds longer in the oven, given that it's of the thin and floppy variety. Flavors are well considered, whether they're Meyer lemon, red onion, chile flake, thyme and pecorino romano (sunny, sharp, a little hot) or spicy sausage accented with honey (not goopy, not too sweet). Pasta is also nicely done but less jazzy than the openers. Order the linguine with clams, and your server will carefully ladle as many crisp breadcrumbs onto your plate as you desire. Every bite is well executed and consistent, but you could find yourself looking longingly at the rest of the appetizers and their fan-show approach to your taste buds. Meatballs are good, not spectacular.
Don't skip dessert. Shae Sims has a pastry background, and the gelato here is as good as the ice creams at Dinner Party, with flavors that unfold their charms if you take your time. Fior di latte is, basically, "plain," but it doggedly makes you appreciate the complexity "plain" can hide. Get something fancier, like the lemon meringue tart, and it will amuse and delight you. Cocktails are excellent, stirred with a reusable silver pick rather than a plastic sword. Expect to go here for a more special occasion than for your regular Friday night pizza, unless you are quite well heeled, but the restaurant is just what its ambitious owners set it out to be. It's open for dinner Wednesday through Sunday and has copious outdoor seating.
Like what you just read? Support Flagpole by making a donation today. Every dollar you give helps fund our ongoing mission to provide Athens with quality, independent journalism.