GRILLZ: Given that Korean is the fourth-most spoken language in Athens, you'd think this town would have more Korean restaurants. As is, we've had Iron Factory doing Korean barbecue downtown for a few years, and Eat Hibachi, no longer open on Broad, had a few soups and bowls. Choo Choo is best known for late-night dining, although it does have bulgogi and bibimbap on its menu. In other words, a lot of Athens' Korean population spends its time driving to Duluth in search of home cooking.
D92 Korean BBQ (1080 Baxter St., 706-850-7990) is looking to change that. An expansion of a business that operates as 9292 in Duluth and another D92 in Decatur, it's accessible enough to non-Koreans to convert them. It took a while to remodel the interior of a building that was most recently the second location of Chonell's and prior to that housed Gnat's Landing, but the results are worth it. Each table has a neat gas grill tucked into its middle and a high-powered, quiet but very effective fan right above it, to suck away smoke and meaty aromas, that can be moved up and down by your server. A long bar seems like a fun place to perch and snack with a makgeolli or soju to drink, and TVs play K-pop videos.
Unlike Iron Factory, D92 brings plenty of banchan (or panchan) to your table, the complimentary small dishes that make dining in a Korean restaurant feel so hospitable. On a given visit, you might get a lovely large cube of excellent tofu with a salty, spicy sauce over the top; a cold noodle dish with corn; a different, wheatier noodle dish; pickled slices of white radish (so good!); or sticky, soy-braised peanuts. Kimchi is a given. At lunch, you can order bibimbap, a combo of veggies and/or meat over rice, for $8–$12, depending on whether you want bulgogi, beef and egg, veggies only or spicy pork, and if you want to pay $2 to upgrade to a stone bowl, keeping your food hotter and crisping your rice in parts. When you factor in the banchan, it's a great deal.
If you want to go the barbecue route, expect to spend more. Some grillable options—mostly meats—are available by the half-order and some only by the full order. Then, there are combos, which can be a little confusing, and all-you-can-eat options that may actually be the best deal, but must be ordered by all at your table. If you're with a larger group and you each order a different meat, you might do better that way.
For $29.99 a person, you'll get pork belly, marinated and not; pork neck, which is possibly the best option, with a great combination of flavor and texture; chicken marinated with either soy sauce or gochujang, the spicy, red-pepper-based sauce that goes on everything in Korean food; and bulgogi that's a little lean. They are brought out one at a time and cooked on one grill top or another in front of you, by staff who return periodically to turn the meats and snip them into smaller pieces with scissors until they reach the proper degree of doneness. Everything is pretty dang good. Around the edges of the grill cook a combination of cheese and corn, a river of beaten eggs and some mushrooms, and you can swipe your grilled stuff through three different sauces: gochujang, soy and sesame-based, each of which adds something.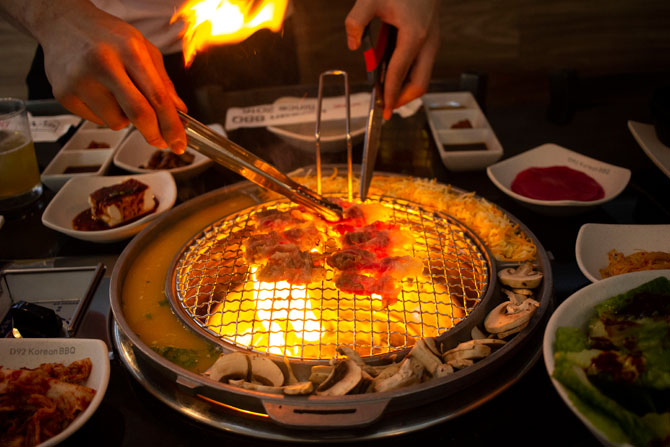 Photo Credit: Savannah Cole
If this isn't enough (it is), there are cold noodles, OK dumplings, jap chae (glass noodles with veggies, plus the option of beef), snacks like fried tofu and nuggets of Korean fried chicken heavily seasoned with gochujang, seafood and scallion pancake and more to pad out your meal. Dessert, should you be able to hack it, consists of four different popsicles—melon, golden pear, vanilla and black bean and Jaws, an orange-and-strawberry combo—unavailable elsewhere in Athens and maybe worth the trip on a hot day.
The place is a valuable addition to Athens, and here's hoping our number of Korean restaurants continues to grow. D92 has a nice selection of liquor at its bar, including Japanese whisky, and is open from 11:30 a.m.–11 p.m. every day except Friday and Saturday, when it goes until midnight.
SWEETS: The folks behind Nedza's Waffles have a new thing going on in Mad Dawg Doughnuts (@maddawgdoughnuts on Instagram), which sets up in a truck outside the Athens Farmers Market at Bishop Park on Saturday mornings and in various other locations around town. The doughnuts are pretty good, too: cake-based, maybe a little dense, with a focus on high-quality, intensely flavored toppings.
You can get powdered sugar or cinnamon sugar, but when there's a lime glaze with shredded coconut sprinkled on top, or a mango glaze with chopped macadamia nuts, or even a simple Condor Chocolates-based glaze, it's hard to pick the simpler stuff. As with Nedza's, your paper sleeve or box of doughnuts comes complete with some sort of handwritten compliment. Flavors vary with the day, and the business is working on a gluten-free offering.
Like what you just read? Support Flagpole by making a donation today. Every dollar you give helps fund our ongoing mission to provide Athens with quality, independent journalism.