VEGGIES: If you've ever wished you could pick and choose from the items offered in the power lunch at The National, then Peter Dale's Maepole (1021 N. Chase St., 706-850-3600, mapeole.com) is for you. It's fast-casual done virtuous, and although the hype about it making your kids eat their veggies may be overstated—absolutely nothing, including bribery, will make my child eat anything approaching a cooked vegetable—it's both cute and smart.
Unlike most restaurants that promise farm-fresh veggies—where they clearly came from a farm at some point, but not recently—Maepole delivers on what it says about its sourcing. Nothing it serves is really bad for you. The macaroni and cheese is made with whole-wheat noodles—and is damn successful for it, a serious rarity—the sweet potatoes are mashed with coconut oil, the meats are hormone- and antibiotic-free, the beef is grass-fed and, yes, you can get both quinoa and kale.
The formula is one that's in vogue right now, heavy on choice by the customer, although sometimes stressful to this one. Pick a base (brown rice with herbs and lemon, quinoa with sazon, sweet potatoes or salad greens), a protein (chicken, pork, beef meatballs, black-eyed pea tempeh), some sides—we'll cover those in a minute—and a sauce. There are add-ons should you wish to have a beautiful hard-boiled egg, half an avocado or housemade kimchi or chow chow.
There's a bit of sticker shock, especially if you get one of the fancy cane-sugar sodas, but quality ingredients cost money, and you can put together a lovely meal at Maepole. The sweet potatoes are too sugary for me, but they almost always are. I prefer the salad greens for a base, although they're less filling. Among the sides, the gingered beets are excellent, the kale and red-cabbage salad with sunflower seeds is well seasoned, and the mac and cheese is quite good.
There are probably some cases where Dale relies too much on the natural flavors of vegetables to carry the load. The seared green beans and Vidalias are perhaps too subtle, requiring a bit of thought as you chew. The sesame carrots need more sesame. (Sidebar: Everything needs more sesame.) The summer medley and the bean salad aren't anything to write home about. The sauces, on the other hand, are pretty great through and through: a nice buttermilk dressing, a pesto that's almost a chimichurri, a gently assertive turmeric-ginger vinaigrette and a honey-sriracha that melds its two ingredients into something better than mere addition would indicate.
Among the meats, the pork is a little lean, and the tempeh isn't bad, but the nuggets of it are probably too big; a flatter composition would give you more sear on the outside relative to the interior mush. The chicken is composed of thighs, which hold more fat and flavor, and the meatballs are the best of the bunch, neither too dry nor too wet. Do not overlook the soups, hidden at the bottom of the menu. The white chicken chili is good, but the gazpacho is great. Condor chocolates and popsicles from La Michoacana… es Natural, in Hull, are the dessert options.
The atmosphere is clean as can be—no greasy spoon this, with lots of white surfaces and a magical patio—and grownups can enjoy a beer, a wine or an Aperol spritz. Maepole is open 11 a.m.–9 p.m. Monday through Saturday, with Sundays coming soon.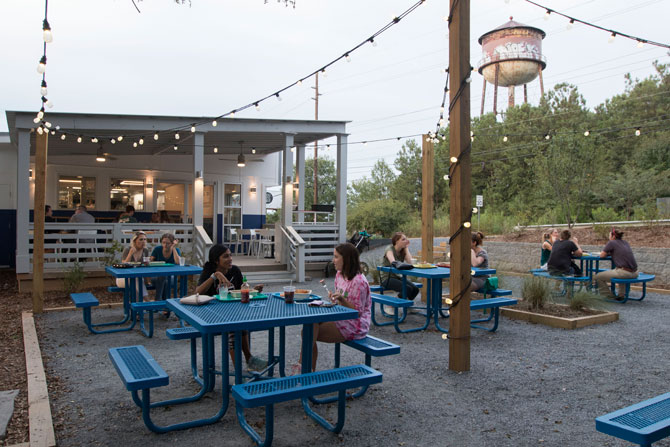 Photo Credit: Savannah Cole
TREATS: Speaking of La Michoacana, there's another one in town now, known as La Michoacana Antojitos Mexicanos—or, on Facebook, La Michoacana Ice Cream Parlor (3750 Jefferson Road, next to La Jalisco grocery). Each of the three shops has different owners and offers different things, although there is significant overlap. This one has gone in hard on pure selection, with a menu of paletas that is mind-bogglingly large. Whether you're choosing paletas aguas (water-based), paletas de leche (cream-based) or paletas rellenas (stuffed), you may have to ponder your decision for a while. There's also ice cream, sorbet, milkshakes, aguas frescas and an array of snacks (esquites, dorilocos, mangonadas, Hot Cheetos con queso).
As far as purity of flavor, La Michoacana… es Natural still rules them all, managing to extract incredible essences of fruit, but this La Michoacana has some things the other two don't, and its offerings are quite good, too. The paletas rellenas are a standout, stuffed with vanilla, cajeta, chocolate, chantilly cream, Nutella, chamoy and more. The cream-based ones have a slight edge over the water-based ones, which can be a little hard and icy. Not everything is available on any given day, but you can browse the case and purchase things like avocado (delicious and refreshing, with a slice embedded in it!) and Fruity Pebbles (not bad!) popsicles on impulse.
If your Spanish is not so hot, know that there are pictures of the ingredients on most selections, but it's hard to choose wrong. La Michoacana Antojitos Mexicanos is open noon–9 p.m. Monday through Thursday, 10 a.m.–10 p.m. Friday through Sunday and takes credit cards.
Like what you just read? Support Flagpole by making a donation today. Every dollar you give helps fund our ongoing mission to provide Athens with quality, independent journalism.