POLISH: There is no question whatsoever that Shae and Ryan Sims, the couple behind Donna Chang's (1664 S. Lumpkin St., 706-215-9100), know how to run a restaurant. Between them, they have a wealth of experience in upscale dining, and every detail at the new place is just so. To watch the staff arranging a pure-white napkin, folded into a tall rectangle and set with a neat pair of chopsticks and a well-balanced fork, next to each place setting is a joy. They might as well use a laser level. The bar program is particularly on point, with a wine list that is terrific fun to read as well as to order from, and sophisticated cocktails that don't read or taste like an exercise in one-upmanship when it comes to bitterness and obscure ingredients.
The concept is Americanized Chinese food executed with good ingredients and for a palate capable of detecting subtlety. Many have compared the restaurant to the closed Cinco y Diez, which did somewhat of the same thing for Mexican food, but the difference is that Cinco was working with easier (i.e., authentic, varied) material, whereas Donna Chang's is trying to spin straw into gold. It does not succeed 100 percent of the time, although it almost always improves on its source material, and the dishes that hit the bullseye do so with flair.
The complaint (as with Cinco) is that people don't want to pay $22 for mu shu pork, especially when portions are more in line with fine dining than with your average strip-mall Chinese eatery, and rice is $3 extra. If it were twice as good as the standard in the field, those complaints would be meritless. The braised beef chow mein, for example, also $22, is miles better than the usual gross, sugary, goo-coated noodles, while incorporating everything good about the dish (i.e., a wonderful amount of sautéed onions, which flavor everything on the plate). The pork, on the other hand, is better than at most places but not special enough to justify the price tag. Pork dumplings on special are lovely and greasy and satisfying but, again, not head and shoulders above their counterparts at many restaurants.
That said, both the smashed cucumbers and the kale-and-brussels salad are among the best-conceived and -executed dishes in town. Peeled and sliced into rectangles, the cucumbers are dressed with vinegar, garlic, fresh herbs (one of which appears to be shiso leaf) and a dusting of Szechuan pepper, all of which combine to highlight the cool, faintly floral flavor of the cukes while turning them into something more mosh pit than tea party. The salad performs a similar trick, both bringing out the nuances of its various brassicas (the gentle grassiness of lacinato kale, the funky undertones of fried brussels-sprout leaves) and forcing them into something ballsy and delightful, with plenty of lime and fish sauce to wake you up.
Desserts are surprisingly well-priced, at $4 for a good-sized bowl of fancy ice cream, fro-yo or sorbet. The five-spice ice cream, with an apple compote, is more conventionally "holiday," but the green-tea ice cream, decked with shards of wonderful housemade fortune cookie, is the better choice. Donna Chang's is busy, but the staff can turn tables quickly without pushing people out the door. It's open for dinner every day but Wednesday and does take-out.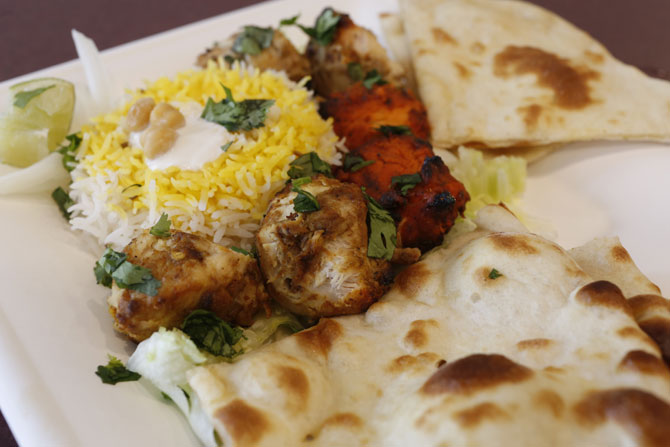 Photo Credit: Joshua L. Jones
CHARM: The other side of the coin here is Koyla Sizzling Grill and Hookah Lounge (2024 S. Milledge Ave., 706-215-9555), which is not big on creature comforts but has quite a lot of cheap and tasty offerings on its large menu. Sandwiched between a small, spare grocery store and the hookah lounge of its name (no smoke makes its way into the restaurant, which is perfectly family-friendly), Koyla means "charcoal" in Urdu, and the restaurant grills much of what it offers.
The menu ranges across India and Pakistan, but is a bit more northern than southern, with a surprising number of vegetarian options. Your food will come on a Styrofoam plate, and you may have to fetch your own plasticware, but you will not care if your mouth is full of batata vada, an appetizer of mashed potatoes filled with sautéed, spiced veggies, then battered and fried. Classics like chicken korma are not fancy (slopped into a little Styrofoam bowl and plated next to a mound of rice and, with some dishes, naan), but they are well-spiced and filling.
The snackier things are superior, however, including the chicken 65, morsels of chicken dyed bright red by chiles, spiced with ginger and garlic and fried crisp. Perhaps the most unusual dish on the menu (only in that I don't think it exists elsewhere in Athens), is the kabob roll, a sort of gyro made with a paratha bread that enfolds either chicken or paneer tikka, sliced onions and a fresh, zingy green chutney.
Koyla has much more to explore, if only it can do enough business to stay open, with a good array of desserts and soft drinks that include Pakistani cola, nonalcoholic malt drink, lassis, coffee and chai. The restaurant is open for lunch and dinner every day, with hookah only in the evenings.
Like what you just read? Support Flagpole by making a donation today. Every dollar you give helps fund our ongoing mission to provide Athens with quality, independent journalism.