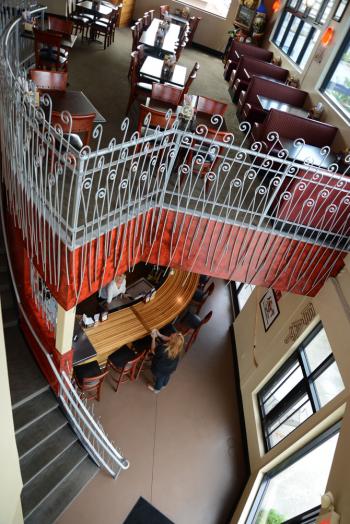 Photo Credit: Porter McLeod
BROS: The space on Mitchell Bridge Road, by Cofer's, that was built as a second branch of Harry Bissett's has had some trials and tribulations. It's enormous and almost impossible to break up into spaces where different businesses could share it. The variety of seating options (bar, indoor downstairs, indoor upstairs, outdoor downstairs, outdoor upstairs) is the kind of thing that works in Atlanta—for example, at East Atlanta's Argosy—where the population is large enough to support it, but the only place Athenians flock to in those kinds of numbers is Olive Garden.
The closest anyone has come so far to making it work is Four Brothers Sports Tavern, which Andrew Miller opened at the end of February. Miller knows the restaurant business, and he presumably knew what he was getting into. The menu is fairly smartly put together, and although there's never a wait for a table, a Friday night does find enough people dining in to make the place feel like it has a chance to succeed. Arcade games, including an elaborate sit-in racing game, "Big Buck Hunter" and even a claw game (placed right by the restroom, where children are guaranteed to see it and beg their parents for quarters) make family dining easy; kids eat free on Wednesday evenings; and the restaurant has trivia nights and live music regularly.
What makes it actually worth going to is that the food is pretty decent. Skip the Coastal Sliders (three small shrimp cakes overwhelmed by their breading and hefty buns that would be dramatically improved by a zippier sauce) and the quinoa salad as a side (faintly bitter, suggesting a lack of rinsing prior to cooking, and bland), but if you can afford the calories, get the artichoke dip that is about to find its way onto the menu. Where most restaurants seem to rely on a gross, pre-made slurry of "cheese" and white sauce for this bar standard, Miller incorporates Swiss chard instead of spinach and makes something bouncing with flavor.
The burgers that make up a sizable section of the menu are equally well executed, although topped with enough stuff that you may want to flip them upside-down to ensure that the bun doesn't dematerialize by the time you finish. The fish and chips is nicely battered and well cooked, neither pale and soggy nor dark, greasy and overcooked, the two directions in which the dish tends to err. Also, the kitchen uses quality fish, which makes a big difference.
The bacon macaroni and cheese gets one demerit for being creamy rather than baked (personal preference, sorry), but uses cavatappi instead of the insubstantial usual noodle and is well put together. The open-face Del Monaco sandwich features ribeye, caramelized onions, grilled tomatoes and a zingy orange sauce on top of a piece of flatbread that, surprisingly, adds something to the dish. It all comes together well, and leftovers are delicious cold straight out of the fridge.
Four Brothers is rather a lot like Hilltop Grille, which took the formula perfected by Atlanta's Houston's and has succeeded beautifully with it. The only question is whether it can find its audience or, rather, whether its audience can find it. The restaurant is open for lunch weekdays, dinner every day and brunch on weekends, has a full bar, takes credit cards and has plenty of parking in the back.
HOS: Ever since Bulldawg Wings Deli & Tropical Grocery opened on Baxter Street, in a ramshackle space with a sign promising a burger called the "Sloppy Ho," I've been intrigued. Who doesn't love an odd little ethnic grocery or a hole-in-the-wall that potentially promises great eats? Unfortunately, sometimes atmosphere isn't enough. While the shelves hold much of interest (dried fish, fufu flour, a variety of hair bows, plastic tablecloths, severe-looking pot scrubbers), the menu is pretty much burgers, wings and fried things. Jerk chicken is mentioned but not always available.
There is something homey about sitting at a large wooden table in the front of the store, eating your food out of a Styrofoam container while your fellow customers wait for their orders, two cute children play computer games and "The Test" blares on a large TV. But there is nothing good about the Jamaican patties, clearly frozen to begin and, while burning hot on the outside, still ice cold in the middle. The fried rice, studded with peas, carrots and egg, is best described as funky, and not in a positive way.
The sweet old granny who runs the register does her best but is not well equipped for customer service, and the place as a whole, while still interesting, is not the sort of hidden treasure that rewards investigation with culinary delights. Bulldawg Wings theoretically accepts credit cards but less so in practice.
A sign on the wall says that if you purchase a whole chicken from them, they will cook it for you. But if you are starving, and home.made catering and Just Pho… and More are not open, you would be best served by wandering into Jimbo's convenience store and purchasing a small bag of Mutt and Jeff's Pork Skins, made in East Point, GA, which are, indeed, unexpectedly tasty.
Like what you just read? Support Flagpole by making a donation today. Every dollar you give helps fund our ongoing mission to provide Athens with quality, independent journalism.