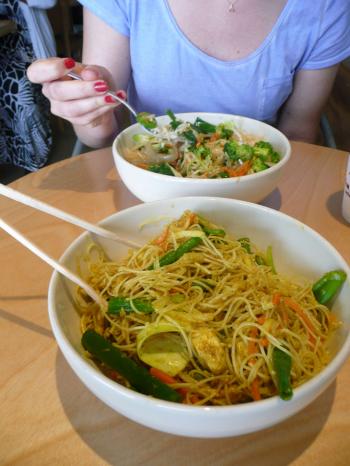 Photo Credit: Gabe Vodicka
CARBO-LOAD: For me, the first culinary association called up by the name Tin Drum (19 Alps Rd., in the Beechwood Shopping Center, 706-543-8979) isn't pan-Asian food aimed at college students, but a scene from the 1979 film adaptation of Günter Grass's novel of the same name, in which a woman is forced by her husband to choke down a number of eels. You probably wouldn't get very far in Athens, or anywhere, alluding to that kind of thing, and the restaurant is blessedly free of such. Started in Atlanta and expanding to other university communities, the franchise offers food that is a step up from drive-through and will make you feel a little more virtuous for consuming it.
Despite the fact that the word "authentic" is plastered all over its website, it's the Asian quick-service version of Chipotle. You can eat things that are not totally bad for you and that taste decent. The meat is "all natural" and the tofu organic. The meals are customizable according to your protein desires and consist of noodle bowls, rice bowls, soup, salads, Asian tacos and some appetizer thingies. You order at the counter, using a touch-screen device and swiping your own credit card, should you not be in the mood to interact with a human being, then get your own drink, find a seat and wait for your food to arrive at your table. The kitchen is mostly hidden, but you can hear an expediter at work, and the process runs pretty smoothly.
Fusion can be a dangerous game, and the tacos here are no exception. You can either skip them altogether or just eat the top half of one, as the bottom contains a large scoop of white rice that adds nothing good in the way of flavor, texture or even nutrition. The cucumber wasabi sauce on the panko shrimp taco is pretty zippy, the shrimp is well cooked and the cabbage slaw works well with the rest, but that big bite of white is pointless and distracting. The crab and cheese spring roll is no one's idea of authenticity, but it is a tasty fried bite of goo.
On the whole, Tin Drum does a better job with its proteins and veggies than with the starch at the heart of each dish. The beef in a bowl of Cantonese noodles (with scallions, a minimal amount of spinach and bean sprouts) is tasty, and the wheat noodles aren't bad, but they're missing some spring. Ditto for the rice noodles in the Sing Chow Mein, a yellow curry-based dish from Singapore with mushrooms, egg and chicken. The Pad Thai is all sticky orange sweetness. You could say the same of the mango stir-fry, with crisp-fried chicken chunks, mango, basil, jalapenos, onions and bell peppers over rice, but it succeeds far better in the latter dish than in the former. The tom yum soup is most likely premixed, but it passes muster.
The space is full of daylight, with lots of families eating with their children as well as groups of college students looking for the comfort of carbs in a bowl. What's really unusual is that it doesn't have more competition in what it does. Tin Drum is open every day for lunch and dinner, takes credit cards and does to-go orders, but offers beverage vices only in the form of caffeine, not alcohol.
ADVENTURES: Flagpole has written about the First Class Laser Car Wash (2024 South Milledge Ave., 706-549-4416) and its little grocery store before, but the friendly guys that run the place have added hot food at least one day a week. On Fridays, around the time services from Al Huda Islamic Center let out (about 1 p.m.), they are ready with several warmers full of Indian/Pakistani/South Asian cuisine, available for a song. The day I made it in, they had wonderful, buttery chicken biryani, with whole pieces of chicken cooked to extreme tenderness buried in fragrant, flowery rice. Large samosas, not yet soggy from sitting around, gave way to a well-spiced interior paste of meat and veg. They were also a mere $5 for four, which could easily feed two.
The store itself is not a source for serious, investigative cookery of the region, but it has some staples, spices and halal meats. The real attraction and unavailable on my visit, is borek (a.k.a. burek), one of the world's great pocket foods. A kind of Turkish/Yugoslavian meat and/or cheese hand pie, it comes in many varieties, and I look forward eagerly to seeing which one the car wash serves up. There is no space to eat-in, but you can nosh in your car if needed and wash it down with a cold soda. They even take credit cards.
WHAT UP?: Also serving and preparing halal meats is Bulldawg Wings & Tropical Grocery on Baxter, which seems to be making hamburgers and selling some Jamaican specialties. Word is that the building on Broad that used to house Peaches has a restaurant interested in it that may serve either burritos or BBQ. Plans have been submitted for Insomnia Cookies in the former Athena Jewelers on Clayton downtown.
Like what you just read? Support Flagpole by making a donation today. Every dollar you give helps fund our ongoing mission to provide Athens with quality, independent journalism.