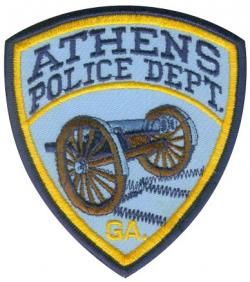 Shootout at Club
Early in the morning on Sunday, Jan. 20, police responded to a call from an off-duty sheriff's deputy about shots fired at Club Platinum on Commerce Road. They found seven spent cartridges from two weapons and a trail of blood in the parking lot. A fight in the club had apparently spilled outside. A Franklin Street man was treated for superficial wounds at Athens Regional Medical Center.
Bacon Thief Sentenced
A woman who tried to steal bacon, cheese, chicken wings and vegetable oil from the Lexington Road Piggly Wiggly in May, then pepper-sprayed employees, was sentenced to five years in prison and five years of probation last week, the Athens Banner-Herald reported.
Lonneshia Shafaye Appling, 27, reached a plea agreement on charges of shoplifting, battery and obstruction related to the Piggly Wiggly incident and another one when she tried to steal six bottles of body wash from a drug store. The 340-pound Appling was also arrested on shoplifting charges last January after she took off all her clothes at a Madison County grocery store and told employees she had AIDS, according to authorities.
Knock, Knock
A man knocked on the door of a West Hancock Avenue residence Thursday, Jan. 17 and asked for money. One of the residents gave him an ATM card with no money on it. At 4:15 a.m., the man returned with two other men and knocked on the door, but the resident ignored it. The three men kicked in the door. One had a gun and demanded the resident's cell phone. They also took a video game console. Two of the robbers left, and the two residents drove the third suspect to the corner of Broad Street and Milledge Avenue, where they dropped him off and called police.
The suspects are black males. One is about six feet tall and 190 pounds, had a scruffy beard and wore a gray toboggan and a green jacket. Another is about six feet tall, skinny and wore a camouflage hat, a white sweatshirt and a red and black puffy vest. The other is about five-foot-six and wore a black and yellow cap.
Bad Samaritan
A Norwood Circle woman's car was towed as a result of a traffic stop Jan. 16. Her son was supposed to remove her property from the car, but she realized he hadn't taken a bag containing $1,800. When she went to Chase Street to get the bag, it was missing.
Robberies
A custodian reported that two men were rummaging through offices at the YWCO on Research Drive at 2:40 a.m. Tuesday, Jan. 15. Nothing was taken. Brandon Martin, 19, and a 16-year-old whose name was not released were arrested two days later and charged with that burglary, as well as an earlier one at Cedar Shoals High School..
A-OK on College Avenue was burglarized between 9 a.m. Jan. 13 and

8:15

a.m. Jan. 14. Food items valued at $1 were stolen.
Video surveillance footage showed that between 3:54–4 a.m. Saturday, Jan. 19, a man unlocked The Volstead, a Clayton Street bar, went inside, used a hidden key to open the office and took $1,000 in cash, locking the door again on his way out.
Video games were popular among thieves last week: They were stolen from residences on West Broad Street, Crows Nest Court, Riverbend Parkway, Boulder Trace, Highland Park Drive and on the eastside.
Information taken from Athens-Clarke County police reports.
Like what you just read? Support Flagpole by making a donation today. Every dollar you give helps fund our ongoing mission to provide Athens with quality, independent journalism.