Athens-Clarke County officials have been undermining the work of a newly formed civilian police oversight board, the board's chair said at a memorial for Tyre Nichols and protest against police brutality last week.
The ACC government is in the process of hiring a professional monitor who will investigate claims filed against local police. The person who holds that position is not supposed to have any connection to law enforcement so that police are not investigating police. But according to local musician Cassie Chantel, the chair of the Public Safety Civilian Oversight Board, Commissioner Dexter Fisher, a nonvoting board member, has said he wants the commission to remove that provision.
Fisher told Flagpole that he feels excluding law enforcement officers from consideration for the position is discriminatory, and that county attorneys are looking into the matter.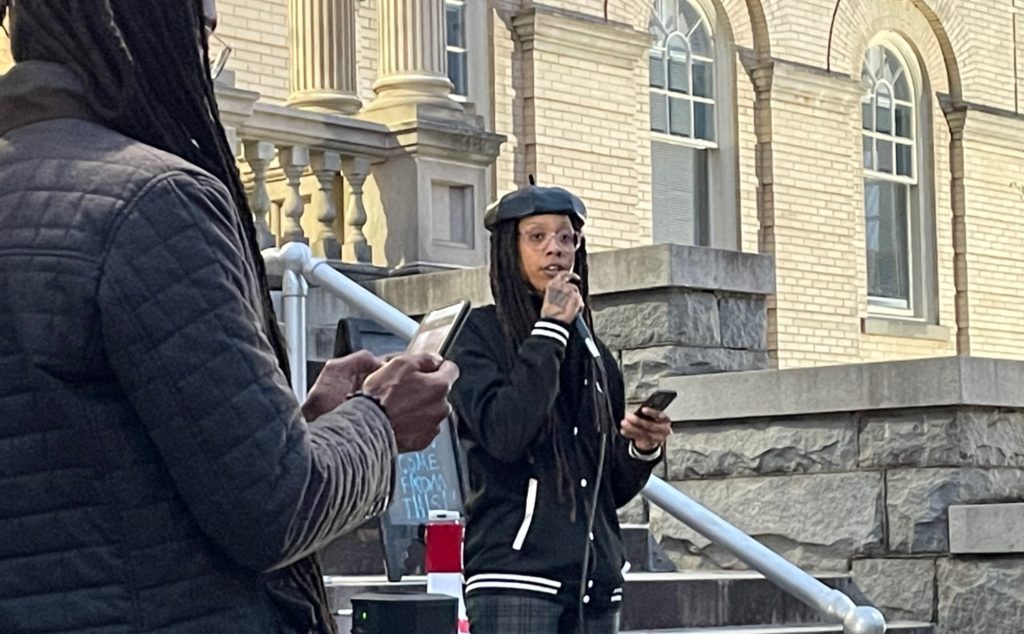 In addition, Chantel said that Fisher, Mayor Kelly Girtz and others won't allow the PSCOB (pronounced "P-sob") to observe interviews for the monitor position. The monitor will likely be a part of the auditor's office, which reports directly to the Mayor and Commission, according to Girtz, who added that citizen advisory boards have never been a part of hiring decisions.
"There are some officials who smile to our face when they need our vote, but once elected, they do nothing," said Mokah Jasmine Johnson, cofounder of the Athens Anti-Discrimination Movement, which organized the rally and also pushed for the creation of the PSCOB. About 100 people attended the rally outside City Hall, then marched through downtown.
Cole Knapper, an interfaith chaplain, said that the fact that Black officers beat Nichols to death in Memphis illustrates the systemic nature of racism. "Right now in 2023, it is open season on Black people in America, open season on Black and brown folks in America," Knapper said.
Athens resident Chevala Hardy shared stories of how two of her sons faced violence at the hands of Athens police. In one instance, she said a white man followed and shot her son because he did not want Black people in the neighborhood, then falsely told police that her son had pulled a gun on him. In another, she said that police followed her son home while he was riding his motorcycle, then beat, tased and arrested him. He was held for nearly a week without bail on obstruction charges until she went to see the sheriff, Hardy said.
"No matter what race you are, it could be your child, but it's always Black people," Hardy said. "We need to stand together and make it stop."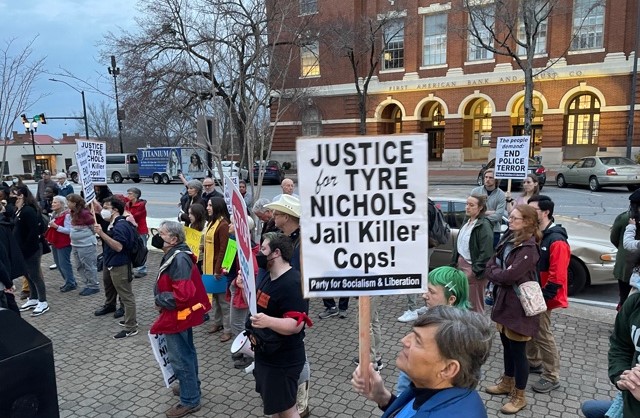 ACC Commissioner Tiffany Taylor also spoke at the rally, urging police to treat African-American men with respect and not as the enemy. Their job is "to protect and serve, not to over-police and murder," she said.
Jess Martinez of Dignidad Immigrante En Athens spoke about her recent visit to the Atlanta Forest, aka "Cop City," where the city of Atlanta plans to build a massive police training facility. Last month, state troopers and other law enforcement officers shot and killed Manuel "Tortuguita" Terán, one of many activists who've come from all around the country to occupy the property and try to prevent construction of the training facility.
"This form of police brutality demonstrates that they have the power to control bodies and decide who lives and who dies," Martinez said.
Like what you just read? Support Flagpole by making a donation today. Every dollar you give helps fund our ongoing mission to provide Athens with quality, independent journalism.