Approval for the redevelopment of Georgia Square Mall appears likely after Athens-Clarke County commissioners praised the massive project at their Jan. 17 agenda-setting meeting.
The $426 million plan submitted by companies associated with Atlanta-based Hendon Properties, which owns a number of malls around the Southeast, calls for demolishing two wings of the mall, along with most of its outparcels (except Burger King, Pep Boys and Zaxby's). Belk and the central area around the food court would remain, with existing tenants given the right to relocate. That remnant would be surrounded by almost 300,000 square feet of new office and commercial space, almost 1,000 apartments and 200 townhouses with a total of more than 2,000 bedrooms, and another 72,000 square feet of commercial space on the first floor of apartment buildings and in buildings fronting Atlanta Highway.
"I think it's pretty clear at this point that the internet has broken the interior mall model," landscape architect Scott Haines of Athens-based W&A Engineering told the commission. Instead, developers turned to the pre-mall "town center" model, essentially designing the 74-acre development as a second downtown.
"It offers things the modern patron wants," Haines said. "They want placemaking. They want something that brings them to a site as a primary function, then they choose to shop as a secondary activity."
The residential component includes 150 units for seniors located where the old dollar theater is now. Under ACC's new inclusionary zoning law, which trades additional density or exemptions to parking requirements for affordable units, the developer has promised to rent 10% of the units at below-market rates for tenants who make less than 80% of the Athens-area median income.
Developers responded to criticisms of a previous version of the plans by reducing its ring road to two lanes and adding multi-use paths for cyclists and pedestrians, a linear park through the middle of the development, and a bus transfer station that will facilitate better Athens Transit service to the site. However, it still includes almost 3,000 parking spaces, both in surface lots and in decks. 
In addition, the Georgia Department of Transportation is planning to address traffic concerns by widening Atlanta Highway to eight lanes and rebuilding the Loop interchange. ACC officials are talking to GDOT about including a multi-use path to Mitchell Bridge Road and Timothy Road, where ACC is building a sidewalk, County Manager Blaine Williams said.
Commissioner Jesse Houle, who represents the mall area, said the developer made a good-faith effort to listen to the community. "It really checks a lot of boxes for needs in the community, especially on the Westside for housing and greenspace and revitalization," Houle said.
The project will be divided into several phases, and Planning Director Brad Griffin warned that it could change based on market demands in the future. "With a project this size, Phase 2 could easily be seven, eight, nine years from now before they get to it," he said.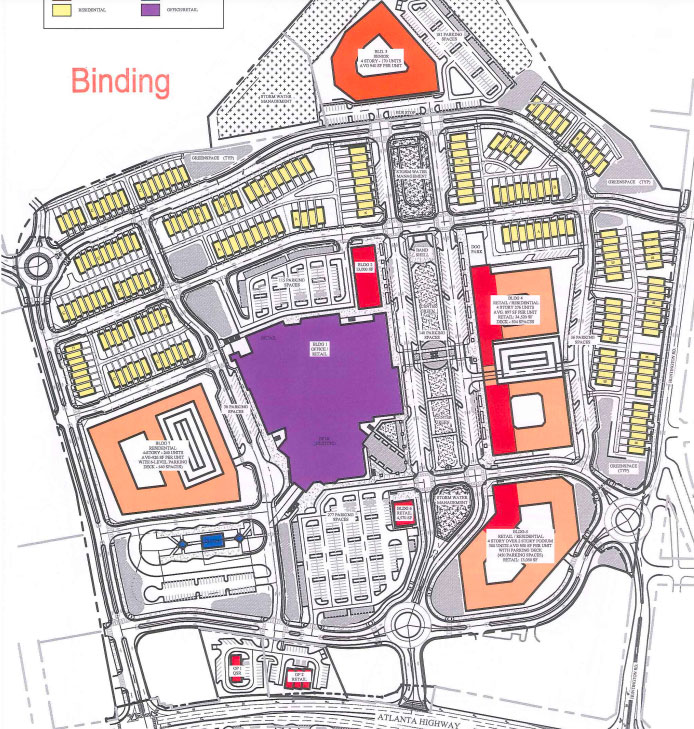 In 2021 the commission created a tax allocation district covering the mall to spur redevelopment. For a period of years, additional property taxes collected due to new development will be plowed back into the TAD area rather than going to the general fund. County officials and developers are negotiating a "community benefits" package to make use of those TAD dollars. It will be reviewed by a Mall Area TAD Advisory Committee this week ahead of the commission's scheduled Feb. 7 vote.
Another redevelopment proposal also appeared headed for passage: A 10-story tower replacing the 1970s River Mill apartment complex off Baldwin Street. The tower would come in under ACC's 100-foot limit because the county measures the height from the midpoint. However, because the building would be so long and is on a sloping lot, part of the building would be 115 feet tall. Fire Chief Jeff Scarbrough raised concerns that the fire department lacks the equipment to reach that high. Project representative Ed Lane of Smith Planning Group proposed a commission-defined option removing the top floor from a portion of the building, which Commissioner Allison Wright said she would introduce.
The tower of more than 900 bedrooms would double the density on the property, sparking a discussion about re-evaluating the 100-foot limit. "I'd much rather us look at growing up rather than growing out for density purposes," Commissioner Mike Hamby said.
The commission also discussed Sheriff John Q. Williams' request to contract with a new health-care provider for the county jail that would double spending on inmates' health care from $2.2 million under current provider Armor to $4.2 million under new provider Mediko. The contract could reach up to $26.6 million over five years, depending on the number of inmates at the jail. Houle said the county should be trying to reduce the jail population to reduce health-care costs.
But according to a memo from Sheriff Williams, Armor is not providing proper care, with the equivalent of 13.3 full-time employees—nurses, mental health professionals, doctors, dentists and administrators—to serve an average of 400 inmates. "He indicated more and different services were needed for some time," Manager Blaine Williams said. "… He had concerns about the level of care." Mediko would provide 25.4 full-time equivalents. As Sheriff Williams noted, inmates are far more likely to suffer from substance abuse and mental health issues, HIV/AIDs, tuberculosis and hepatitis C than the general population.
"While this is an enormous budget hit, it's a question of health, safety and dignity," Mayor Kelly Girtz said. The new contract with Mediko would provide exit counseling to reduce recidivism, he said.
However, commissioners were reluctant to give District Attorney Deborah Gonzalez $267,000 to create a three-member unit to prosecute gang crimes. Commissioner Dexter Fisher questioned how many cases are being brought forward and why Gonzalez can't reallocate existing open positions. Some commissioners said they want to hold the item to study the wage scale for assistant DAs, or deal with it during the upcoming budget cycle instead of mid-year. (Gonzalez acknowledged at a work session earlier this month that nine of 17 ADA positions are vacant, but said the Human Resources Department won't let her reallocate resources.)
Despite an upward adjustment in last year's budget, the problem of low salaries hampering recruiting is a government-wide one, Williams told commissioners, because they were based on market studies from years ago. "It's a whole new world now," he said. Hamby and Commissioner Ovita Thornton suggested that Gonzalez and other elected constitutional officers should be given the authority to redistribute the funding the commission allocates to their offices.
Like what you just read? Support Flagpole by making a donation today. Every dollar you give helps fund our ongoing mission to provide Athens with quality, independent journalism.