2:29 a.m.: Well, we lied about putting a lid on it, because Secretary of State Brad Raffensperger's top deputy just ruined your Thanksgiving:
Enjoy watching nonstop political ads with your parents and/or in-laws. Eat Arby's.
12:36 a.m.: A referendum on raising the homestead exemption in Athens and giving a tax break to low-income homeowners passed overwhelmingly by an 86%-14% margin.
Starting next year, the local homestead exemption will rise from $10,000 to $25,000, meaning homeowners who live in their homes will pay taxes on a smaller portion of their property value. In addition, homeowners whose incomes are less than 200% of the poverty line will have their property taxes frozen until they sell the property. But renters, business owners and industries could see their taxes or monthly rent payments rise if the Athens-Clarke County Mayor and Commission raise the tax rate to compensate for the loss of revenue.
In Oconee County, voters narrowly approved a referendum to increase the sales tax from 7% to 8% to raise money for transportation projects, after narrowly rejecting a similar referendum last year. The revenue will pay for road repaving, intersection improvements, multi-use paths and a 1-mill property tax cut.
With just 1,000 votes out of 3.7 million separating Sen. Raphael Warnock and Herschel Walker, and 9% of precincts left to be reported, that race is unlikely to be decided tonight. So, as they say in politics, we are going to put a lid on it. Good night, and thanks for reading.
12:03 a.m.: Republican incumbents easily held on to five seats in the Georgia legislature that include parts of Athens — which should have been the case, since as drawn by GOP lawmakers, they're all made up primarily of the deep-red counties surrounding deep-blue Clarke County.
In Senate District 46, Sen. Bill Cowsert (R-Athens) defeated Andrew Ferguson 60%-40%, although Ferguson led 61%-39% in Athens.
In Senate District 47, Sen. Frank Ginn (R-Danielsville) defeated Conolus Scott Jr. 62%-39%, although Scott led 72%-28% in Athens.
In House District 120, Rep. Houston Gaines (R-Athens) defeated Mokah Jasmine Johnson 61%-39%, although Johnson led 55%-45% in Athens.
In House District 121, Rep. Marcus Wiedower (R-Watkinsville) defeated Jeff Auerbach 60%-40%, although Auerbach led Wiedower 67%-33% in Athens.
In House District 124, Rep. Trey Rhodes (R-Greensboro) defeated Kat Howkins 66%-34%, although Howkins led Rhodes 67%-34% in Athens.
In House District 122, Rep. Spencer Frye (D-Athens) ran unopposed.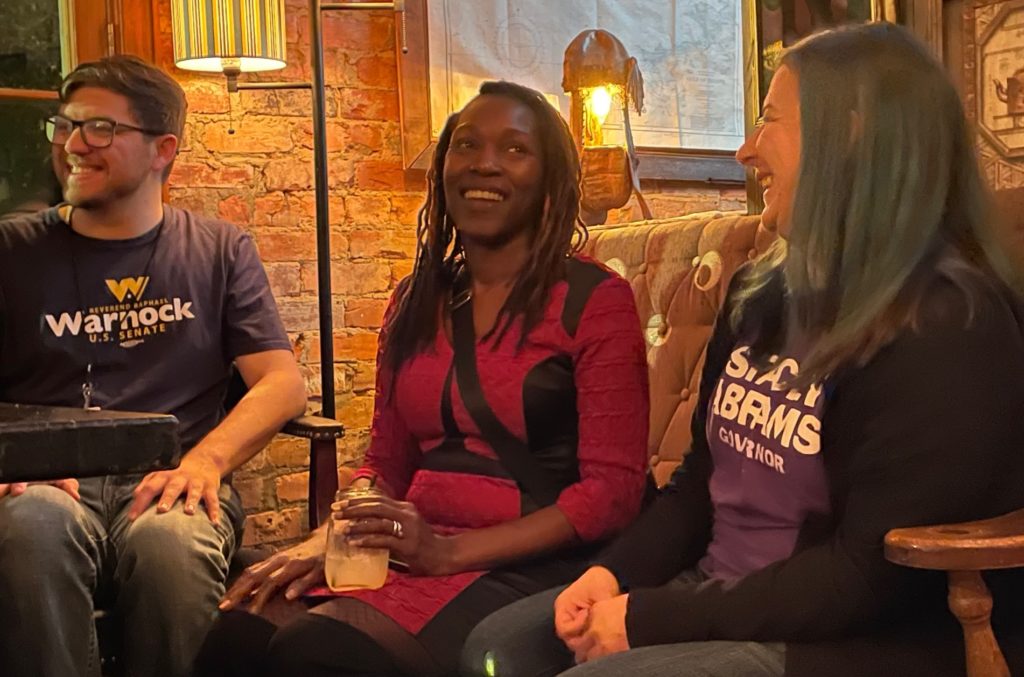 10:43 p.m.: News outlets are calling the governor's race for Brian Kemp, who leads Stacey Abrams 54%-45% with 3.3 million votes counted. But the race between Sen. Raphael Warnock and Herschel Walker remains too close to call.
All but a handful of Athens-Clarke County's votes are in. Warnock received 71% of the Athens vote to Walker's 27%, with Libertarian Chase Oliver winning 2%. Meanwhile, Abrams defeated Gov. Kemp 67%-32% in ACC. Turnout was just 59%, a disappointment after the 62% turnout in the midterm election four years ago. About 30 provisional ballots and perhaps 100 overseas military ballots remain to be counted, Board of Elections chair Rocky Raffle said.
9:49 p.m.: NBC News officially called the 10th Congressional District race for Republican Mike Collins (as if it was ever in doubt).
But Tim Denson — an Athens-Clarke County commissioner, longtime political organizer and chair of the ACC Democratic Committee — is more optimistic about some statewide races, particularly U.S. Senate.
"It's kind of following how I thought it was going to go," Denson said at Democrats' watch party at the downtown bar Little Kings. "Warnock is looking good. He has a chance to win it outright."
But Denson didn't give Stacey Abrams much of a chance against Gov. Brian Kemp. So why is Abrams running several points behind Warnock?
"The biggest difference isn't about them, but who they ran against," Denson said. Kemp has been an effective campaigner, he said, while Walker "jumped from mistake to mistake."
Even if Abrams is doomed, Denson said a couple of statewide races look like they might be headed to a runoff: Democrat Charlie Bailey and Republican Burt Jones for the open lieutenant governor's seat, and incumbent Attorney General Chris Carr and Democratic challenger Sen. Jen Jordan.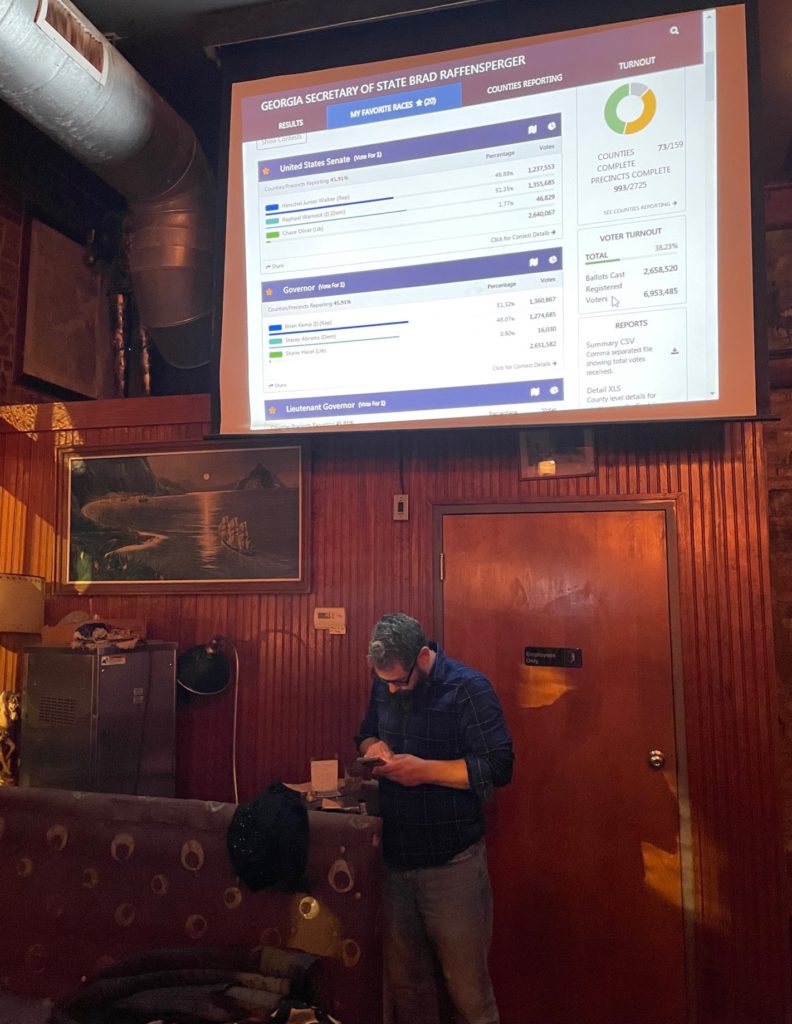 8:35 p.m.: With about 25,000 early votes now in, Sen. Raphael Warnock is running about two points ahead of his performance in the 2021 runoff in Athens-Clarke County.
Warnock has 74% of the vote in Athens to Republican challenger Herschel Walker's 25%, while Gov. Brian Kemp trails Democratic challenger Stacey Abrams 30% to 70%. Warnock finished with 72% of the vote in Athens in the Jan. 5, 2021 runoff with Kemp appointee Kelly Loeffler.
And it's not because Kemp is from Athens. Consistent with polling, Warnock is running ahead of Abrams statewide as well, while Kemp is doing slightly better than Walker. Warnock has a 55-43 lead, and Abrams leads 52-47. The question now is whether Republican turnout swamped Democrats on Election Day.
As expected, Republican Mike Collins is cruising to victory over Democrat Tabitha Johnson-Green in the conservative-leaning 10th Congressional District.
Incumbent Republicans representing Athens in the state legislature also have large leads over their Democratic challengers — again, no surprise, since the GOP redrew those districts earlier this year to protect those incumbents.
7:58 p.m.: While we wait on those local election results, here's a story:
Earlier today, ACC election officials were talking about hand-delivering absentee ballots to voters who are in the hospital and unable to vote in person today. One apparently was an individual who had a stroke while casting his ballot.
Another, it turns out, was William Orten Carlton. Sadly, the beloved local writer/record collector/beer aficionado/all-around character recently landed in the hospital. But he was still able to vote, thanks to the efforts of friends and county officials, according to Shannon Byrne on Facebook.
As Byrne recounted, while at St. Mary's, Ort received an international call from a friend known as "Beercan Dan" in Brazil, who realized that Ort was feeling worse about missing the election than anything that physically ailed him. Along with Leslie Ganschow and Commissioner Melissa Link, they determined that Ort and other hospitalized voters were eligible to have an absentee ballot brought to them to be filled out, then hand-delivered to the Board of Elections.
Board members Rocky Raffle and Hank Qadir also volunteered to bring ballots to ill voters.
Folks, this kind of thing is what makes Athens Athens, so kudos all around. And we at Flagpole wish Ort a swift recovery.
6:26 p.m.: ACC election officials should be ready to post advance voting and possibly absentee voting results as soon as 7 p.m., when polls close, Board of Elections Chairman Rocky Raffle told Flagpole. The first batch of Election Day votes is expected around 9 or 9:30, with final results coming in around 10:30, he said. (Of course, such projections are often optimistic, so don't be surprised if it's a little later.)
Raffle also provided an update on the disgruntled voter mentioned below. Apparently, he drove to the secretary of state's office in Atlanta, where they also told him there was nothing they could do about his complaint, then returned to the Winterville train depot. Mayor Dodd Ferrelle, whose office is next door, heard a commotion and called police. The man surrendered his ballot to Winterville police and left, and the ballot was marked spoiled, according to Raffle. Crazy times.
12:10 p.m.: Director of Elections and Voter Registration Charlotte Sosebee told the Athens-Clarke County Board of Elections this afternoon that she expects a 65% turnout for today's election. She said that 4,451 Athens residents had voted today as of 10 a.m., and she was hoping for 12,000 or 13,000 more before polls close at 7 p.m. Local turnout was 68% in 2020 and 62% in 2018.
Sosebee also said that poll workers had to deal with one "very irate" voter in Winterville who was upset about the QR code on his ballot. The printed ballot that is scanned includes a list of the candidates the voter chose, but some far-right conspiracy theorists want the entire ballot listed with filled-in ovals by their choices instead of the QR code.
"Because they could not get the voter to calm down or release the ballot, I placed a call to the sheriff's office," Sosebee said.
The man then came to the Board of Elections office with his ballot in hand to continue the argument, she said. He was not arrested.
Board chairman Rocky Raffle raised concerns about handicapped accessibility at the Multimodal Center, but otherwise neither Sosebee nor board members reported any issues at polling sites.
9:15 a.m.: Gov. Brian Kemp and his family voted at the Winterville train depot. "We got five more [votes] for the home team today," he said during brief remarks. He did not take questions.
Kemp was greeted by Mayor Dodd Ferrelle and his son. Ferrelle is a Democrat, but said that people need to talk to each other across the aisle more, or else they wind up electing extremists like Rep. Marjorie Taylor Greene, and that he wants to have a good working relationship with Kemp to benefit the city of Winterville. "I'll work with anybody," Ferrelle said.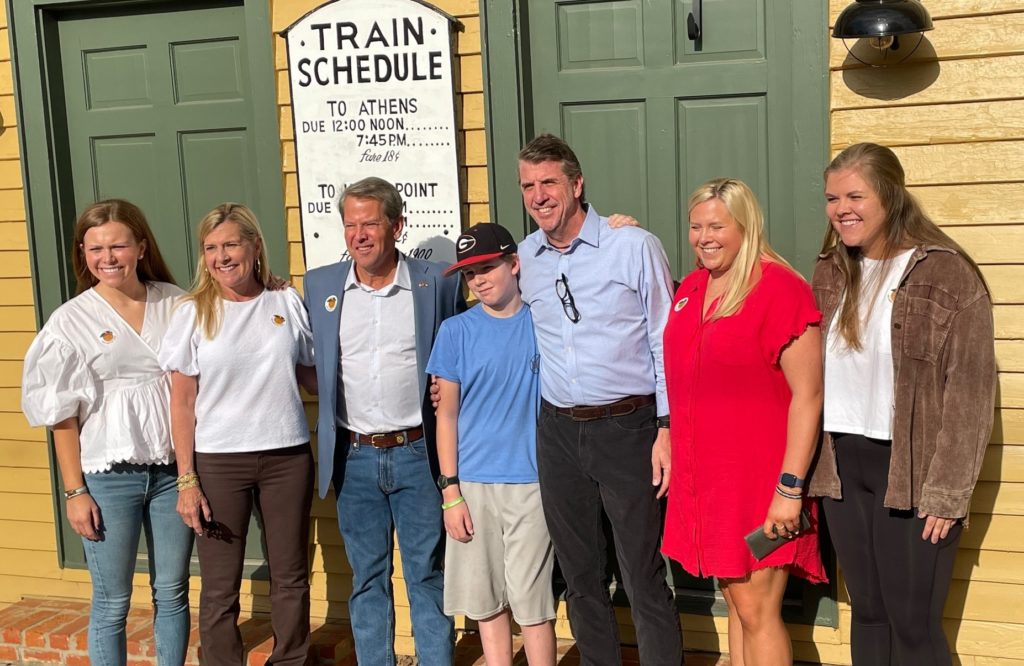 Ferrelle also mentioned that early voting in Winterville was busier than he's ever seen. In Clarke County as a whole, 25,715 people voted early in person. An additional 3,566 people have voted absentee. Clarke County has 68,379 active registered voters and 14,017 inactive voters (who are still eligible to vote if they have not moved away).
Statewide, a record 2.3 million voters cast ballots in person during the three-week early voting period, according to the Georgia secretary of state's office. Another 234,000 mail-in ballots have been returned. In total, that's 33% of registered voters and 38% of active voters.
Polls are open until 7 p.m. today, and in contrast to early voting, voters must cast their ballots at their assigned precincts—and don't forget a government-issued photo ID. To find your precinct, go to the secretary of state's My Voter Page. For more of Flagpole's election coverage, click here. Our friends at Athens Politics Nerd also have a handy voter's guide.
Like what you just read? Support Flagpole by making a donation today. Every dollar you give helps fund our ongoing mission to provide Athens with quality, independent journalism.