Sen. Raphael Warnock is in a close race with Republican challenger Herschel Walker, while Democrat Stacey Abrams trails Gov. Brian Kemp, according to a new poll conducted by the University of Georgia for the Georgia News Collaborative, a partnership among the Atlanta Journal-Constitution, Flagpole and other news organizations.
Poll respondents favored Kemp over Abrams by 10 points, 51%–41%, similar to the eight-point lead Kemp held in a previous AJC poll.
Warnock appeared to be opening up a small lead over Walker even before news broke that the former football star allegedly had an affair and paid for the woman's abortion. The challenger led the incumbent 46–44 in a September AJC poll, but in the most recent poll Warnock led 46–43. Both results were within the polls' margin of error, indicating a near-tie. With Libertarian Chase Oliver polling at 4% and 6% undecided, the Senate race could be headed to a December runoff.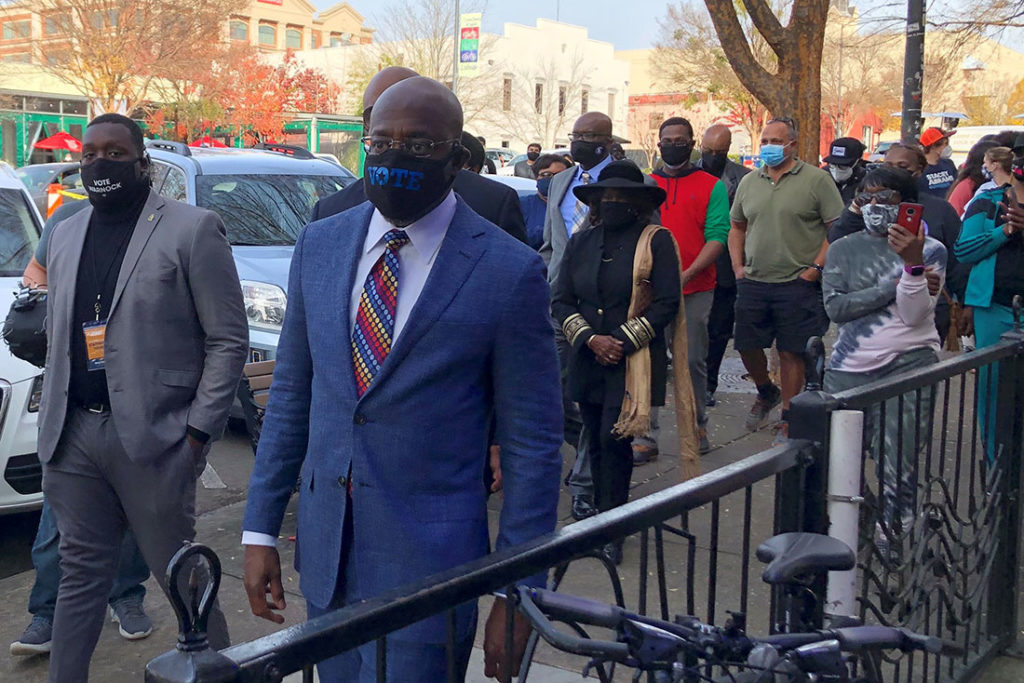 Secretary of State Brad Raffensperger and, to a lesser extent, Kemp are both being helped by crossover voting, said pollster Trey Hood, director of the UGA School of Public and International Affairs' Survey Research Institute. "There is a certain subset of people who are just not voting a straight party ticket," he said.
One of them is Donald Baker, a Glynn County resident who runs a heating and air business. Due to his dislike of Donald Trump, the former Republican said he plans to vote Democratic with the exception of Kemp and Raffensperger.
"Kemp did his job. Even though he was under pressure from Trump, he did his job. He did what was right," Baker said. "Technically, I think Trump should have been court martialed. It's not over yet, but I don't see why he couldn't be."
Part of the discrepancy between Warnock and Abrams can be explained by Abrams' relatively soft support among Black voters, traditionally the strongest Democratic constituency. Warnock had 89% support among Black respondents, while Abrams had just 80%. However, Hood said he expects about 90% of Black voters to coalesce around Abrams eventually.
Dyann Allen-Jordan, a Black Athens resident, said she is voting for Warnock but is undecided in the governor's race. "He seems to be a great person," she said of Warnock. "He's been in various communities more than anyone else I've seen in that position."
However, "I'm concerned about Abrams' progressiveness," Allen-Jordan said. Asked what Abrams could do to win her over, Allen-Jordan replied that she has not seen much of Abrams in her community. "I don't know what she can do about it at this point," she said. "I'm just going to have to pray on that."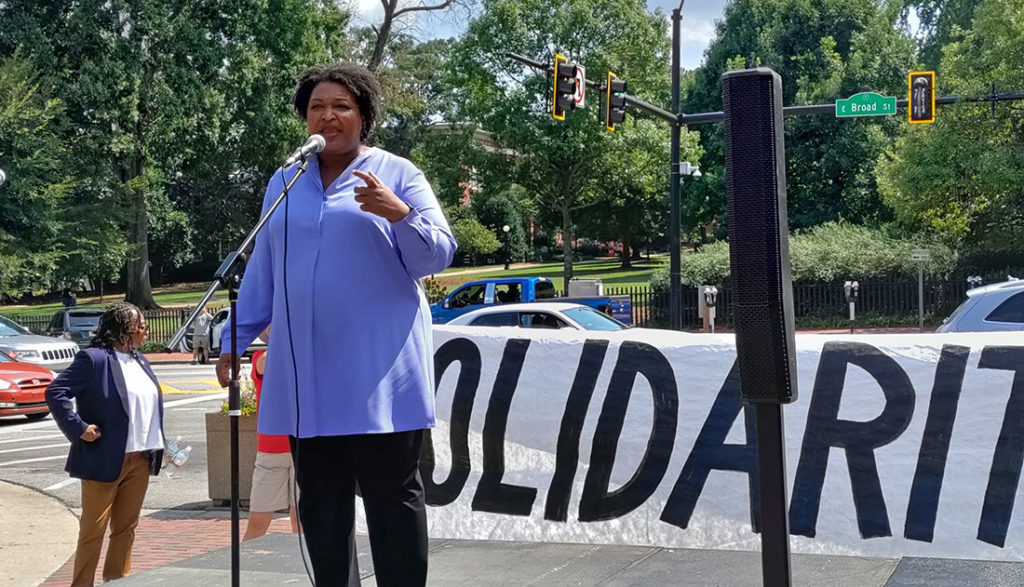 Warnock also outperformed Abrams among white voters, 25% to 20%. And, surprisingly, Abrams struggled among young voters, with just 38% of voters aged 18–29 supporting her, compared to 52% for Warnock. The only age demographic Abrams was winning was 30–44.
Overall, Kemp is fairly popular, with a 54% approval rating, according to the poll. President Joe Biden's approval rating in Georgia was just 38%.
The poll was mostly completed before the Daily Beast reported on Oct. 7 about a woman paid by Walker to have an abortion. The unnamed woman reportedly later gave birth to his son, whom Walker has had little contact with. (Walker has denied the charges despite the Daily Beast publishing evidence like a get-well card, a check and text messages between the woman and Walker's current wife.) Therefore, the story, although bad for Walker's campaign, doesn't explain his five-point slide, Hood said.
For Wendy Meehan, Walker was never an option. The 72-year-old Madison County resident said she will vote to elect Warnock to a full Senate term because her positions in favor of Medicaid expansion and against the U.S. Supreme Court decision overturning the constitutional right to abortion align with the Democrats.
Meehan said she doesn't believe Walker is qualified to serve in the Senate. "He should not be a Senate candidate," she said. "Georgia could do much better than him."
However, many Republican voters are sticking by Walker. Jim Herring, a 61-year-old Walton County resident, said recent revelations about Walker's past will "not at all" affect his vote. "One of the things that we have to do is we have to cut spending, and unfortunately, our present senator doesn't seem to want to do that," Herring said.
Pam Calloway, 51, a receptionist in Fayette County, said Walker's anti-abortion stance is more important than his past actions: "As a Christian, if you were to go back in my life and look at some of the decisions I made before I found grace and before [God] saved me, well, my goodness, you'd pull up skeletons left and right. I mean, if I ran for office, you could crucify me from some of the choices. But I believe that he's been forthcoming. He hasn't hid anything."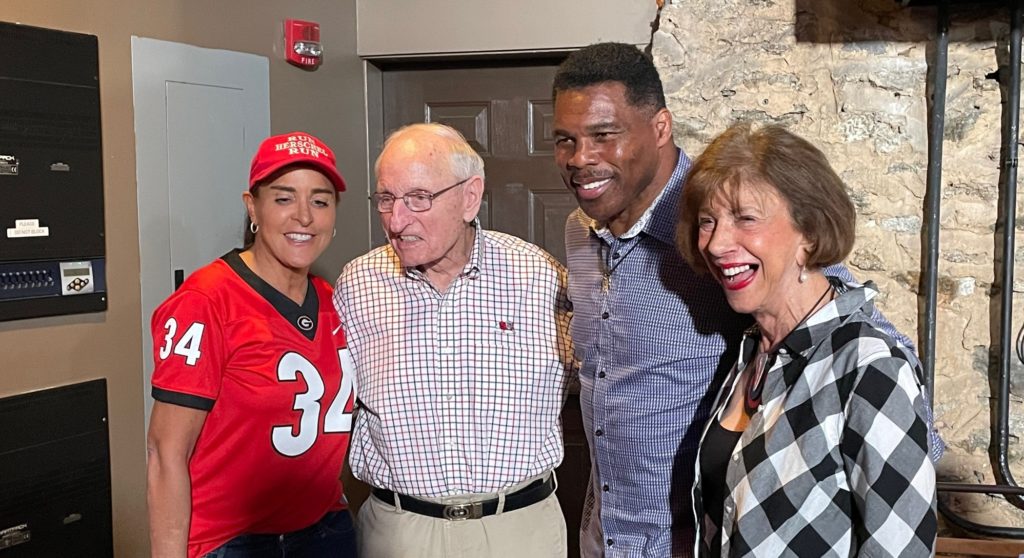 Down-ballot races show a similar pattern to the top of the ticket. In the lieutenant governor's race, Republican Burt Jones leads Democrat Charlie Bailey by a statistically insignificant 5 percentage points, with 14% undecided. Meanwhile, Attorney General Chris Carr leads 47%–39%, outside the margin of error. Raffensperger—a hero among some Democrats for standing up to Donald Trump and refusing to overturn the 2020 election results—is running away with his re-election bid, 48%–34%. Democrat Bee Nguyen has been trying to counteract his reputation by running ads attacking Raffensperger for opposing abortion rights.
The poll did not delve into individual congressional races, but 50% of those polled statewide said they want to see the GOP take over Congress, compared to 44% who want Democrats to keep control.
Although the poll results suggest that Georgia is not yet a blue or even purple state, even if it's not as deep red as it once was, on many issues the majority of voters tend to favor the Democrats' position. About 61% said affordable housing is a problem; 59% think Georgia should use its budget surplus to increase spending rather than cut taxes; 62% oppose a new law allowing people to carry concealed weapons without a permit; 62% also oppose Georgia's six-week abortion ban; and 54% support Biden's plan to forgive student loans.
Meanwhile, the rising cost of living is a potent issue for the GOP, with 92% of respondents calling inflation important.
On democracy itself, voters gave mixed signals. About 54% agreed that democracy is not working in this country, and 53% opposed limiting absentee ballot drop boxes. However, 68% supported a provision in Republicans' new voting law requiring a photo ID to vote by mail.
The poll also found that casino gambling enjoys bipartisan support, with majorities of liberals, moderates and conservatives in favor of it. Sports betting is less popular, with 46% in support and 43% opposed.
Immigration is another issue where voters are fairly evenly split, although mostly along ideological lines. About 39% support ending the Deferred Action for Childhood Arrivals program, which allows young people brought to the U.S. illegally as children to stay. About 44% want to keep the program in place and oppose deporting DACA recipients.
The live poll of 1,030 likely voters by cell phone and landline has a margin of error of plus or minus 3.1%. The responses were weighted to reflect Hood's estimate of the 2022 electorate by race, sex, age and education level.
Flagpole intern Shelby Israel, Riley Bunch of Georgia Public Broadcasting, Rebecca Grapevine of Capitol Beat, Ross Williams of the Georgia Recorder and Jillian Price of the AJC contributed to this report.
Like what you just read? Support Flagpole by making a donation today. Every dollar you give helps fund our ongoing mission to provide Athens with quality, independent journalism.