Hundreds of Athens residents took to the streets Wednesday to protest the potential end of abortion rights in Georgia and in states across the U.S. after a draft Supreme Court opinion leaked that would overturn Roe v. Wade.
The majority opinion—drafted by conservative George W. Bush appointee Justice Samuel Alito and joined by George H.W. Bush appointee Clarence Thomas and Donald Trump appointees Neil Gorsuch, Brett Kavanaugh and Amy Coney Barrett—was leaked to Politico on Monday, although the case in question is not expected to be officially decided until June. Two days later, about 500 people gathered in front of Athens City Hall and marched through downtown to protest the potential decision.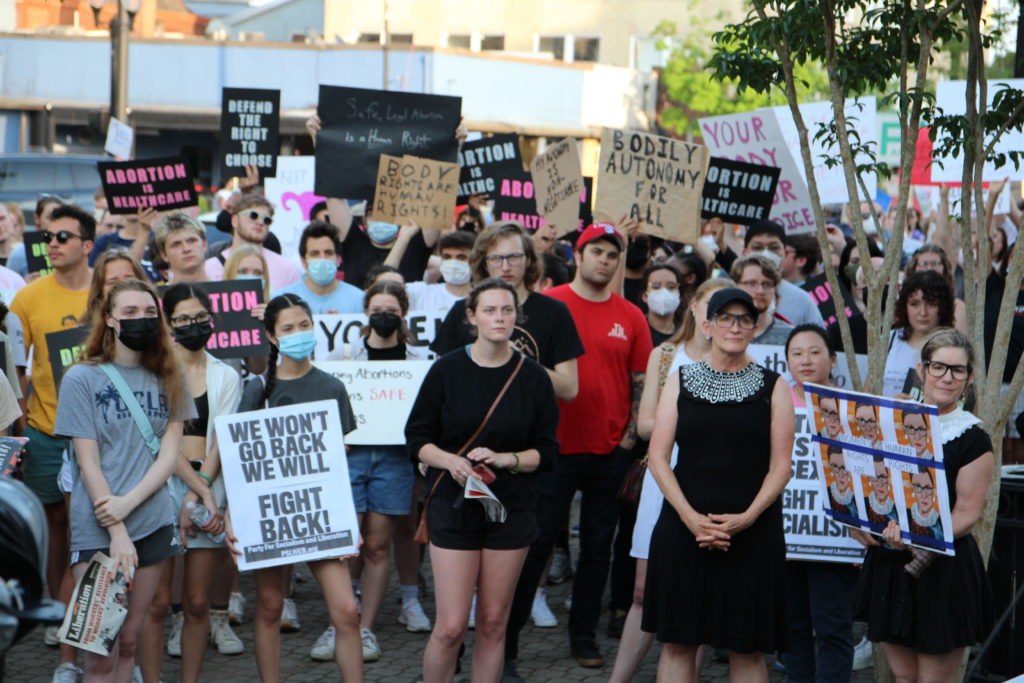 The rally featured speakers from the Athens Reproductive Justice Coalition, Democratic Socialists of America and other progressive groups. The headliner, Athens-Clarke County Commissioner Mariah Parker, called on the crowd to not only resist abortion restrictions, but to push for more abortion rights.
"Roe is the floor," they said. "We need free abortion on demand, just like every other form of health care should be."
Parker—who identifies as queer and uses gender-neutral pronouns—is a new mother, and said they were speaking from experience.
"On a personal note, I am a person who has had an abortion, and I would not be the person I am today, I would not have my beautiful life with my beautiful son, if that were not the case," they said.
Parker noted that Georgia gave Democrats their Senate majority by electing Democrats Raphael Warnock and Jon Ossoff—"some boss shit"—and said they should be held accountable to do whatever it takes to protect reproductive rights.
"I don't care if you have to put Joe Manchin in a headlock," Parker said, referring to the moderate Democratic senator from West Virginia who opposes filibuster reform that would allow a bill protecting abortion rights to pass.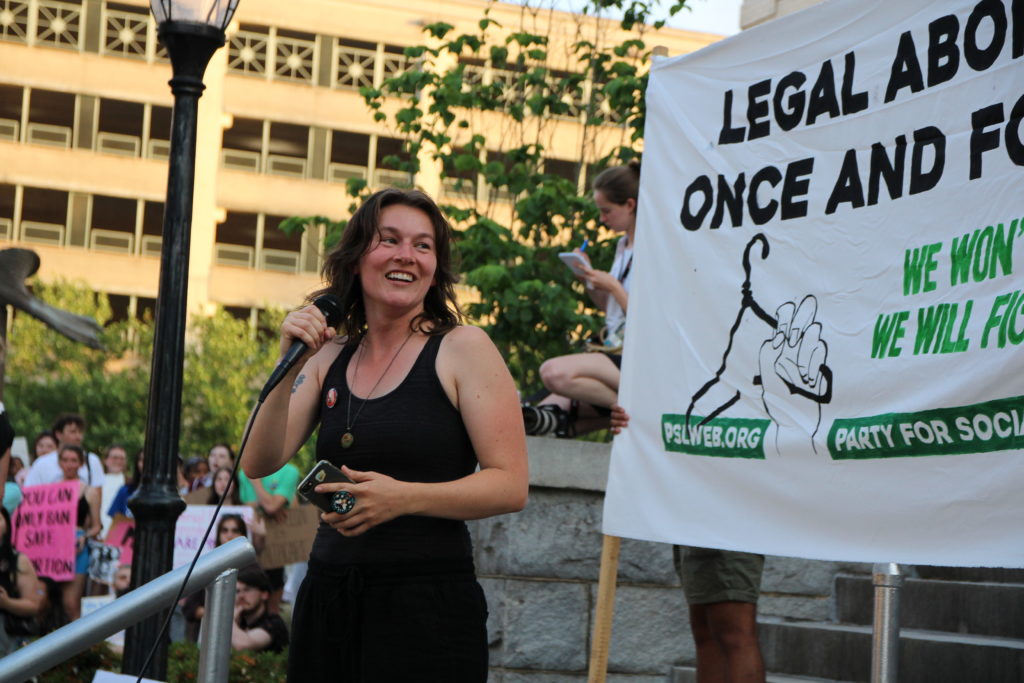 One in four women will get an abortion during their lifetime, said Juhi Varshney, a University of Georgia graduate who's now a Florida emergency physician and works with Planned Parenthood. They come from all walks of life, from single mothers to career women to women on birth control who had unplanned pregnancies to women with medical conditions, she said.
"We need to be honest about restrictions," Varshney said. "They don't make [abortions] go away. They just make them less safe."
Another speaker, Vanisha Kudumuri of the Athens Reproductive Justice Coalition, emphasized that abortion remains legal in Georgia unless and until the leaked Supreme Court ruling is officially handed down. But that doesn't mean everyone has access to abortion—for example, Athens lacks an abortion clinic, they said.
But if and when the ruling takes effect, obtaining an abortion will be difficult, if not impossible, in Georgia. A law already in place, the so-called "Heartbeat Bill," that's currently on hold due to a court challenge will swiftly take effect, barring most abortions after six weeks of pregnancy, Kudumuri said.
Kudumuri urged the crowd to educate others, donate to reproductive rights groups and vote in upcoming elections.
"We need more pro-choice Democrats, especially in the state legislature," they said. If Roe is in fact overturned, it will be up to states to decide what level of abortion rights to allow.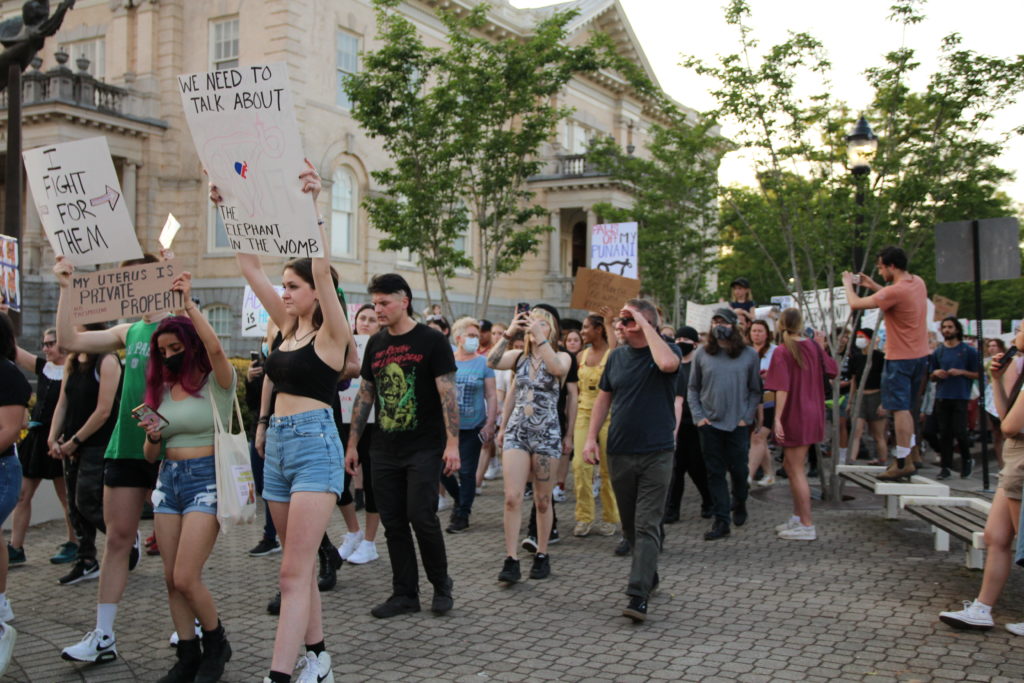 The two-hour protest went off peacefully, despite the efforts of a few counter-demonstrators to disrupt it, one wearing a T-shirt bearing a well-known QAnon slogan, "The Storm Is Coming." One driver shouted, "Abortion is murder!" but many others gave appreciative honks.
About half a dozen ACCPD police officers patrolled the outskirts of the demonstration, breaking up at least one verbal altercation, blocking traffic for marchers and ensuring that no one stood in the roadway.
As the rally neared an end, three bikers circled the City Hall block, revving their engines and making it difficult to hear the speakers.
"You know what?" one said. "If they kept their legs closed, they wouldn't have to have an abortion."
As the men drove off, another's motorcycle backfired and stalled out, drawing a laugh from the nearby crowd.
"Sometimes we have to put our lives on the line to march for what is right," Parker said soon after.
Like what you just read? Support Flagpole by making a donation today. Every dollar you give helps fund our ongoing mission to provide Athens with quality, independent journalism.