Carrollton residents seeking fresh seafood or a Mai Tail are still coming out to Chef Tano Phommasith's Little Hawaiian, but not in the numbers they were before the pandemic.
"We were averaging, before the pandemic, about roughly 2,200 customers a week, and closing on Sunday," Phommasith said as lunchtime customers in this college town restaurant began to take their seats in an indoor dining room festooned with surf boards and other island decor. "Now, we are averaging about 60% of what we were before the pandemic. Slowly, we are seeing a steady increase in sales and customer count. But I think we will never get back to where we were."
As COVID-19 continues to keep many diners at home, Phommasith said he will have to cut expenses and learn to get by with fewer customers. "Besides, I think there's a lot of uncertainty," he said. "We can focus on ourselves and our community."
The University of West Georgia is a big part of that community. The campus is home to over 11,000 students, faculty and staff centered in Carrollton, which has a population of about 27,000 people.
The University System of Georgia's 26 institutions are preparing for in-person classes in the fall, with some schools offering increased options for online classes or planning to end the semester early and conduct final exams online. These decisions will have a major impact on the local economies that rely on these usually bustling campuses.
Three of the state's largest historically Black schools—Morehouse College, Spelman College and Clark Atlanta University—are planning to open virtually in the fall. Another major Atlanta private university, Emory, will limit in-person instruction to first-year students and a small number of other courses.
When the University System of Georgia suspended in-person instruction in mid-March, business owners in college towns felt the pain, said Athens restaurateur Peter Dale. Dale, who owns The National, Seabear, Maepole and Condor Chocolates, looked on as nearly 40,000 University of Georgia undergraduate and graduate students and 10,000 faculty and staff abruptly stopped dining out. Worse yet were the cancelations of big events like graduation and orientation.
"In the spring, we missed graduation, which is our biggest week of the year," Dale said. "There's more than just one day, it's a whole week of activity while the different schools and colleges have their own ceremonies and events, all the spring parties and parents' weekend, so it's not necessarily just the student traffic, but it's all the stuff that surrounds the students."
About 40% of Phommasith's employees have left. Little Hawaiian is taking extra precautions to keep workers who don't feel well away from work, but that often means short staffs.
"I would say the struggle for us is every day somebody is calling out," he said. "They're scared, and it might be legit, they don't feel good. And it's very sensitive right now. If somebody doesn't feel 100%, they worry, they get scared into thinking they might have the virus, so I understand. But it is tough on us as the owner and the management team to cope with that on a daily basis."
Phommasith said he wants to hire more people, but nobody is applying. Dale, who is focusing on take-out, is facing the opposite problem: He's not doing enough business to bring workers back.
"We don't have our full staff back, and I'll be honest, I don't know that there's a scenario in the next year where we will need to have as many people on our staff as we did before March," Dale said. "With all the different things that we did between lunch service, dinner service, catering, we had a pretty big staff, and we have about half of them working right now. I don't know that we will be 100% anytime soon."
Unexpected Opportunities
But as restaurants suffer, some other businesses in Georgia's college towns are reporting increased sales over last year, including Athens boutique Community.
Owner Sanni Baumgartner closed in mid-March, just before colleges moved online, and she recently reopened for limited in-person business. Two things kept Community going, Baumgartner said: the rapid roll-out of an online store and the decision to create and sell fashionable face masks.
After reading about mask shortages at nearby Piedmont Athens Regional, Baumgartner started a fundraiser to keep her seamstresses working by making masks to donate. They now make masks for the public as well. "That's really been our lifeline right now, the face masks, because it was something we've never done before," Baumgartner said. "It's really selling really well online, and now also in-store, and we got also a big order for UGA last month, when we made 2,000 for their maintenance workers that were the first people coming back to work at UGA."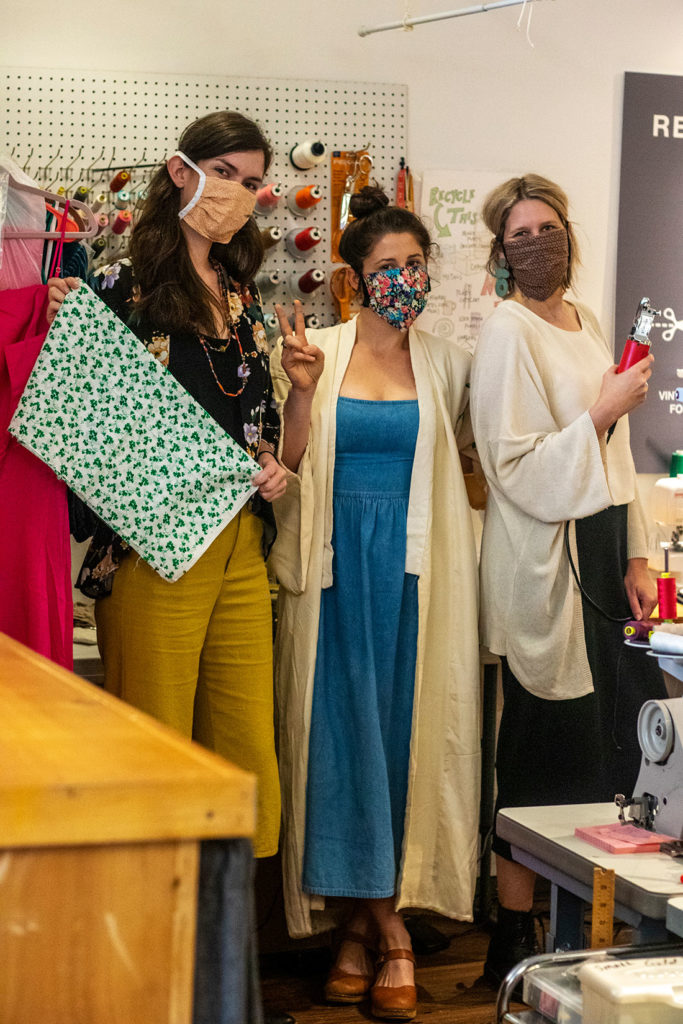 UGA plans to reopen its campus for in-person instruction in the fall with new protective measures in place, including a mask mandate.
Baumgartner said she is grateful making face masks has allowed her to keep her seamstresses' sewing machines humming, but she's looking forward to the day there's no market for them.
"I don't want to rely on the face masks too much, because I think eventually, they might just not be needed anymore, hopefully, one day," she said. "But at least it's giving us the opportunity at the moment to keep this going while we're figuring out what this all will look like in the future."
Back in Carrollton, Perpetual Motion Bikes is filled with bicycles, but they're not for sale. They are nearly all in line for repairs. As people sheltering at home sought new ways to exercise without going to the gym, many turned to bicycles, sparking a worldwide shortage.
More people riding bikes means more tires and chains that need attention after sitting unused, so Perpetual Motion has been able to bring all four of its employees back to work after closing down for three weeks. Still, Mikki Griffin, who runs Perpetual Motion Bikes in Carrollton with her husband Allen, would rather be putting customers onto new bikes.
"It's caused a problem for any vendor, any distributor, any source; and everybody's scrambling to catch up, so that's really hurt, and maybe helped at the same time," she said. "You have the enthusiasm for riding, over and above other things, maybe there are other sports that got curtailed, like going to the gym or whatever other thing that they were doing, and they were using bikes as a substitute," she said. "But it also hurts where I don't feel we can seed the new enthusiasm and maybe convert them into lifelong riders."
A Fall Without Football?
The summer, which is often a slow season for businesses in college towns even in normal years, has given some college town businesses a little time to breathe, said Dale. For now, all he can do is try to make sure customers feel comfortable enough to continue placing orders while keeping his ear to the ground for news from the university, and especially the football team.
"Athens is kind of in a unique position, and it has such a large university in a smaller town, and so we are really dependent on what happens at the university," he said. "We're anxious to see what happens in the wider world, but also how that impacts UGA. That definitely has an impact on what we do.
"What gives me a lot of nervousness is football," he added. "It is certainly a big thing that brings people to town, and it seems like it's going to happen, but we don't know."
Gov. Brian Kemp has attempted to use the prospect of a football-less fall to convince Georgians to wear face masks. "Wear a mask or socially distance yourself," Kemp, an Athens native, said at a press briefing earlier this month. "We're asking people to do this for four weeks, and let's flatten the curve again. It will give the hope of us having a college football season."
But what the season will look like for the Bulldogs and Georgia's other college football squads is uncertain. The Southeastern Conference is still planning to play, but two other conferences, the Big Ten and Pacific 12, have both decided to move to a conference-only schedule. The SEC was not set to play against the Big 10, but had two games scheduled against members of the Pacific 12.
Some Georgia schools, including Morehouse College, have announced they will not be playing football in the fall.
In an interview on ESPN's "The Dan Patrick Show," last week, SEC Commissioner Greg Sankey said he wants games to go on, but what happens will depend on the virus' spread and the decisions of other leagues. Other options, including suspending games until spring, are still on the table.
This article originally appeared in the Georgia Recorder.
Like what you just read? Support Flagpole by making a donation today. Every dollar you give helps fund our ongoing mission to provide Athens with quality, independent journalism.