With social distancing and limited contact to the outside world, it only makes sense for the role of a pet to elevate from faithful companion to beloved muse. Pet portraits may seem like a whimsical luxury to some, but the steady income they bring in can be crucial to artists' careers, especially to those whose livelihoods have recently felt the impact of the pandemic through canceled exhibitions and markets, decreased online sales and closures of second jobs.
"During the COVID-19 pandemic, painting rapidly changed from something I did after work to a skill I leaned on to afford stability while indefinitely unemployed and also quarantined," says Jessie Lamay, who has not been able to return to her apprenticeship at Pageboy Salon yet. "Without commissioned portraits, I would not have been able to afford rent, groceries or bills."
Lamay first began creating portraits by using her own pets as models, then branching out to friends' pets, and then friends of friends' pets, and so on. Before beginning each piece, she prepares by asking about unique markings, favorite toys, weird quirks and other details that make the portraits feel distinct and personal. Through her solid coloring and caricature style, Lamay excels in capturing the squishy wrinkles, underbite smiles and gentle humor of animals.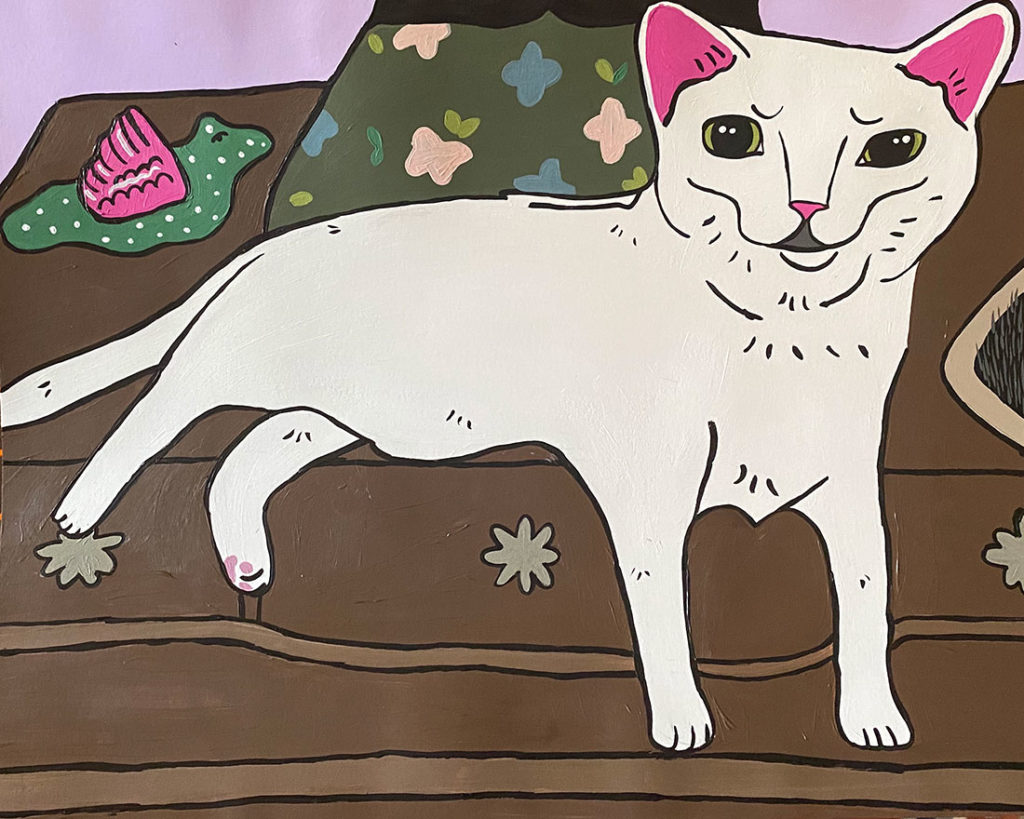 "The days spent painting in my apartment beside my own pets during COVID-19 have been tender," she says. "Making and sharing portraits provides me with a way to feel connected despite quarantine."
The first step to commissioning artwork is simply to ask. Variations in materials, size, detail, demand and time make it challenging for artists to publicly advertise rates, but most welcome the opportunity.
"If you have the means and are wanting to support artists affected by COVID-19, please consider commissioning or donating to a black artist," says Lamay. "Black people have been disproportionately affected by this pandemic."
Painter Marisa Leilani Mustard has also been particularly busy lately with pet portraits and other various commissions not limited to murals, mailboxes and guitars. After the death of her dog, Rayquan, two years ago, she painted a portrait of him, which quickly caught the attention of friends. Like Lamay, she first collects photographs and anecdotes of her subjects to better understand the personalities.
"I really enjoy hearing stories about people's animals," says Mustard. "I love it when they want me to add fun things to the painting that mean something to them—a special bandana, sunglasses. Whatever it is, they've all got a great story that goes with it."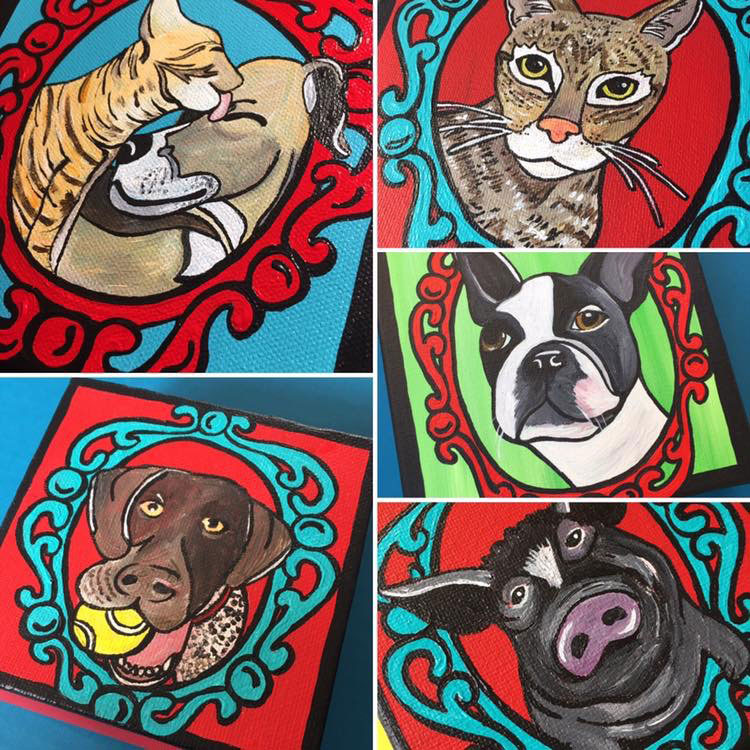 It feels more than appropriate that one of the first new in-person gallery exhibitions to occur post-sheltering in place will pay homage to the furry quarantine pals who have received so much extra attention, and taken so many extra walks over the past few months. Donating a portion of sales to the Athens Area Humane Society, Will Eskridge's solo show at tiny ATH gallery, "Dogs of Athens," is a collection of 25 canine companions. Painted with his signature wide, gestural brushstrokes, the dogs appear against gold leaf backgrounds, a nod to traditional iconography.
"I know Athens is a dog-loving town, but I honestly wasn't sure of the response when I first posted on social media asking for photos of everyone's fur-kids. I am definitely going to have to break this up into different parts," says Eskridge, who adds that he also plans to do a separate "Cats of Athens" series in the future.
After receiving an overwhelmingly large pool of online submissions, he gravitated towards high-quality photographs that he knew would make strong references while painting. Several of the subjects are popular pups about town, such as Marilyn Estes' Bucky (@buckyrocksathens on Instagram), and Amanda Burke and Randy Smyre's Dottie (@dottie_waffles).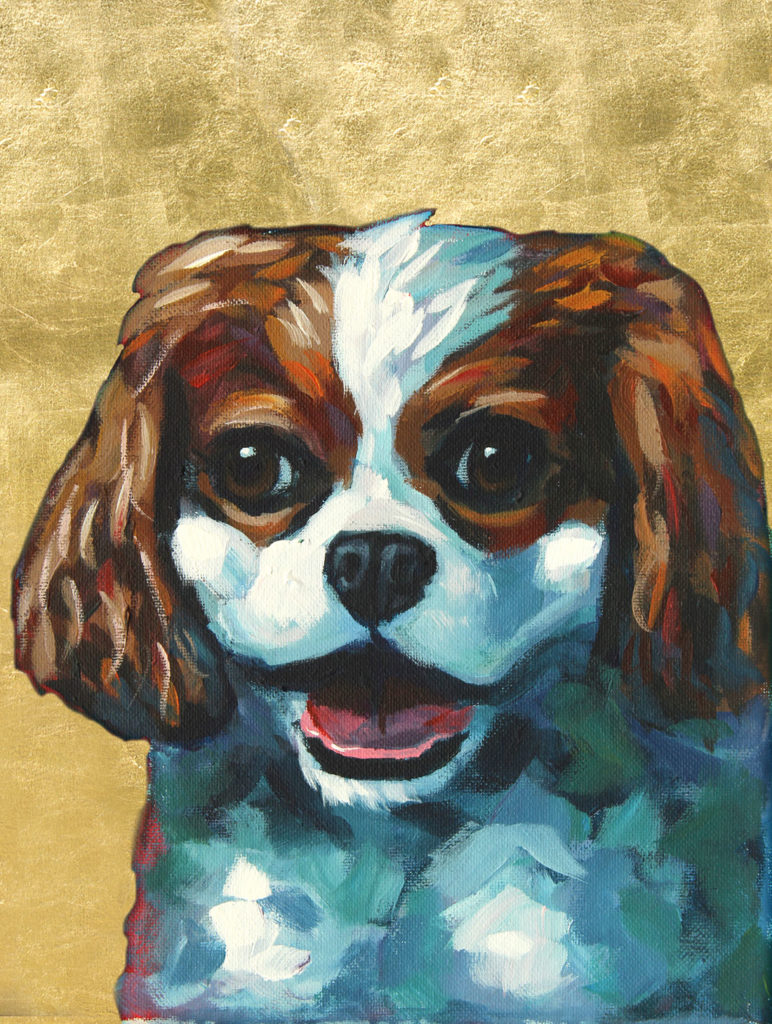 "Pet portraiture started for me about 20 years ago when I was fresh out of art school and my mom's beloved cockapoo passed away unexpectedly," says Eskridge. "I could see how upset she was, and I wanted to do something for her. All I could think to do was make her art, and so I decided to paint a portrait of Bibb."
Since then, Eskridge has made countless portraits over the years, finding joy in observing the bonds between animals and their human guardians. Though not the main focus of his career—which typically uses art as a platform for animal advocacy—he loves being able to offer portraits that serve as lasting tributes, whether celebratory or memorial, to best friends.
Tiny ATH gallery reopened earlier this month for Broderick Flanigan's exhibition, "Threads of Connection," and will observe similar safety precautions again during Eskridge's opening reception on Friday, June 19 from 6–9 p.m. Guests are encouraged to bring masks, gloves and hand sanitizer, and Tiny ATH will use one-way entry and six-foot markers. Though only 3–4 visitors will be allowed in the gallery at one time, the exit leads out into a back porch area where there's room to mingle at a distance. "Dogs of Athens" will remain on view through June 28, and viewing appointments can be set up by emailing tinyathgallery@gmail.com.
Like what you just read? Support Flagpole by making a donation today. Every dollar you give helps fund our ongoing mission to provide Athens with quality, independent journalism.