The Willson Center for Humanities and Arts, in partnership with the UGA Graduate School, UGA Arts Council, Franklin College of Arts and Sciences, and Flagpole magazine, has awarded 34 micro-fellowships in its Shelter Projects program. The $500 fellowships support graduate students and community-based artists and practitioners in the creation of shareable reflections on their experience of the current pandemic through the arts and humanities.
Statement: Elinor Saragoussi works with a variety of mediums, including felt, set design/installation and illustration to create fantastical, colorful works. She is also a musician who sings and plays bass in her bands Baby Tony and The Teenies and Sicky Vicky.
"It's Easier This Way" is an 8'x4' piece comprised of hand-stitched felt pieces mounted on quilter's batting and wood panel. When I first began conceptualizing this piece three months ago, I had just returned to Athens after visiting my mother who was recovering from brain surgery. She was outfitted in a tightly fitting "head-sock" that was both slightly scary and visually striking. As the reality of the pandemic began to sink in, I was reminded of this imagery and felt it was relevant to the concept of "together, alone." We are contained in our personal bubbles but still have the ability to connect in waking life and beyond.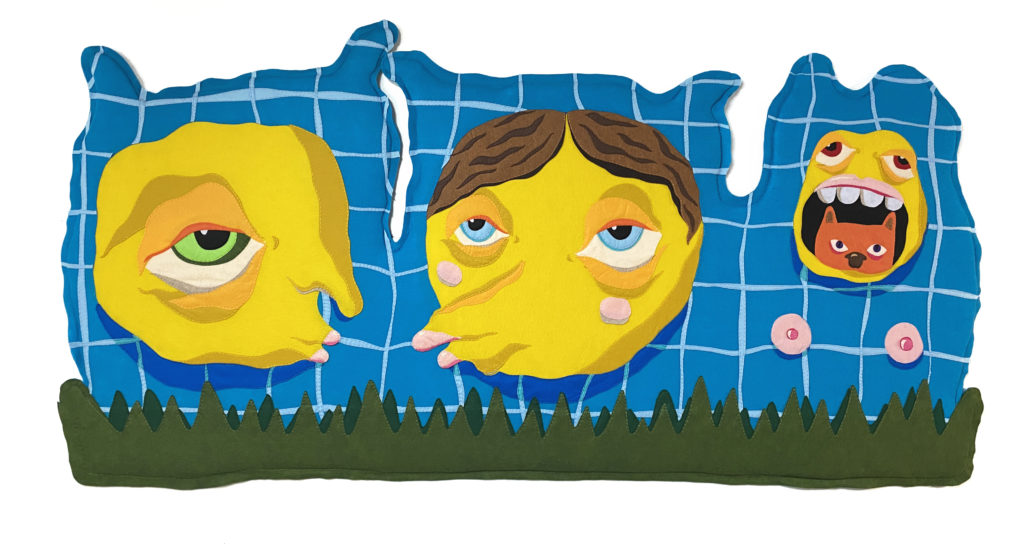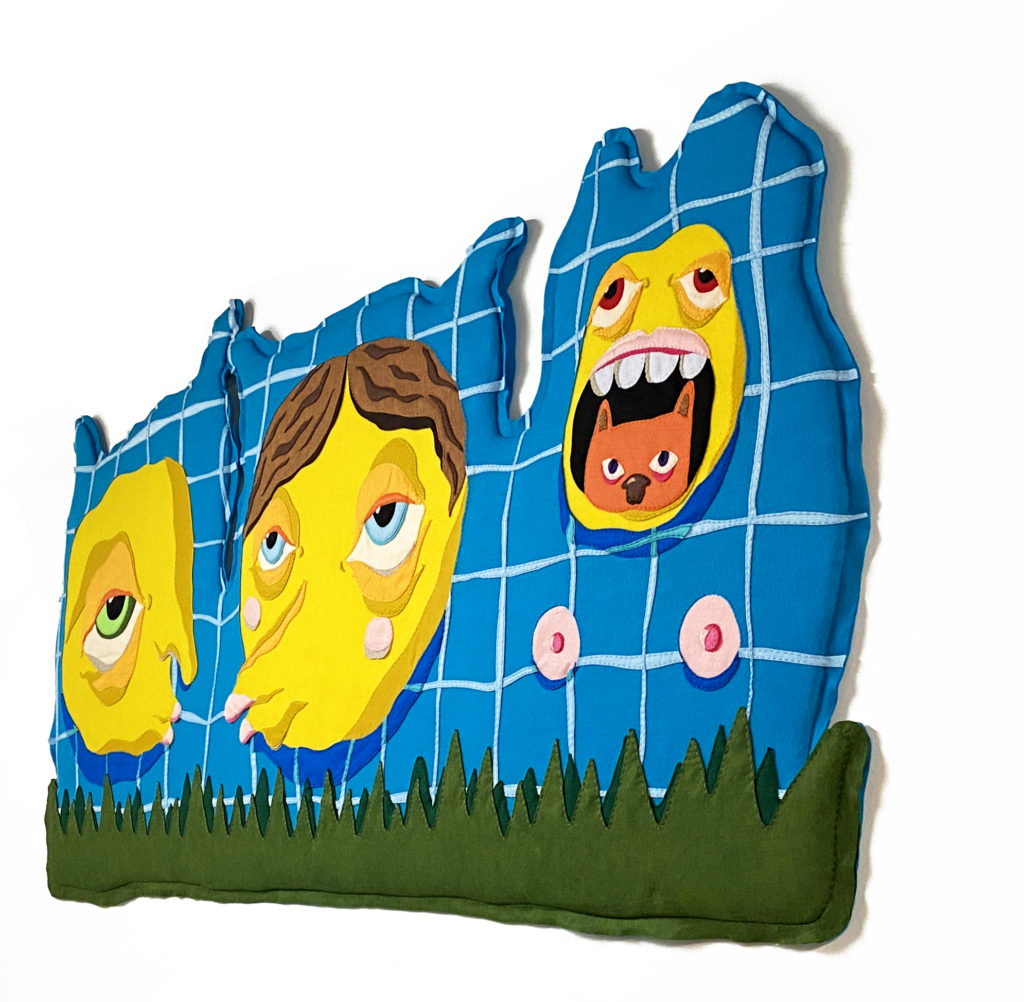 Flagpole: "It's Easier This Way" was influenced by the bandages your mother wore after brain surgery, and we can see that represented by the blue fabric that encircles each character. Are there other components within the piece that were influenced by real life or that carry symbolic meaning for you?
Elinor Saragoussi: The hooded imagery has become a pretty common element in my work—originally due to seeing my mom in the hospital, but now representing so much more than just her bandages. I see the hood as a protector (an amulet) from outside evil and a tool used to contain private thoughts and emotions. I ponder a lot about the positives and negatives of being self-contained—this is something I grapple with often in my personal life, but it has become more relevant to how I think about our community since we began sheltering in place. Is it healthy to wander through life all wrapped up in your own personal head sock? Can we thrive if each of us is completely self-contained and has no need for community interaction? It takes a lot for me to slide out of my protective bandages and reach out for assistance or companionship, but I'm often really thankful that I broke out of my boundaries for human connection. Now that we've become so limited in our abilities to do so, it's striking to me how important it is that we have a strong community web that can support its members. It's Easier This Way consists of three hooded creatures, but they're connected at the bottom… I like to think they're all holding hands. A little touch of hope in a piece that brings me a good bit of sadness.
Flagpole: Your upcoming exhibition at tiny ATH gallery will also include a handful of painted woodcut characters, many of whom are also sporting head socks. What can you tell us about these characters?
ES: The standalone characters are actually studies for an installation (called "Escape Plan") I'm building in the Albany Museum of Art at the end of October. These figures are tiny versions of pieces that will be eight feet tall. All of my recent work circles around the exercise of building my own reality through artistic creation—I'm trying to open a portal to escape the drudgery of reality. The characters represent my fears and insecurities, and, through the use of their head socks, keep these dark elements neatly contained. I've built a little word for them to mingle and frolic with their big mamas in "It's Easier This Way" (felt piece). 
Flagpole: How has the pandemic influenced your musical projects?
ES: The pandemic put most of my musical projects on hold. Mostly because I've been busy with visual art. But, I recently started playing bass with local band Blunt Bangs, and holy cow—it's the best! I didn't realize how much I missed playing music with other folks until I drove home in a euphoric cloud after our first pandemic practice. 
"It's Easier This Way" opens at tiny ATH gallery on Friday, Oct. 9 during a reception from 6–9 p.m. that will feature a special soundscape called "Perpetual Lotion" by Max Boyd. Saragoussi will offer an Artist Talk using Instagram Live (@tinyathgallery) on Oct. 12 at 7:30 p.m. The gallery will be open for in-person viewing during Third Thursday on Oct. 15 from 6–9 p.m., and can also be visited by appointment by contacting tinyathgallery@gmail.com.
Like what you just read? Support Flagpole by making a donation today. Every dollar you give helps fund our ongoing mission to provide Athens with quality, independent journalism.