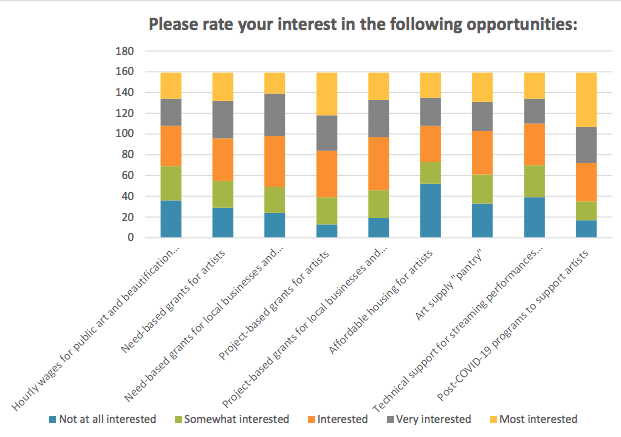 Following the onset of the coronavirus outbreak, representatives from various Athens arts organizations began meeting online once a week to touch base and identify strategies to advocate for local artists who have seen their income reduced or threatened during this critical time. In an effort to more precisely identify how the local arts community has been economically impacted by the pandemic, the Athens Arts Alliance administered an online survey to gather feedback from local artists, musicians, performers, makers, writers, educators and other creatives. These survey responses will be used to inform the local government about the challenges currently faced by the creative community, and will help shape proposals for relief opportunities.
See the AAA's official press release and full survey results below.
The Athens Arts Alliance
FOR IMMEDIATE RELEASE
For additional information, contact:
Lauren Fancher, Director, ATHICA (lhfancher@gmail.com, 706-338-2751)
May 13, 2020
Severe Economic Impacts of COVID-19 on Athens-Clarke County Artists
In late March 2020, representatives of many of the art organizations and facilities in Athens, Georgia began meeting informally once a week to ensure that our community of practice continued to be strong as our county began to shelter-in-place. Dubbed the "Athens Arts Alliance," the participating organizations include the Athens Institute for Contemporary Art (ATHICA), the Lyndon House Arts Center, Creature Comforts' Get Artistic program, tiny ATH gallery, the Georgia Museum of Art, the Athens Cultural Affairs Commission, the Athens Area Arts Council, the Athens-Clarke County Arts Division, Flagpole Magazine, and the Athens Downtown Development Authority. The group has worked together to identify projects and strategies that would help advocate for our shared creative community, already vulnerable before COVID-19 and more so since.
The results are now available from an initial survey of area artists to gather information in order to inform the local government about the challenges being faced by our creative community, many of whom have had their incomes reduced, eliminated, or threatened during this COVID-19 crisis.
The survey took place April 16, 2020 through April 22, 2020. The survey was open to the general public, but targeted towards Athens' creatives, a broad definition that is inclusive of all creative practice, including but not limited to visual artists, musicians, performers, dancers, makers, poets, and writers.
Significant economic impacts are demonstrated in the survey results: 77% projected loss of income ranging from 25-100%; 27% projected losses in the highest range of 75-100%; 71% reported the negative impact of being separated from creative partners and/or community; 66% reported the negative impact of cancellation of performances, exhibitions, craft shows, workshops, or other public events; 50% reported being unable to purchase art supplies and materials due to financial constraints; and 22% reported having lost or being laid-off of one or more jobs.
Our collaborative efforts to advocate for, create, and preserve opportunities for creative practitioners will be essential to ensuring that our culture as well as our health is protected throughout this pandemic and beyond. The Athens Arts Alliance shares these sobering survey results with our fellow arts media and arts organizations with the expectation that all of our artists across the state and region will be experiencing similar impacts. Working together to raise awareness is an important strategy we must all share.
The complete survey report is available for download here: COVID-19 Economic Impact on Artists Survey Report



Like what you just read? Support Flagpole by making a donation today. Every dollar you give helps fund our ongoing mission to provide Athens with quality, independent journalism.