WILD RUMPUS: Undoubtedly one of the most elaborate Halloween celebrations in the region, the 14th annual Wild Rumpus Parade & Spectacle takes over downtown Saturday, Oct. 29. Open to all who want to participate, the parade is equal parts magic and mayhem as costumed characters flood through the streets.
A Pre-Parade Rumpus Rally, held at Creature Comforts from 5–8 p.m., will feature live entertainment by DJ Chief Rocka, Cassie Chantel, Motorhead2X and other local hip-hop artists. Participants are invited to gather here before the parade kicks off from the intersection of West Hancock and Pulaski streets promptly at 8 p.m.
The parade will march along Pulaski and up Clayton Street before cutting across College Avenue to snake its way back down Washington Street. Several performers will be set up along the route to help put pep into everyone's step: SHAKTi and JiiG, Fever's Jam Party, Beat Up, Deaf Condors, OHMU, Commüne, Spectre of Surf, Sarah Mootz, Like Totally!, White Rabbit Collective and Wyld Staleyz.
The route ends near the intersection of Washington and Pulaski streets with a big dance party featuring DJ Mahogany, DJ Reindeer Games, aerialists and other attractions. At 11 p.m., the celebration will move over to the Royal Rumpus Ball at Paloma Park. After a set of high-octane classic rock covers by Free Ride, Nightshade Family will take over with Izzy, Karezza, Dado and D:RC to close out the night.
Open containers of beer and wine will be allowed within a barricaded zone spanning several blocks along Washington between Pulaski and South Lumpkin streets from 3 p.m.–1 a.m. Wristbands are required for outdoor drinking and can be purchased at Creature Comforts, Paloma Park, Ted's Most Best, Rook & Pawn and Trapeze Pub inside the festival zone.
Beyond promoting artistic creativity and boosting the economic ecosystem, the event takes an opportunity to fundraise for nonprofits, with this year's beneficiary being the Georgia River Network. An online auction featuring a variety of artworks and items from local businesses is currently underway until Oct. 26 at 10 p.m. Visit wildrumpus.org for additional details.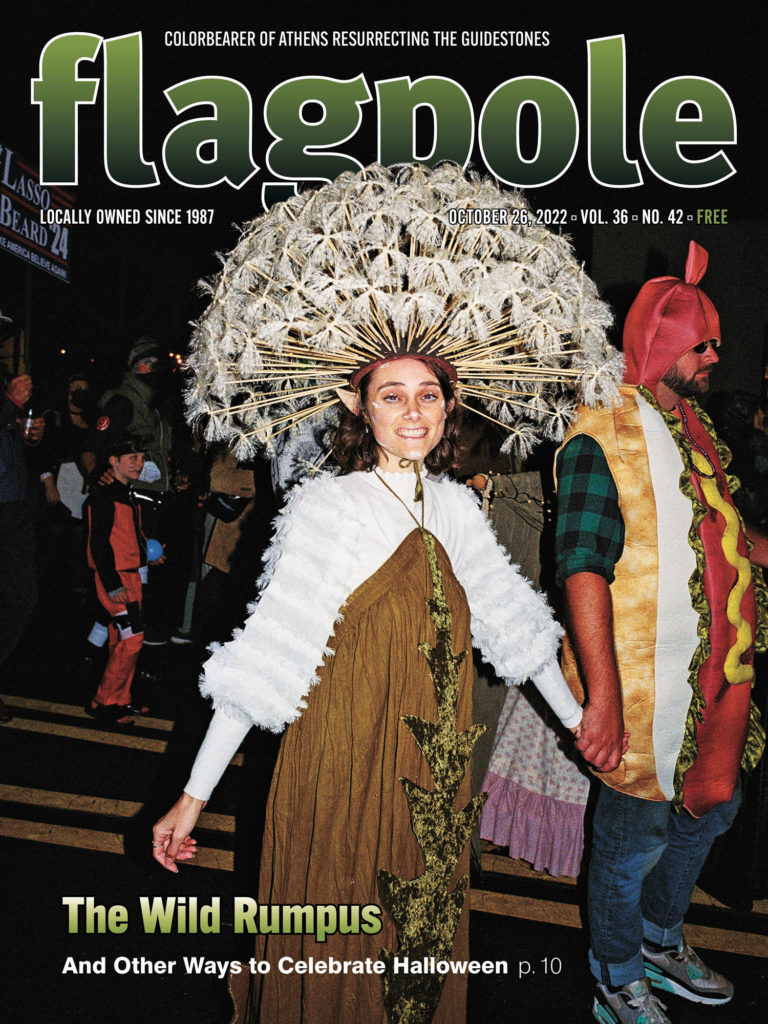 ART: Several local galleries are currently displaying thrilling and chilling artworks this month. An annual tradition organized by Dan Smith, a group show of creepy creations by the likes of James Greer, Klon Waldrip, Maggie Seee, Rachel Burnham, Jeff Rapier and several others hangs on the pumpkin-colored wall of Flicker Theatre and Bar. Co-curated by David Metcalfe and Tex Crawford, "Visions From the Outside: An Artistic Celebration of The UFO and Other Mysteries" has invaded the ACC Gallery with celestial works by Sam Granger, Johnny Gordon, Chris Hubbard, Eric Legge, Peter Loose, Steve Sweetser and others. On view at tiny ATH gallery, Valley Stipemaas' impressive solo show of hyper-realistic ink illustrations darkly combines their loves of wildlife and monsters. Over at the ACE/FRANCISCO Gallery, Franni Thrasher's exhibition is full of eerie and strange paintings and sculptural works. Check the galleries' websites for open hours.
MUSIC: Prior to the pandemic, special one-night cover bands took center stage as local musicians masqueraded as well-known artists for Halloween. This tradition hasn't fully bounced back, but there are several nights of concerts at which costumes are encouraged—just look for the spider icon in Flagpole's music calendar.
PERFORMANCE: Secret City's Grotesque Burlesque Variety Show, held Wednesday, Oct. 26 at the 40 Watt Club, adds a horror twist to the cheeky (in more ways than one) routines the troupe is known for. The 40 Watt will also host local drag troupe The Kourtesans on Saturday, Oct. 29 for its annual HalloWatt event.
In addition to the Oconee Youth Playhouse's musical comedy production of The Addams Family this week (see Calendar Pick on p. 17), multiple local performance groups have events on the horizon to extend the spooky season past Halloween. Athens Creative Theatre will present Jekyll & Hyde The Musical at the Morton Theatre Nov. 11–13. The UGA Opera will perform Faust with the Hodgson Singers and UGA Symphony Orchestra at the UGA Hodgson Hall on Nov. 11 and Nov. 13.
FILM: On Wednesday, Oct. 26, Flicker's 13 Screams series will present The Abominable Dr. Phibes, while Athentic Brewing Co. screens a horror movie over on its patio. On Thursday, Oct. 27, Bad Movie Night will host a screening of Night Train to Terror at Ciné. On Friday, Oct. 28, the Ciné Drive-In will conclude its month-long Schlocktoberfest with a double feature of An American Werewolf in London and The Howling. Back at Ciné's headquarters, The Rocky Horror Picture Show will be held on Saturday, Oct. 29, and Nosferatu: A Symphony of Horror will play twice on Monday, Oct. 31 with a live musical score by pianist John "JoJo" Hermann in celebration of the quintessential film's centennial. Check Flagpole's event calendar for times and descriptions.
Like what you just read? Support Flagpole by making a donation today. Every dollar you give helps fund our ongoing mission to provide Athens with quality, independent journalism.