A towering, 12-foot-tall kinetic sculpture called "Tree of Oneta" sprouted up last week at the historic Southern Mill complex off Oneta Street. Created by local artist Steve Sweetser, the sculpture was commissioned by Jon Williams, president and CEO of W&A Engineering, to commemorate the firm's 20th anniversary and celebrate its recent rehabilitation of the 118-year-old building that now houses its headquarters.
A retired pipe-fitter by trade, Sweetser learned how to weld in the Army and began creating sculptural work roughly a decade ago by repurposing all sorts of discarded pots, pans, bowls, buckets and anything else with a metallic sparkle that caught his eye. His first major sculpture, an owl perched upon a large stone, was created in memory of his son and can be found on Nowhere Road.
As an Athens native, Sweetser grew up in the Boulevard neighborhood and holds fond memories of playing near the turn-of-the-century warehouses where his father once worked. Finding common ground between his practice of upcycling and W&A's sustainable approach to urban renewal, Sweetser designed a sculpture with its unique occasion and location in mind.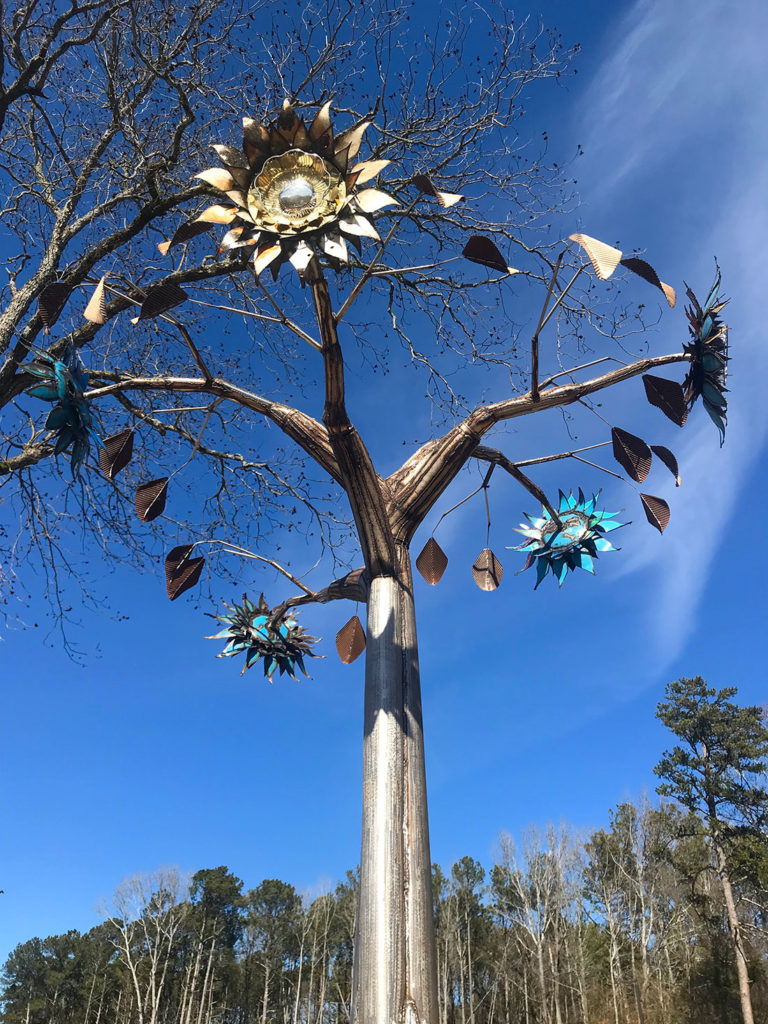 Twenty leaves are used to symbolize 20 years of operation, while the five flowers represent the firm's five core branches: civil engineering, land surveying, landscape architecture, traffic engineering and economic development. Shining above a trunk of stainless-steel pipe—which has been cleverly textured to resemble bark and knots—the blossoms were built from well-pressure tanks, silver bread baskets and brass plates.
Most astoundingly, this incredibly heavy sculpture can gracefully twirl with a strong wind or gentle push, thanks to the inclusion of a pulley at its base. This pulley was sourced from an old industrial washing machine that Sweetser and Williams noticed while walking around the property to brainstorm design ideas. The tree's roots grow over this relic as if in homage to the site's former life as Wilkins Industries, which was once one of the largest manufacturers of women's jeanswear in the country.
Another one of Sweetser's sculptures can be found outside the Madison County Library. Visit Howlin' Art on Facebook for progress shots and to keep up with his creations.
Like what you just read? Support Flagpole by making a donation today. Every dollar you give helps fund our ongoing mission to provide Athens with quality, independent journalism.