Halloween is never isolated to a single night in Athens, and many spirited events creep up a good two weeks in advance. To prepare yourself for the Wild Rumpus Parade—which will march through the streets of downtown on Friday, Oct. 31 at 8:30 p.m.—here's a compendium of additional celebratory possibilities.
Haunted Tours & History: "Landscapes of the Hereafter: Three Historic Cemeteries in Athens, GA"—currently on view at the Circle Gallery at UGA's College of Environment and Design through Friday, Nov. 7—features photographs and historical information about Old Athens Cemetery, Oconee Hill Cemetery and Gospel Pilgrim Cemetery, all of which are on the National Register of Historic Places. The Athens-Clarke Heritage Foundation has organized a series of correlated tours; Al Hester will lead a tour of Gospel Pilgrim Cemetery on Saturday, Oct. 25 at 10 a.m., and Charlotte Thomas Marshall (she wrote the book) will lead a tour of Oconee Hill Cemetery on Saturday, Nov. 8 at 10 a.m. Tours are $12–15; visit achfonline.org/heritage walks to register.
The Athens Welcome Center and Classic City Tours' newest tour series, Folklore, Facts & Fables, offers a Haunted Happy Hour on Thursday, Oct. 23 and Thursday, Oct. 30, departing at 6 p.m. from the welcome center. The downtown walking tours reveal exclusive insider knowledge on historic buildings, well known landmarks and little-known oddities, covering ghost stories along the way. The walks conclude at Creature Comfort Brewery at 7:30 p.m. in time for optional tastings and brewery tours. Tour tickets are $15 and can be reserved by calling 706-353-1820.
Haunted Trails: As the story goes, Zombie Farms was founded after a farmer realized that the secret to repressing the brain cravings of the undead was to put their idle hands to use. By sending them into the fields to harvest crops, he created the ultimate labor force that requires no payment, never complains and never rests. Visitors are invited to take a half-mile walk on the Dark Trail through creepy woods filled with zombies in their natural habitat, then listen to stories and roast marshmallows around a campfire, assuming they survive. Zombie Farms is located at 568 Smithonia Rd. in Winterville. Tickets are $20 and are sold between 8–11:30 p.m. on Friday and Saturday through Nov. 1.
Additional Halloween-themed trails include the American Red Cross' Fright Flight 5K, set for Saturday, Oct. 25 at 10 a.m. at the UGA Intramural Fields, and the 14th annual Jack-O-Lantern Jog 5K and one-mile Goblin Fun Run on Sunday, Oct. 26 at 2 p.m. along the North Oconee River Greenway. Costumes are encouraged in both races. The Southeast Clarke Park will offer two guided hikes to a cemetery hidden within the woods. The daytime Not So Haunted Hike will be held on Sunday, Oct. 26 at 2 p.m. and 3 p.m., and the twilight Haunted Hike will be held on Monday–Wednesday, Oct. 27–29 at 6 p.m. Both hikes are $1–2 and appropriate for all ages.
Film: In addition to the Gonzoriffic Underground Movie Show—a campy collection of locally-made DIY shorts screening at midnight on Friday, Oct. 24 and Saturday, Oct. 25—Ciné presents Schlocktoberfest, a month-long horrorshow series highlighting a handful of the genre's most essential movies. Cult classic An American Werewolf in London screens on Thursday, Oct. 23–Saturday, Oct. 25, and John Carpenter's hugely influential slasher flick, Halloween, will appropriately end the series on Thursday, Oct. 30 and Friday, Oct. 31. Shows are held at 10 p.m., and admission is $7.50. Ciné's free Bad Movie Night, set for Tuesday, Oct. 28 at 8:30 p.m., presents 1984 metalsploitation horror film Rocktober Blood.
The UGA Tate Center's Fright Fest includes the post-apocalyptic zombie flick 28 Days Later on Thursday, Oct. 23 at 8 p.m.; cult classic A Nightmare on Elm Street on Friday, Oct. 24 at 3 p.m., 6 p.m. and 9 p.m.; zombie comedy Life After Beth on Saturday, Oct. 25 at 3 p.m., 6 p.m. and 9 p.m.; and black comedy slasher film You're Next on Sunday, Oct. 26 at 3 p.m., 6 p.m. and 9 p.m. Screenings are $1 for UGA students and $2 for non-students.
Performance: As an homage to the world of vampires, the Canopy Studio Repertory Company presents High Stakes, a series of spooky aerial performances involving tight wire, trapezes, silks, bungees, hanging stars and aerial coffins. Local chamber trio Revien, which features members of the Georgia Guitar Quartet and a duet between Wild Rumpus ringleader Timi Conley and classical guitarist Kyle Dawkins will provide a musical background to the show. Audience members are encouraged to dress up by wearing costumes or the color black. Showtimes are Friday, Oct. 24 at 8 p.m., Saturday, Oct. 25 at 4 p.m. and 8 p.m., and Sunday, Oct. 26 at 2 p.m. and 6 p.m. Tickets are $6–15 and can be purchased in advance at canopystudio.org.
The Athens Showgirl Cabaret offers Halloween-themed entertainment at Go Bar on Saturday, Oct. 25. Kellie Divine, Delerea, Semaj, Damien, Daniella Ves and other members of the drag troupe will take the stage for an otherworldly performance. Prizes will be awarded to the best costumes of the night. Doors open at 9 p.m., and the show costs $3 to attend.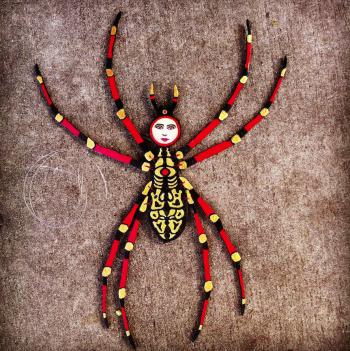 Art: The fifth annual Lickskillet Artists Market and Festival on Saturday, Oct. 25 from 10 a.m.–5 p.m. at the Lyndon House Arts Center presents a full day of artist demonstrations, live music, book-author appearances, food vendors, crafts, house tours, face painting and other activities. The artists market includes over 85 local artists offering paintings, sculptures, stained glass, jewelry, ceramics, fiber art and more. Live performances include DixieLand 5, Klezmer Local 42, Quamar Tribal Odyssey Dancers, Larry Forte, Grassland String Band, Grape Soda and the Heap.
A free reception for "Lucky 13," a Halloween-themed art show currently on display at Flicker Theatre and Bar, will be held on Saturday, Oct. 25 from 5–8 p.m. Participating artists include Cindy Jerrell, Dan Smith, Patrick Dean, Lou Kregel, Tex Crawford, Peter Loose, John Stidham, Rosemary Mendicino, Brian Kindamo, Steven Milsap, Jill Carnes, Lee Gatlin and Missy Kulik.
For a complete schedule of events, see Flagpole's calendar.
Like what you just read? Support Flagpole by making a donation today. Every dollar you give helps fund our ongoing mission to provide Athens with quality, independent journalism.