So, you like to get wet? We all do. Forget air conditioning—there's no better way to cool off in the summer than taking a dip. And there are plenty of spots in Athens to do it.
Legion Pool
Beloved by University of Georgia faculty and staff, Legion Pool was built by the American Legion during the New Deal era in the 1930s and later deeded over to UGA. Administrators tried to turn it into greenspace in 2012 because it's leaky and not many students go there (though it's open to anyone affiliated with UGA, as well as their guests and has lifeguards), but community outcry forced them to abandon the plan.
Location: Lumpkin Street across from the Tate Student Center.
Hours: 11:30 a.m.–7 p.m. through July 31; 3 p.m.–7 p.m. Aug. 1–14.
Cost: $3 for UGA students; $4 for UGA employees; $3 for children; $5 for Friends of Campus Life; $5 for guests accompanied by a student or employee. Season passes are $70 for students, $100 for employees, $65 for children and $125 for Friends of Campus Life; 25-visit passes are $56 for students, $100 for employees and $125 for Friends of Campus Life. Parking is $5 per visit or $20 for the season. Friends of Campus Life memberships are available to the general public at the Tate Center for $40.
Can I bring beer? No.
Athens-Clarke County Pools
The Leisure Services Department operates five pools scattered throughout the county that are open to the public and have lifeguards. Warning: They tend to get pretty crowded, especially on weekends, so get there early or you might have to wait in line.
Locations: Bishop Park (705 Sunset Dr.), Memorial Park (293 Gran Ellen Dr.), East Athens Community Center (400 McKinley Dr.), Lay Park (297 Hoyt St.) and Rocksprings Park (291 Henderson Ext.)
Hours: 1–5 p.m. Tuesday–Friday; noon–5:30 p.m. Saturday; 1–5:30 p.m. Sunday. The Bishop Park pool is only open on weekends. All pools are closed Mondays for maintenance.
Cost: $1 per person per visit, $20 for an individual season pass or $30 for a family season pass that covers up to four people.
Can I bring beer? No.
Splash Pads
For kids, ACC also operates two splash pads—at East Athens Community Park and Rocksprings Park—that are basically playgrounds with water. They're open from 10 a.m.–5:30 p.m. Tuesday–Sunday through Aug. 3 and on weekends Aug. 9–Sept. 28.
Rivers and Lakes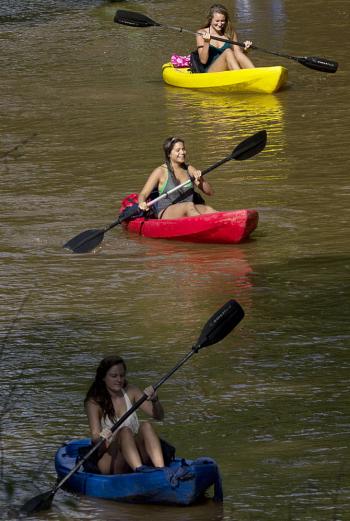 Photo Credit: Joshua L. Jones
Not really into the whole chlorination thing? Sandy Creek Park (400 Bob Holman Road) has a lake with a beach! And lifeguards. Admission is $2 per person and well worth it—the park has trails, volleyball and basketball courts, softball fields and picnic shelters, too, as well as fishing and boating (no gas motors allowed). But no, you can't bring beer, and what fun is fishing without beer?
Another ACC swimming spot is Ben Burton Park (616 Mitchell Bridge Road) where you can grill, fish, hike and wade in the Middle Oconee River (among other activities).
UGA has Lake Herrick (near the intramural fields off College Station Road) which is a popular spot for picnics and volleyball, but the water's full of toxic algae, so swimming isn't allowed.
Canoeing and Kayaking
There are three kayaking and canoeing outfits in and around Athens. They're great for dates, but fair warning: My wife and I almost broke up in a canoe when we first started dating—basically, we had a four-hour argument over steering it—so if your significant other is as headstrong as we are, opt for the one-person kayak rather than the two-person divorce boat.
Locations: Broad River Outpost (7911 Wildcat Bridge Road, Danielsville), The Sandbar Kayaking (King Hall Mill Road, off Highway 172 near Bowman) and Big Dog's On the River (2525 Atlanta Highway).
Hours: 10 a.m.–7 p.m.
Cost: $15 per person on weekdays and $20 on weekends and holidays (Broad River); $20/$25 (Sandbar); $20 or $15 with student ID (Big Dog's).
Can I bring beer? YES!
State Parks
The closest state park to Athens is Watson Mill Bridge (650 Watson Mill Road, off Highway 22 near Comer) about a 20-minute drive away. Although there's no "swimming" per se, the South Fork River, which flows through the park, has shoals that are fun to wade in, not to mention a really cool covered bridge. Admission is $5 per car. Beer? Nope, sorry, although it's doubtful anyone's going to be searching your cooler.
Several other state parks are within about an hour's drive, including Fort Yargo in Barrow County, Victoria Bryant in Franklin County, Hard Labor Creek in Walton County and Richard B. Russell in Elbert County. Visit gastateparks.org for more information.
Like what you just read? Support Flagpole by making a donation today. Every dollar you give helps fund our ongoing mission to provide Athens with quality, independent journalism.