In addition to this week's opening receptions for the "48th Juried Exhibition" at the Lyndon House Arts Center and Beatrice Brown's "Quilt Stories of Time and Place" at the Oconee Cultural Arts Foundation, which you can read about on p. 27, here are a few art shows to go see.  

BOTANICAL GARDEN: Elizabeth Barton's current exhibition of quilts and watercolors at the State Botanical Garden of Georgia has succeeded in brightening up the winter landscape and anticipating the arrival of spring. This particular collection of works was inspired by the Japanese practice of shinrin-yoku, or forest bathing, through which therapeutic, physiological effects can be experienced by simply spending time in nature. 
Barton's quilts depict abstracted landscapes and are sewn from hand-dyed fabrics that result in unusual details. Her watercolors beautifully capture light dancing on leaves and create a sense of atmosphere. Each painting represents a real place and moment in time, such as blooming cherry trees on the UGA campus or mist creeping through the woods of Southeast Clarke Park.
Barton's work encourages viewers to appreciate nature and be good stewards of green spaces. Her exhibition is currently on view in the garden's tropical plant conservatory through Mar. 5. To view more of her work, visit elizabethbarton.com.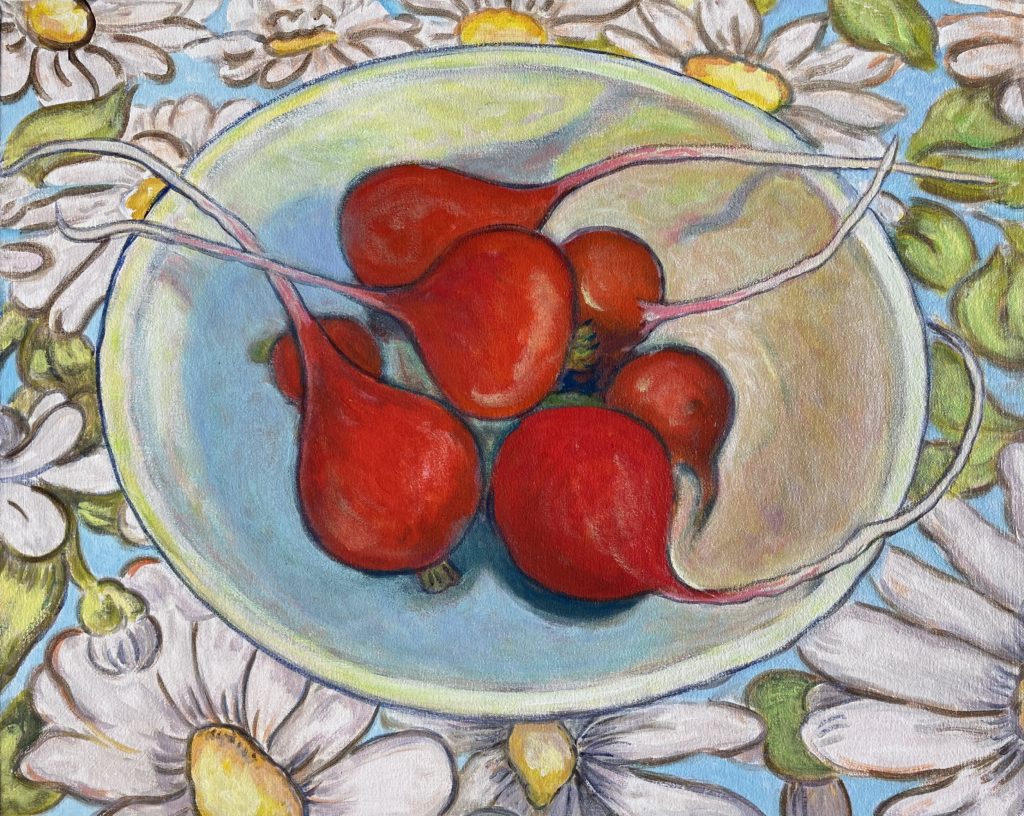 ATHICA: The Athens Institute for Contemporary Art's "2023 Members' Showcase" is an annual tradition spotlighting the artists who support the all-volunteer, membership-based gallery. Over 40 artists are included this year, such as Jill Carnes, Lisa Freeman, Helen Kuykendall, Barbara Odil, Rich Panico and Cheryl Washburn. Pieces range from sculpture, photography and painting to video, collage and textile work, demonstrating the diverse talents of artist-members. 
On Mar. 1 at 7 p.m., An Artists' Book Night will display original books created by over 20 participants, including Buena Vista Press, Philip Juras, Michael Lachowski, Penny Noah, Jason Thrasher and Joey Weiser. Additional events during the exhibition's run include a music night with Tribe of Three on Mar. 4 at 7 p.m., "Motorcycles as Art" with Nathan Mende on Mar. 11 at 1 p.m., and a closing day Artists Roundtable Discussion on Mar. 19 at 4 p.m. Be sure to also mark your calendar for Mar. 25, when ATHICA and Ciné will join forces to host their second annual Really BIG Art Rally, a fundraising event at which artists churn out new pieces on-site to sell for $60 each.
Annual memberships for individuals start at just $25, and a variety of perks are offered in exchange for different levels of patronage. Visit athica.org/membership for details.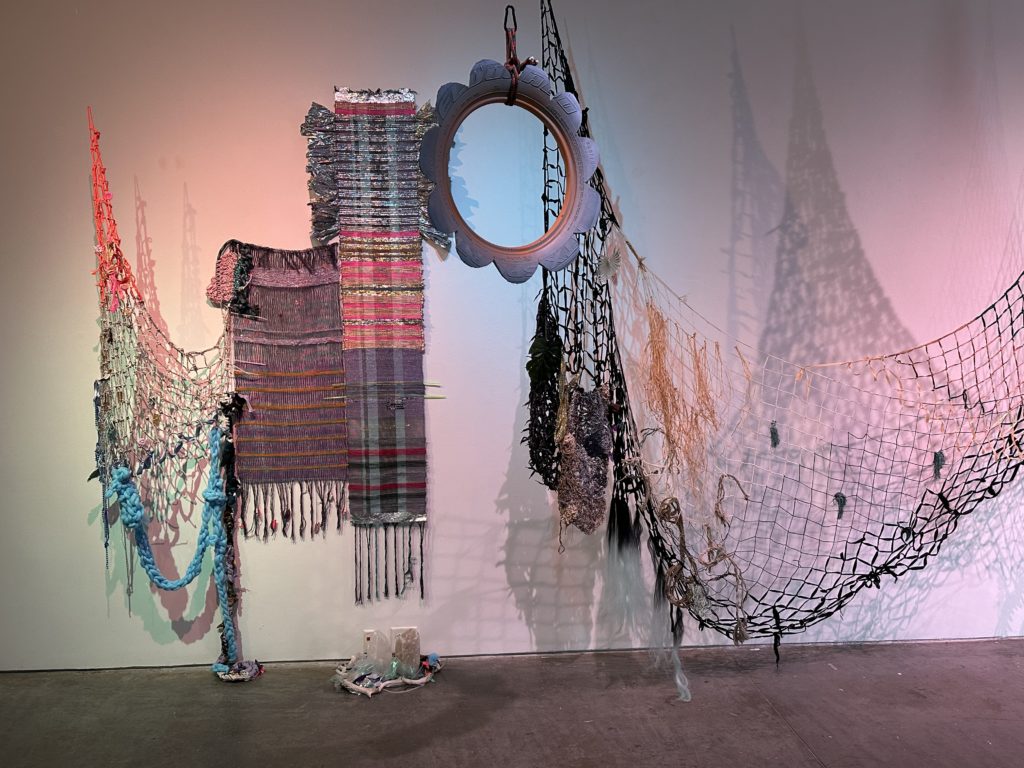 DODD GALLERIES: Representing alchemical transformation, Atlanta-based artist Zipporah Camille Thompson's new installation "HIGH TIDE" repurposes everyday objects into glittering assemblages that feel mystic in nature. Reflecting the artist's dual interests in textiles and sculpture, new forms are created from netting, tires, synthetic hair, barrettes, mylar, shoestrings, ribbon, yarn, zip ties and other miscellaneous materials.
The exhibition statement explains: "Zipporah Camille Thompson's 'HIGH TIDE' signifies the roller coaster of heights and depths of post-grief triumph. Exalted here in this fantastical space of meditation, cleansing, and renewal, are fluid bodies in crisis which have found fullness via loss, fullness via their dreams; through the stillness of night, here is the opportunity to embrace the pause while welcoming chaos and chance. Swallowed up in the shadows of the moon, thereafter outcast are nets of the summoning. Dusk and dawn, sway and swell, the peak of the wave encroaches and the summit emerges despite all it has endured."
Thompson, who received an MFA from the Lamar Dodd School of Art in 2014, is the third recipient of the annual Margie E. West Prize, an honor that recognizes esteemed alumni with solo exhibitions in the school's Margie Eichenlaub West Gallery. Thompson's exhibition will remain on view through Mar. 24, and more of her work can be found at zipporahcamille.com. 

GEORGIA MUSEUM: Visiting the Georgia Museum of Art from the permanent collection of the Princeton University Art Museum, "Object Lessons in American Art" includes over 100 works of Euro-American, African American and Native American art spanning from the 18th century to the present. Inspired by "object lessons," a teaching method in which tangible artifacts are used to communicate ideas and or concepts, the exhibition arranges its works in 30 distinct groups. With a special focus on race, gender and the environment, each group facilitates a conversation between pieces to provoke new considerations and expand perspectives on America's complex history. 
Opening this week on Mar. 4, another new exhibition, "Art is a form of freedom," is the result of a collaborative project between the museum, Common Good Atlanta and the Whitworth Women's Facility. Common Good Atlanta is an organization that provides people who are incarcerated or formerly incarcerated with access to higher education by connecting Georgia's colleges with Georgia's prison classrooms. Art kits designed by students at UGA were integrated into the course curriculum at Whitworth, creating an opportunity for incarcerated students to review images of over 140 works from the museum's permanent collection. Through discussion, creative writing and art making activities, the women narrowed down a selection of works that resonated with them. Collectively, the exhibition reflects themes of identity, motherhood, incarceration and home, and considers how art and educational institutions can promote social equity.
"Object Lessons" and "Art is a form of freedom" will remain on view through May 14 and July 2, respectively. Visit georgiamuseum.org for information about upcoming lectures, workshops and other events.
Like what you just read? Support Flagpole by making a donation today. Every dollar you give helps fund our ongoing mission to provide Athens with quality, independent journalism.