Recognized for its distinctive designs that balance whimsy and practicality, locally based clothing brand STATE the Label specializes in garments that are sewn, hand-painted and printed in-house. Made from natural fibers like organic cotton and linen, items typically have boxy, billowy, loose-fitting shapes to allow for movement, play and comfort. Bold splashes, stripes or polka dots of color add an element of art to each piece. With principles of sustainability always at the forefront, the studio takes a zero-waste approach to design, and repurposes fabric scraps into accessories and children's clothing.
STATE the Label has gone through its fair share of changes since its founding in 2010 by designer Adrienne Antonson. While living and working on an alpaca farm in Vashon Island, WA, off the coast of Seattle, Antonson began felting alpaca wool that eventually became incorporated into an upcycled clothing line. After a few years, she traded life on the farm for the big city, gaining invaluable knowledge of traditional fashion manufacturing and first-hand experience working at the Textile Arts Center in Brooklyn.
After operating as an online store for roughly six years, STATE opened its first brick-and-mortar storefront in the Boulevard neighborhood in 2019. When the COVID-19 pandemic hit the following year, however, STATE quickly restructured its shop into a studio, and buckled down on in-house production and online sales.
Since closing its doors to the public, business and ambition have steadily grown behind the scenes, with staff going from four employees to now 10 and counting. Venturing beyond clothing, the label launched a new interiors and furniture line this past season that offers a variety of rugs, pillows, seating, blankets, towels and other home goods—all one of a kind, made to order or a limited batch.
STATE's recent relocation from 585 Barber St. to the building next door at 625 Barber St. provides an additional 1,000 square feet to better accommodate its manufacturing needs. The new space not only welcomes visitors back to shop in-person at long last, but also creates a unique opportunity to simultaneously launch a small art gallery, The Valton.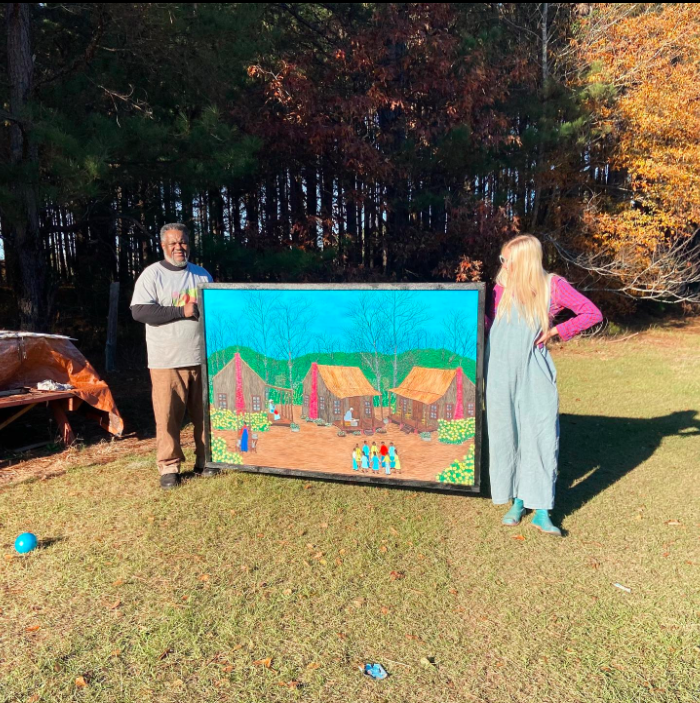 "The idea of The Valton developed very organically when thinking of the new space and all of its potential," says employee Tulsi TenEyck. "The gallery feels like a natural extension of our company—using our work and space to put a spotlight on and collaborate with other artists, designers, makers and performers."
The Valton officially debuted on Dec. 8 with an exhibition of works by its namesake, self-taught folk artist Valton Murray. Over the course of his lifelong career as a visual artist, Murray has created countless paintings inspired by memories of his childhood, family, landscapes and everyday activities. Frequently depicting homes and old barns, his rural scenes vibrantly buzz with flower patches in full bloom and tree branches busily reaching for the sky.
Before moving to Winterville in 2018, Antonson and her husband headed south from Brooklyn to Thomson, a small Georgia town near Augusta. While living there, she first met Murray, a native of nearby Mesena, whose work was on display in Mac on Main Art Gallery, a co-op her parents belonged to at the time. Immediately enamored by his artwork, Antonson has since amassed a small personal collection and has sold several of his pieces through STATE's website.
"The idea of the gallery was inspired by the feeling of loving and sharing work and concepts from unique and fresh perspectives—whether that's folk art, sculpture, a puppet theater, pop-up nail art, a museum display of an impressive collection, anything that strikes a cord," says TenEyck. "It only felt natural to name it after Valton, and thankfully he gave us his blessing. We plan to have an annual show of his work, and hope that we can continue to be a place where people discover work they may never have seen otherwise."
The team at STATE intends to utilize the gallery space by presenting a variety of pop-up vendors, special events and traditional exhibitions by both local and visiting artists. Art shows will rotate every 6–8 weeks and will be accompanied by either an opening or closing reception. The team welcomes proposals of artwork or events, and inquiries can be sent to thevaltongallery@gmail.com.
Valton's paintings will remain on view through January. The Valton can be visited during STATE's new business hours, Monday–Saturday from 10 a.m.–6 p.m. and Sunday from 12–4 p.m. Visit statethelabel.com to see what's in store.
Like what you just read? Support Flagpole by making a donation today. Every dollar you give helps fund our ongoing mission to provide Athens with quality, independent journalism.