SOUTHWORKS: From now until the end of February, three new exhibitions on view at the Oconee Cultural Arts Foundation offer something for every taste. Anchoring the gallery's current programming is the 27th annual "SouthWorks" juried exhibition, a longstanding tradition that brings together two- and three-dimensional works from across the country. This year's guest juror, Marcia Wood, owner of Marcia Wood Gallery in Atlanta, whittled down the submission pool to approximately 150 works in a variety of media not limited to painting, drawing, textile, metalwork, sculpture and photography. 
A good number of pieces stand out for their distinctive textural elements. "Peels" by Amberly Hood of Mableton is a large-scale, candy-colored tapestry of silicone rubber stitched together to resemble a patchwork of melted taffy. Another sizable wall-bound work, "Just Beyond," by local powerhouse Elinor Saragoussi, is an embroidered felt scene depicting a pair of big-eyed, buck-toothed characters surrounded by lush plants that hide yellow pairs of eyes in the background. Bogart artist Megan Weatherford's unusual landscape, "Golden Wheat," carves a dizzying field into 30 layers of house paint on a board of reclaimed cedar. Dried ginkgo leaves peak out from beneath the winding translucent pathways crossing Atlanta artist Whitney Panetta's encaustic work, "Wandering."
"SouthWorks" also features a strong representation of mixed-media and collage work this year. Suwanee-based artist Karen Campbell contributes "Play Me your Favorite Song (Before Another Season Passes By You)," a neon-colored menagerie of nostalgic images such as balloon animals, popsicles, a cassette tape, Peeps Easter bunnies and fawn figurines. Mark Moore of Charleston, WV, Diane Speight of Winder and Reid McCallister of Athens each contribute hangable works collaging all sorts of repurposed materials.
BRIGHT CITY: Ranging from hand-dyed accessories, narrative quilts and layered mixed-media paintings, "Bright City: Textiles" spotlights the unique talents of Wini McQueen, a 79-year-old artist, educator and curator from Macon. Self-taught from an early age, McQueen redefines the traditional art of quiltmaking by incorporating both contemporary techniques and those observed from African communities. Influenced by Korhogo cloth of the Senufo people, "Korhogo Morning" reveals human forms painted in earthy tones. With a nod to the geometric kente fabric made by the Akan tribe in Ghana, the quilt "Cave Kente" incorporates cyanotypes of Adinkra symbols. 
Informed by her own experiences as an African American woman living in the South, McQueen is a storyteller at heart who seeks to document oral histories and explore issues of race, class, society and gender roles throughout her art. Cotton, a common material with a particularly dark history, resurfaces as both a medium and subject within her body of work. Her most narrative pieces feature photographic transfers such as "Bassam Sunset," a mixed-media work in which silhouettes of people can be made out against an orange sky reflecting across the shoreline.
McQueen creates all sorts of functional, wearable forms of art like purses, trinket bags, scarves and shawls in jewel tone colors. On the other end of the spectrum are textile works that appear more as paintings on fabric. Heavily layered to create a densely textured effect, these paintings are delightfully chaotic and occasionally hide seashells, mirrors, buttons and feathers among scraps of fabric in every color and texture possible. Altogether, her body of work pushes the boundaries of textile art and reaffirms its place in carrying a legacy of tradition.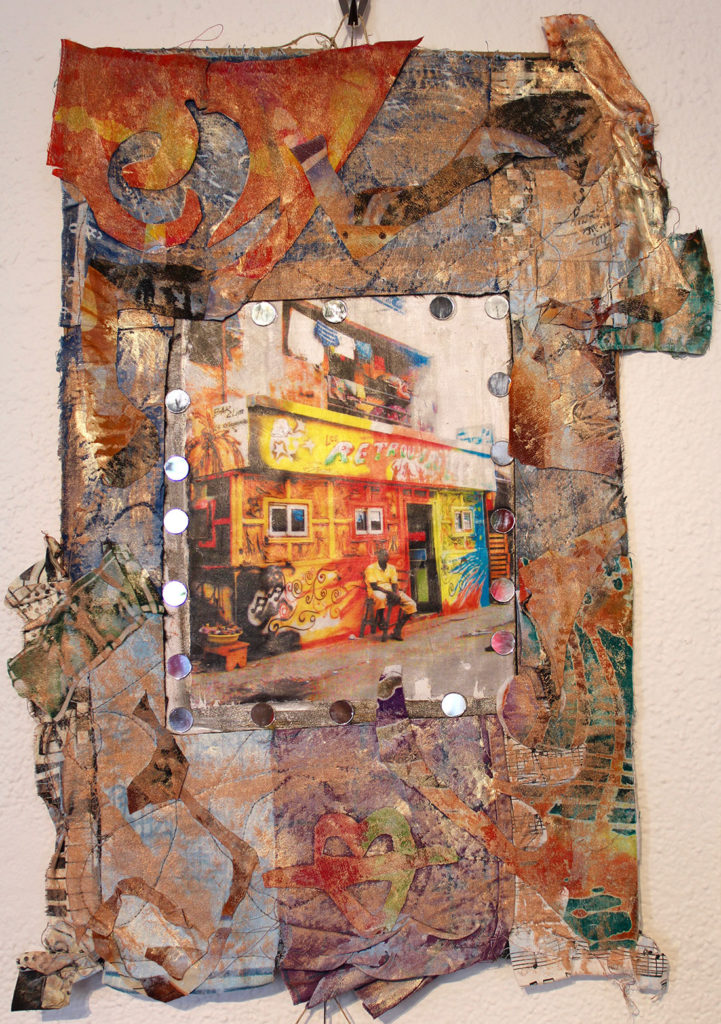 WOMEN OF WATERCOLOR: Enrolling in classes can help aspiring artists maintain momentum by ensuring they consistently set aside time to develop new skills and hone their craft. There's a certain vulnerability that comes with sharing in-progress work, and with any luck these interactions can lead to meaningful friendships between kindred spirits. One such social circle is spotlighted in "Women of Watercolor," a group of artists who organically coalesced roughly seven years ago after meeting through various workshops at OCAF. Since then, these artists have continued gathering weekly to paint together, exchange critiques and learn from each other. Participants include Pat Adams, Lori Hammer, Gail Karwoski, Diane Norman Powelson, Janet Rodekohr, Barbara Schell and Mia York. Each artist has her own style, and the exhibition features equal portions of portraits, landscapes and animals.
DOWN THE LINE: OCAF has two upcoming exhibitions that are currently accepting submissions from the public. "Reinvented & Reclaimed" will showcase wearable, sustainable designs made from "trash" and recycled materials such as plastic bags, newspaper, aluminum cans and bottle caps. In lieu of a traditional runway show, these designs will be displayed in a fashion showcase on Global Recycling Day, Mar. 18, 6–8 p.m. Submissions are due Feb. 28. 
"Rhythm & Movement: The Art of Music" prompts participants to create a new work of art visually responding to a sound recording. Musical selections include songs by Marty Winkler, Joe Leone, The Lonesome Dawn, Lorena Limongi, Ivan Strunin and Susan Staley. Submissions are due Mar. 11, and the exhibition will run Apr. 15–June 3. Visit ocaf.com for entry forms.
Like what you just read? Support Flagpole by making a donation today. Every dollar you give helps fund our ongoing mission to provide Athens with quality, independent journalism.