While the winter months might be a bleak time for outdoor adventures, the walls of local galleries stay just as colorful and cozy year round. Several spaces opened engaging exhibitions earlier this month, and several more are in store.
ATHICA: Currently on view at the Athens Institute for Contemporary Art, "Duo: Kelly Boehmer and Mark McLeod" brings together two artists whose colorful works feel complementary. Savannah-based artist Boehmer constructs soft sculptures utilizing faux fur, taxidermy teeth, synthetic flowers, bright fabrics and found objects that are visceral and alarming, yet vulnerable and alluring. The works of Murfreesboro, TN-based artist McLeod focus on the fallibility of memory. Using digital and CNC technologies, his layered sculptural drawings represent bits and pieces of disjointed narratives reinforcing the idea that what's remembered about reality is often recreated. A closing reception will be held Feb. 17 from 6–8 p.m.
Currently on view at satellite location ATHICA@Ciné Gallery through Feb. 25, "A Brief History of Happiness" is a video installation by Los Angeles-based conceptual artist Elizabeth Withstandley. The 25-channel grid combines musicians covering "Happiness" by Elliot Smith with excerpts from motivational speeches and conversations about happiness. Originally posted on YouTube between 2006–2018, these videos collectively prompt questions about digital platforms, access to media distribution, performance and experience.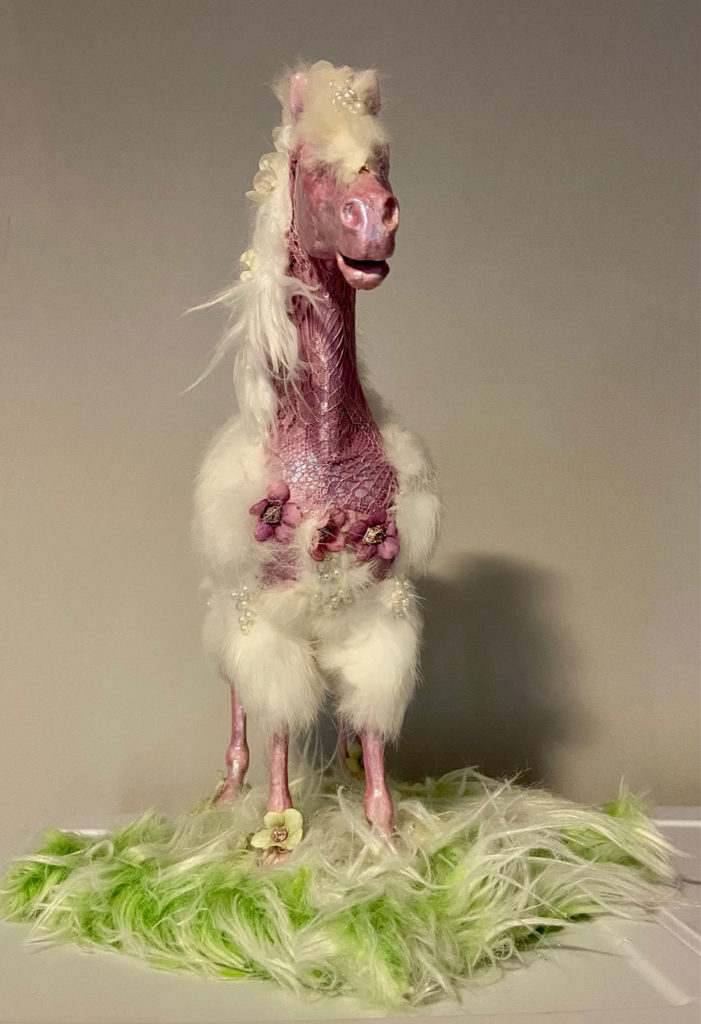 OCAF: The Oconee Cultural Arts Foundation's 27th annual national juried exhibition "SouthWorks" features 124 works in a variety of media that reflect the talents of both established and emerging contemporary artists alike. Ranging from paintings, sculptures, photographs and more, these pieces were selected by this year's guest juror, Atlanta gallery owner Marcia Wood, from a pool of approximately 300 submissions. "Bright City: Textiles by Wini McQueen" is a retrospective show exploring the life and career of the Macon-based artist who excels at creating richly layered quilts, mixed media narrative collages and other hand-dyed fabrics that draw influence from African American traditions and oral histories. "Women of Watercolor," meanwhile, spotlights a circle of artists who coalesced to hone their craft together: Pat Adams, Lori Hammer, Gail Karwoski, Diane Norman Powelson, Janet Rodekohr, Barbara Schell and Mia York. Opening this past Friday, Jan. 14, the triad of shows will remain on view through Feb. 28.
THE ATHENAEUM: UGA's new downtown art gallery, The Athenaeum, also kicked off its winter season this past Friday with the opening of "Dodge and Burn 2017–2020 July 4," a commissioned video work by Stockholm-based artist Lisa Tan. The video documents failed attempts at filming fireworks on the 4th of July during three consecutive years while aboard an airplane headed to Los Angeles. On view through Apr. 2, the video contemplates the absence of an image, the visual likeness between celebratory fireworks and explosions from conflict, and the city's history of militarization.
LHAC: While the Lyndon House Arts Center prepares for its upcoming 47th Juried Exhibition—an annual anchor show currently accepting submissions through Jan. 21 and scheduled to open Mar. 3—three new shows opened on Jan.15 to tide audiences over. "Excerpts from Faith of the Dreamer: Artworks by Gwendolyn Payton" features paintings and a sculpture originally created for the artist's senior exhibit at Mercer University in 1972. Though Payton had completed the required coursework to earn a studio art degree, the head of the art department—in an act of racial discrimination—deemed her artwork "too controversial" for inclusion in the senior exhibit. Fifty years later, Mercer finally reviewed the artist's transcript, offered her an exhibition and awarded her the degree at the 2021 graduation ceremony. Other new exhibitions include "Collections from Our Community: Oliver Domingo's Library Music" and "Be Careful What You Get Good At: Collages by Tommy Kay." Payton will offer an artist talk on Feb. 3 at 6 p.m., and all three new exhibitions—as well as "Dignos y Sin Barreras" ("Dignified and without Barriers"), which opened in December—will remain on view through Mar. 12.
LATER THIS MONTH: Four new exhibitions are lined up to open at the Dodd Galleries on Jan. 28. Another video of Lisa Tan, "My Pictures of You," compares the terrain of the American Southwest to that of Mars, raising questions about climate and extinction. "Play Along" presents works by Dodd MFA candidates Shaunia Grant, Huey Hyuk Lee, Jason Rafferty and Ethan Snow that explore trauma, mortality and climate change through a tongue-in-cheek approach. Snow also presents "New Terrain," a photolithography installation interpreting how the natural world has been impacted by mass production and digitalization. Showcasing student works, the "Undergraduate Juried Exhibition" was juried by Claire Dempster, interim director of arts publication Burnaway. All four exhibitions will remain on view through Feb. 24.
Opening on the same day over at the Georgia Museum of Art, "Wealth and Beauty: Pier Francesco Foschi and Painting in Renaissance Florence" celebrates the prolific painter and his contemporaries through paintings, drawings and decorative arts objects. "Wealth and Beauty" will remain on view through Apr. 24, and joins the video installation "Jennifer Steinkamp: The Technologies of Nature," which opened in December.
Like what you just read? Support Flagpole by making a donation today. Every dollar you give helps fund our ongoing mission to provide Athens with quality, independent journalism.