In an effort to sustain artists, musicians and other local creatives negatively impacted by the pandemic, the Athens-Clarke County Mayor and Commission contributed $85,000 of the ACC Resiliency Package to the Athens Cultural Affairs Commission's $15,000 budget in 2020. This total amount was then distributed as 50 Arts in Community Resilience Awards of $2,000 each to individuals and organizations. 
Look forward to several new murals, performances and other free activities within the next several months—especially as in-person events become more frequent—and in the meantime, check out five projects below. 
SALVAGE SPARROW: Using her Resilience Award to recognize the resiliency of local community members, tintype photographer Amanda E. Corbett of Salvage Sparrow is producing an ongoing series titled "Surviving 2020: A Portrait of Athens, GA." To accompany the portraits, each subject writes an essay that reflects on how the pandemic has impacted their livelihood, health, relationships or personal life. 
Collectively, these stories of vulnerability and grief convey a mature acceptance of the past year's hellacious curveballs and an enduring hope for a better future. On a one-to-one level, these outdoor portrait sessions create an opportunity for much-needed connection after such a long duration of social distancing. Corbett hopes to shine a light on a spectrum of experiences that can resonate with viewers. 
So far, subjects include Charlie Mustard of Jittery Joe's Roaster; Morgan King Clements, a performance artist known as the Pink Flamingo; artist James Greer; Rita O'Brien and Robert Parker, owners of R&R Secret Farm; Molly Swindall, a "hotdogger" who travels with the Oscar Mayer Wienermobile; and Lydia Hunt, Kim Deakins and Lori Cataldo of Pink Goblin Tattoo. To keep up with the series, follow along on Instagram at @salvagesparrow or visit salvagesparrow.com.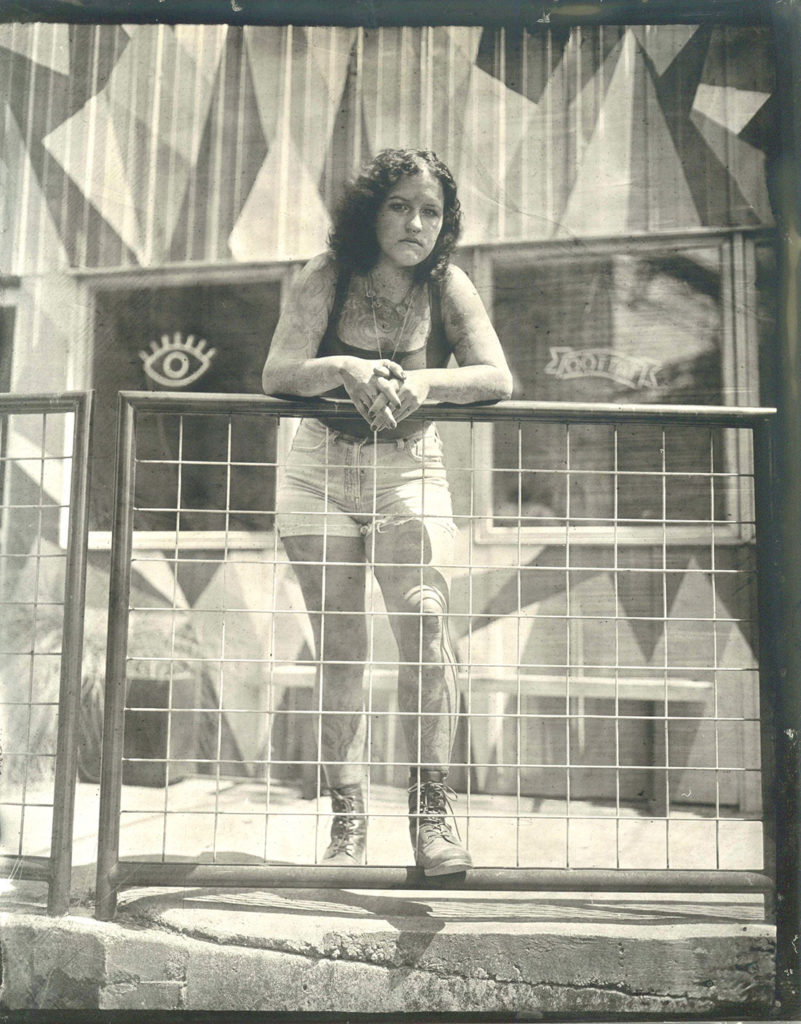 CHRIS TAYLOR: Located outdoors at the Sandy Creek Nature Center, a new playscape has all sorts of details like thrones made from tree stumps, fort-building materials and a long log-inspired slide to help imaginations run wild. Grant recipient Chris Taylor, who has taught land art classes to children at SCNC in the past, applied his funding to collaborate on additional public artworks. 
Taylor was given free rein to design sculptures inspired by the natural world, and repurposed three large pines that had been harmed by pine beetles. The tallest work, an osprey's nest, is reminiscent of the giant bird nests the artist has installed along trails at the State Botanical Garden of Georgia. He intuitively carved a trio of pine cones as an homage to the trees, plus a set of turtles and spare shells that can be moved around.
 "The owl was going to be something different, but the tree wanted to be either an owl or a mushroom," says Taylor. "One day working, I heard two barred owls alerting each other. It's very rare to hear owls in the daytime, much less two talking to each other, so I decided an owl would be the last one."
Visit 34north.org to see more of Taylor's land art.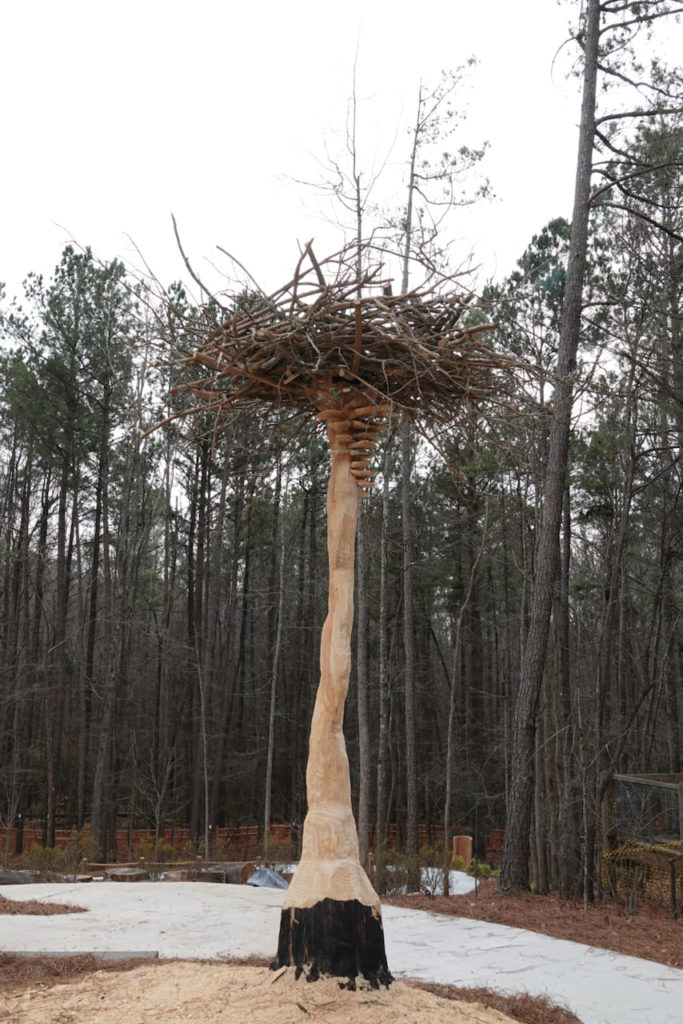 TABITHA FIELTEAU: Currently on view in the Glass Cube@Hotel Indigo through June, local fashion designer Tabitha Fielteau's installation "Nouveau Bridal" presents three nontraditional bridal gowns that are stunning in their intricacy. While one dress is made from white fabric, its high-low skirt creates an atypical silhouette. Meanwhile, an embroidered nude mermaid dress and glittering sequined blush gown are distinctive yet classy designs that push the boundaries of tradition. 
Fielteau is a self-taught womenswear designer who showcased her first fashion collection in 2014, and has since developed a clothing line specializing in custom bridal and prom gowns as well as sleek contemporary garments. Influenced by styles of the '40s and '50s, her chic and sophisticated designs focus on flattering cuts and strong workmanship. See more designs at tabithafielteau.com.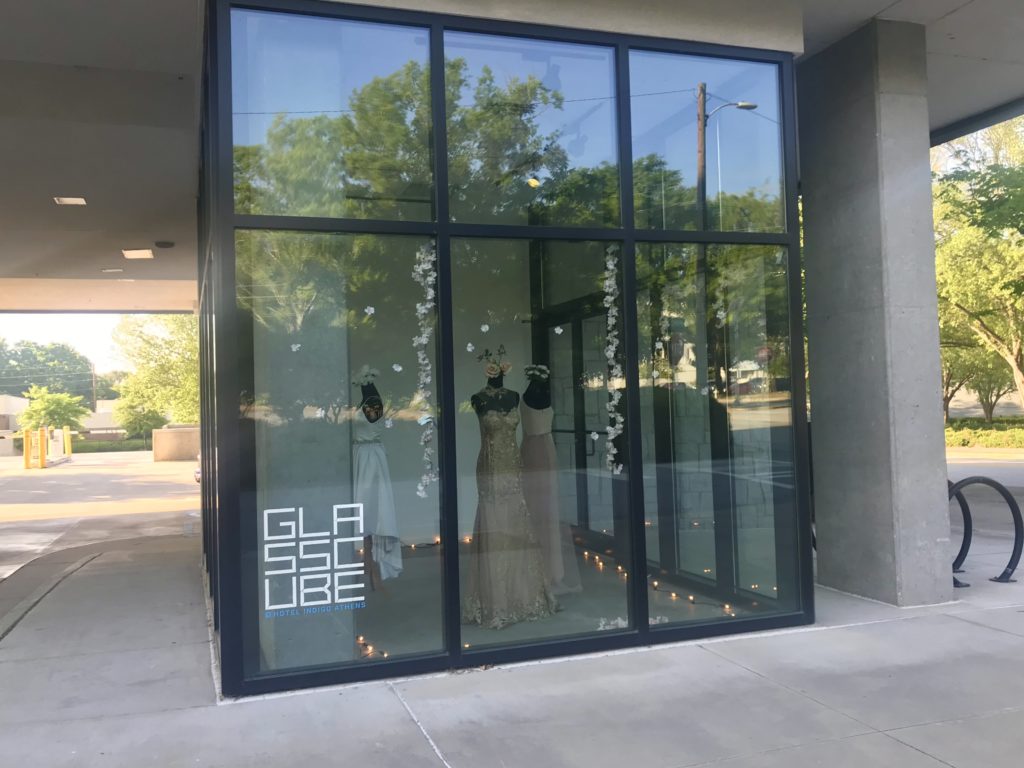 GETTING TO KNOW YOU: Before pursuing her MFA in fabric design at UGA, local fiber artist Shirley Chambliss worked as an architectural interior designer with large firms. This background prepared her to approach creating pillows, throws, shawls and all sorts of woven pieces with a keen eye for how color and texture can enrich a domestic space. 
"Originally when I applied for the grant from the Athens Cultural Affairs Commission, I hoped to have an installation, a literal walking trip through simple vignettes separated by panels of sheer weaving, showing four artists' work," says Chambliss. "The purpose was to show how we could look at our homes and, with intention, set up things we loved in a simple presentation giving us joy, hope, strength each time we saw them. Because the COVID virus is still actively with us, I changed the focus from an installation to social media."
Chambliss created a series of studio tours on YouTube with four other local artists: painter Cameron Hampton, potter Mary Mayes, potter and sculptor Caroline Montague and woodworker Abraham Tesser. Released last week, these videos cover artistic influences, education and training, and how the pandemic has affected their practice. 
SATELLITE SESSIONS: In addition to the 50 Resilience Awards distributed as pandemic relief, the ACAC selected five recipients for $1,500 Arts in Community awards last June as part of its annual budget. As that funding cycle comes to a close, it's a great time to catch the tail end of Nuçi's Space's virtual shows. So far, Nuçi's Space has posted videos for Saint Syzygy, Elijah Johnston, Josey, Weaponized Flesh, CannonandtheBoxes, Convict Julie and Girl Clothes. The series continues with Arts+Crafts on June 3, Maxima on June 10 and Georgia Power on June 17. Performances air live at 7 p.m. and are archived at youtube.com/nucisspace, while interviews with the artists can be read as blog posts over on nuci.org.
Like what you just read? Support Flagpole by making a donation today. Every dollar you give helps fund our ongoing mission to provide Athens with quality, independent journalism.