TINY ATH: Following a cautious reopening with exhibitions by Broderick Flanigan and Will Eskridge, tiny ATH gallery continues its scheduled programming with "I Am," a collection of drawings, paintings and assemblages highlighting the artistic journey of Lisa Freeman. As an artist perpetually churning out new works, Freeman leads others in the emotional navigation of both current events and past traumas, often building parallels through time by repurposing found objects and vintage photographs. Her most intricate assemblages fall into a body of work appropriately referred to as "Miniature Worlds," and the sculpture "Inner Sanctum" resembles a two-story tree house full of symbolic details to interpret. Fearlessly confronting societal ills like racism, poverty, political corruption and violence, Freeman's works are often anchored by the presence of children, whose vulnerability motivates us to preserve their innocence.
An opening reception will be held on Friday, July 10 from 6–9 p.m., and the exhibition will remain on view by appointment through the following Sunday. A portion of art sales will be donated to the Human Rights Watch. Attendance inside the viewing room is limited to three to four masked guests at one time, but everyone is welcome to spread out on the back lawn to socialize safely. Visit tinyathgallery.com for details.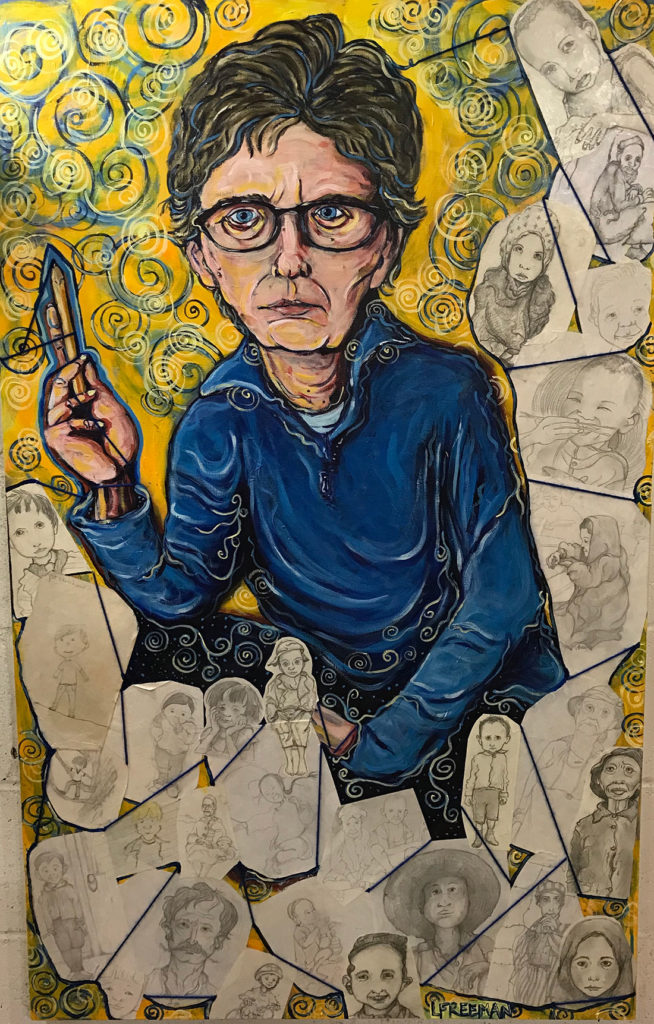 ATHICA: Organized by high school student and ATHICA photography intern Chloe Sears, "Project Social Story" was a photo and video contest open to Athens teenagers to express themselves while stuck in quarantine. Using the submission categories of friends, family, pets, feeling and fun, the entries reflect a variety of experiences related to sheltering in place, social distancing and distance learning. "Project Social Story" can be viewed online at athica.org, or in person through a no-contact exhibition that uses screens outside the gallery until July 8.
ATHICA hopes to reopen its doors physically for "SPACE: 2020 Juried Exhibition," a collection of contemporary art in all media that references space. A theme that lends itself to a myriad of creative interpretations, space touches across nature, science, time, art, literature, society and language. Space takes particular prominence as a concept during a pandemic, when everyone must constantly negotiate physical proximity and social isolation. Selected by guest juror Hannah Israel, Professor of Art and the gallery director at Columbus State University, "Space" will be on view Aug. 15–Sept. 27.
GET ARTISTIC: As a component of Creature Comforts Brewing Co.'s community impact strategy, the brewery's Get Artistic program invests in the local arts economy with the hopes of sustaining the vibrancy of the creative community. Since its launch two years ago, the program has distributed over $34,000 in grants—primarily funded by the Get Artistic beer brand and associated merchandise—to local artists and arts-focused nonprofits. Using the Envision Athens 20-Year Action Agenda as a guide, the program seeks to foster place attachment by funding proposals that increase "accessibility, diversity and inclusion in the arts [for creators and consumers]; professional development for artists; and sustaining and increasing public venues for artistic expression."
Get Artistic is currently seeking this year's partners (i.e. grant recipients), and is open to a broad definition of the arts that is not limited to visual, musical, movement, film and theater arts. Visit getcurious.com/get-artistic for more information and bit.ly/getartistic2020 to apply before July 17.
ACAC AWARDS: The Athens Cultural Affairs Commission has announced five organizations that will receive Arts In Community Awards of $1,500 each through its most recent round of funding. ATHICA will use the grant to provide stipends to participants of the gallery's Artists-In-ATHICA residency program, while Envision Athens plans to create an Athens Artists Registry that serves as an online hub to connect creators, patrons, arts organizations and venues. Nuçi's Space will continue providing its Live From Home series of bi-weekly musical performances and interviews, and Canopy Studio will produce a socially distanced, outdoor aerial performance at the end of summer. Representing the local culinary arts community, the Culinary Kitchen of Athens will use the funds to organize its Downtown Culinary Showcase, a weekly outdoor market that will return as soon as it's safe to do so.
In response to the pandemic, the ACC Mayor and Commission made the decision to dedicate an additional $85,000 reallocated from the Resiliency Package to establish a larger Arts in Community cycle than ever before. Combined with the ACAC's original $15,000 budget, a total of 50 awards of $2,000 each will be distributed to local artists and arts organizations. These awards are targeted towards public art projects, events and activities "that contribute to the vitality, unique identity and livability of the Athens community." Proposals for Arts in Community Awards: Resilience are due Aug. 7, and projects must be completed by June 30, 2021. Visit here to find the application.
Like what you just read? Support Flagpole by making a donation today. Every dollar you give helps fund our ongoing mission to provide Athens with quality, independent journalism.