Showcasing the elements of bewilderment and surprise frequently found in mixed-media artwork, "Media Circus" is a hodgepodge of visual odds and ends. Currently on view at Trio Contemporary Art Gallery, the exhibition features works by over two dozen artists, with highlights including a field of googly-eyed rabbits by Julia Wynn Safer, soaps embedded with locks of hair by Jordana Dale and a "Balloonsketball" with metal seams by Taylor Shaw. Rose M. Barron and Priscilla Alarcon make abstract works using cinnamon, nutmeg, beet powder, ground stone and incense ash, while Catherine Chang weaves collected grasses with gold leaf, thread and fishing line.
"The Infinity War Scroll (Ari's Torah Portion)," by Ari Richter, is one of the exhibition's most unusual works, depicting a cluster of superheroes—Captain America, Hulk, Rogue, Cyclops, Thor—that were made using human skin and tattoo ink.
"I have been a nervous cheek-biter for as long as I can remember," says Richter. "About 10 years ago, I unintentionally discovered that the skin has a resilience and plasticity as a material. I'm endlessly fascinated with the human body and what it produces. It's a very prolific creator! I'm a huge proponent of the 'use what you've got' genre of art-making. Especially when it comes to our own renewable resources."
Channeling his anxiety into a new form, the New York-based artist steadily collects the skin from his daily ritual, freezing the material until there's enough to work with. The skin is then cut into small shapes, dredged in ink and laid out on glass, where it dries and cures in place.
"Some people are grossed out by it, which is fine. A lot of folks engage with it on a purely material level, which is also fine," says Richter. "The work's visceral quality is certainly part of the calculation. Although, it's important to me that the images speak for themselves. That can be a daunting task when the material has such built-in scarcity. Sometimes using it to make a silly image feels better than hoarding the skin and making nothing at all. I like thinking about [how] the skin works in relation to tattoos. When there's limited real estate for new images, you're bound to regret a few along the way."
Part of a larger body of skin drawings on glass, "Infinity War Scroll" is an homage to Richter's own comic book-themed bar mitzvah, where he gave a speech relating his Torah portion about the virtues of public service to the actions of his favorite Marvel Universe superheroes. Depicting the "Infinity Wars" storyline on a scroll suggests a battle extending beyond visible borders, much like the seemingly endless conflict in the Middle East.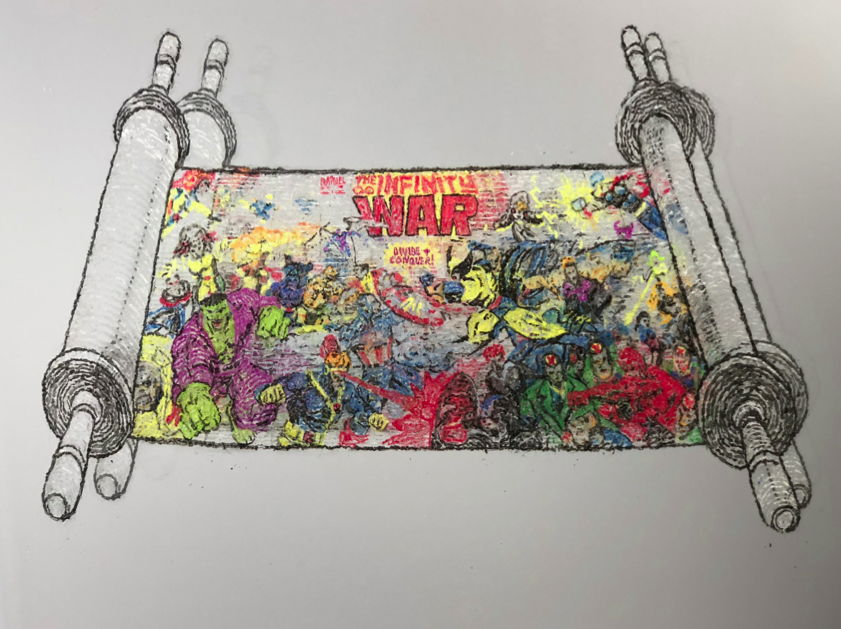 Liftitdown, a collaborative team comprised of visual artists Laura Maria Ramirez Giraldo and Eddy Lezama, have transformed one of the gallery's back rooms into the Mega Mega Mart, an immersive installation resembling a candy-colored convenience store. Items like Voofler, Yorps, Gungles and Framboogle Dots line the shelves, while packaged Fresh Trump Jowl meat and packs of Enchanted Wombash Twigs and Space Fingers are kept behind the counter. For the opening reception, the artists masqueraded as shop attendants and wore costumes made with insulation foam.
After noticing just how much waste a single establishment can produce through their positions in the service industry, the creative duo decided to stock up on recyclables and containers that would likely otherwise end up in a landfill. The items were then painted in bright colors and relabeled with custom stickers, keeping familiar shapes of common household items yet adding a layer of absurdity through new, bemusing branding.
"We wanted to make an interactive art piece that was accessible and affordable to all walks of life. We wanted you to feel like you were actually in another dimension when you walked into the room," says Lezama. "The prices were kept low to encourage more people to bring back a souvenir from the 'trip.' Art should be accessible to more than than just the upper class."
Echoing an interest in utilizing nontraditional materials, Trio will host a special Artwerk Fashion Show on Saturday, May 12 at 7 p.m. Seeking to blur the lines between art and fashion, Artwerk is a newly established collective founded by Jennie Cain of Viva Wild and Gwenny Swan of Fur Hat Guild, personal stylist Rachel Barnes, visual artist Maggie Seee and Trio director Tatiana Veneruso. Designers were presented with the challenge of creating wearable garments and accessories from uncommon components, and the items won't fail to disappoint through their incorporation of mirrors, lights, found objects and 3D printed pieces.
"For us, fashion is an art form, and there's a lot of creative talent in this town we want to nurture with more opportunities to show this type of work," says Veneruso. "Fashion is such a wonderful means of expression. It can be sculptural, it can be a performance, it can serve as an act of defiance. That's what we want to convey with these events."
The fashion show will feature designs by Shelly Attila, Kari Bjork, Mux Blank, Tyler Fisher, Katherine Hillis, Suzy Holcombe, Erika Lewis, Shawna Maranville, Sophie Painchault, Maria Teresa Peña, Benjamin Thrash, Irene Titus and more. The evening will also include music by DJ Zelium, plus special performances by local drag queens Video Tronic, Alex Suarez and Cola Fizz.
"Media Circus" will remain on view at Trio through Saturday, May 26. The gallery's next shows, "CatFest" and the "1st Annual Young Artist Exhibition," will run concurrently Friday, June 1–Saturday, July 21.
Like what you just read? Support Flagpole by making a donation today. Every dollar you give helps fund our ongoing mission to provide Athens with quality, independent journalism.