After a tremendous 16 years of residing in the Chase Park warehouses at 160 Tracy St., the Athens Institute for Contemporary Art announced last week that the gallery will be relocated this summer. Prompted by the potential sale of its current location, ATHICA secured a multiple-year lease with an option to purchase Suite 1200 in the historic Leathers Building on Pulaski Street. ATHICA will host a farewell reception at its current location in late June, and will take the month of July to settle in and get comfortable at its new space around the corner before officially reopening with the exhibition "The Golden Record" on Aug. 18.
In addition to currently displaying "Emerges: Collaborations"—an exhibition of works by Megan Burchett, Maddie Zerkel, Jonathan Quinn Nowell, Forest Kelley and Alexis Spina—ATHICA will host a special shadow puppetry performance this week. "Lupita's Revenge" is presented in the "crankie" style, an art form that tells stories through scrolls of silhouettes that are illuminated from behind and hand-cranked across a custom, miniature-theater-like screen. Enhancing the live art, Tango Hambre will perform a live soundtrack of Latin American classics.
Written and directed by Abel Klainbaum, the narrative revolves around Mexico City's most beloved luchador, "El Guapo" Jimenez, who meets his demise during the final fight of his career. Flash forward 20 years, when his daughter Lupita, who was only 5 years old when she witnessed his untimely end, ventures to Valdosta on a quest to avenge her father's death by confronting his assailant.
"I knew that I wanted to write a revenge play. And I wanted to incorporate elements that interest me: silhouettes, Mexican wrestlers, old movies, murder ballads and tangos," says Klainbaum. "But most importantly, I knew that I wanted to make a highly stylized puppet show, and to treat it cinematically. So I always assumed I was directing a short film, with intricate compositions, camera movements whenever possible, and even cutaways—and that it would all be performed live."
Klainbaum was first introduced to shadow puppetry through a friend who invited him to improvise music during a one-scene presentation at her school. A photographer by trade, he always had a fancy for silhouettes, and the experience firmly planted the idea of creating his own project one day.
"I spent probably 50 to 70 hours creating the locomotive for the opening scene—drawing, tracing, testing different papers, cutting by hand and by machine—all while experimenting with different styles of rivets and magnets and squiggly-looking metal parts. That set the tone for the amount of detail that I wanted to show starting when the curtain opened," says Klainbaum.
Luckily, a friend introduced him to visual artist Phil Jasen, who then brought Anthony Gaskins into the fold, and they focused on bringing the physical characters to life, allowing Klainbaum the time to focus on storyboards. Along with artist Laura Maria Ramirez, who also assists in puppeteering, Klainbaum and his new troupe met at his home studio roughly once a week over the course of two years to develop "Lupita's Revenge."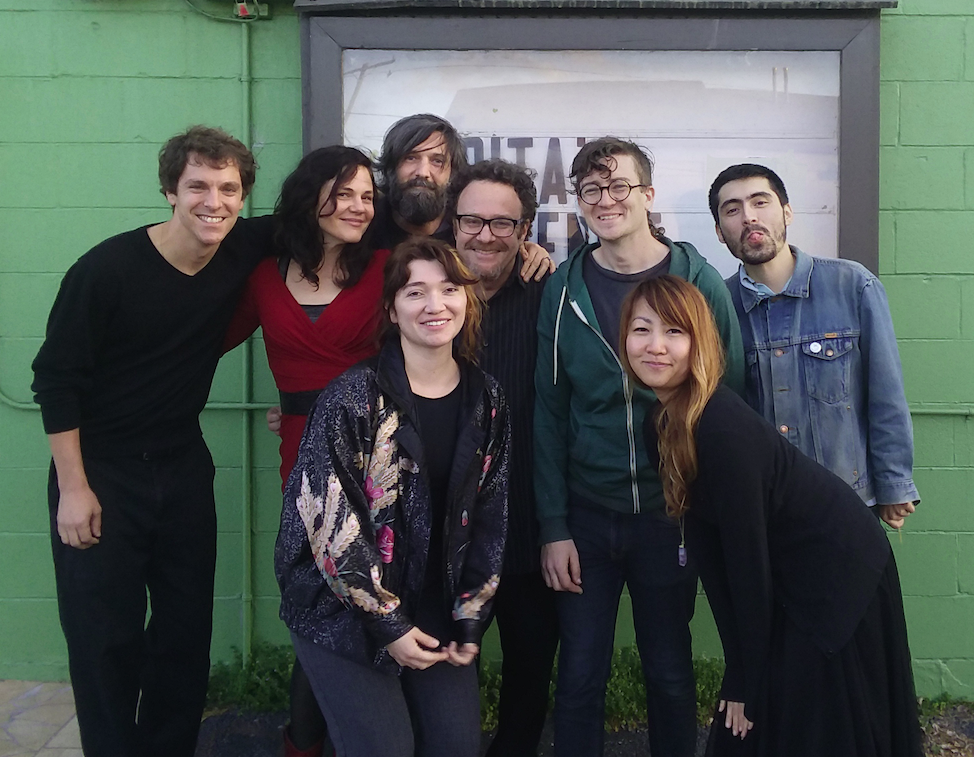 "The screen was completely fabricated by Matt Zbornik, who creates one-of-a-kind furniture and sculptures. He stopped by my house one day and saw the work in progress," says Klainbaum. "I showed him the locomotive and my pathetic screen made of old lumber and shower curtains. He looked sad, and maybe it was a wave of sympathy or something, but he then invited me to his studio every day for a week to design and assemble our current screen, which is a work of art and almost a character in itself, and that raised the ante even more for us."
The shadow puppetry is accompanied by a live score by Tango Hambre, a group comprised of Megan Cole on vocals and ukulele, Keiko Ishibashi on violin, Elijah Neesmith on bass, Jeremy Raj on guitar and Klainbaum on accordion. In addition to performing classic tangos, a handful of Mexican rancheras and even a couple of jazz standards thrown in between scenes, the musicians serve as foley creators, synchronizing sound effects to enhance the visual production.
With performances at the High Museum of Art in Atlanta and Barking Legs Theater in Chattanooga under their belts, the performers intend to take their van full of puppets and a few hundred pounds of gear on the road for a week-long tour of New York and Philadelphia. Until then, the troupe will offer two final local performances this week: Thursday, Apr. 26 at ATHICA and Sunday, Apr. 29 at Creature Comforts. Both events kick off at 7 p.m. with an hour-long reception, and attendees are encouraged to look behind the scenes following the performance. Tickets are $15 and can be purchased in advance at travelingpuppetshow.com.
Like what you just read? Support Flagpole by making a donation today. Every dollar you give helps fund our ongoing mission to provide Athens with quality, independent journalism.