For many people, private homes exist as physical extensions of the inner self, full of material possessions that reflect significant interests, memories and aesthetic preferences. Currently on view in the Gallery at Hotel Indigo, "House Beautiful" presents artwork by six contemporary artists who explore themes pertaining to personalized space, comfort and domesticity. Going far beyond art's popular role as wall decor, the exhibition instead uses artwork as a vehicle for better understanding the connection between individuals and their personal spaces.
For artist Sarah Hobbs, who holds a BFA in art history and an MFA in photography from UGA's Lamar Dodd School of Art, the home serves as a private space to recognize, contemplate and hopefully rise above or learn to cope with compulsions and neuroses. Her practice explores the ways individuals attempt to manage their own emotional and psychological issues through beautifully staged environments and site-specific installations. Inner turmoil transforms into a physical manifestation through a cathartic artistic process that focuses on responding to challenging concepts, interesting materials or particular spaces. Her peculiar photographs of obsessively arranged objects are easy on the eye, yet unsettling in the mind due to their underlying currents of anxiety and desire for control.
"I have always been interested in interior spaces and the psychological weight they can carry," says Hobbs. "At a critical point early in my career, I hit upon the process of constructing interior spaces to convey a specific emotion, phobia or neurosis."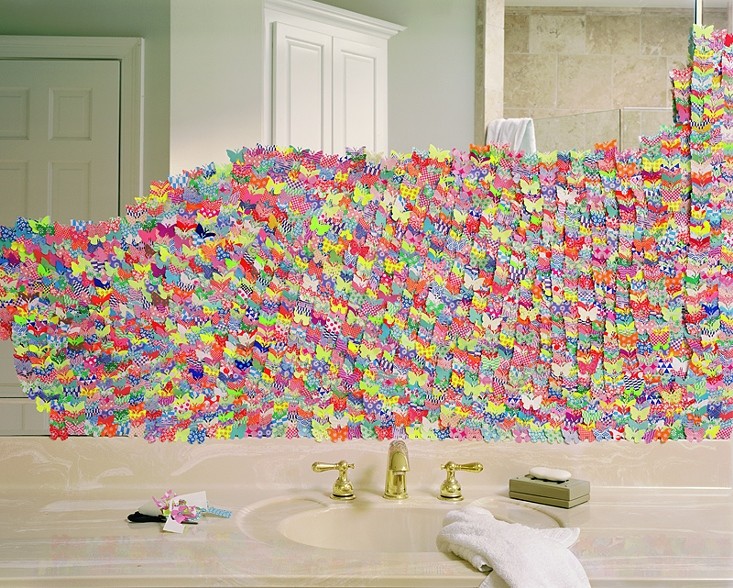 Her first photograph within this body of work, "Untitled (indecisiveness)," depicts a nearly claustrophobic room with an empty chair surrounded by walls covered floor-to-ceiling in paint swatches of varying shades of greens and blues. While Hobbs does not consider herself to be an indecisive person, she wanted to place herself and outside viewers into the mindset of someone who is by physically staging an environment that embodies those torn, distraught feelings. The use of everyday materials—paint chips, in this case—acknowledges how these everyday decisions can easily escalate from routine and ordinary to stressful and paralyzing experiences.
"I had just moved into an apartment by myself and was thinking about the idea of home as a metaphor for the self. My work became driven by my living situation, and the whole idea of psychological space came together," she says. "The solitude that I was enjoying, I was simultaneously not enjoying. I discovered that solitude has a dual nature, that of comfort and discomfort: the comfort of being in one's own personal space, and the discomfort of being confronted with oneself, with nowhere to hide, especially from one's own neuroses and phobias."
Featured on the cover of Flagpole this week, Hobbs' photograph "Denial" was originally inspired by a simple desire to showcase the origami paper used to fold the butterflies. The image takes on a more complex meaning when considering that the kaleidoscope of butterflies has been deliberately placed over the mirror to obscure reflection, creating a candy-colored distraction that blocks any critical self-observation or analysis.
Incorporating elements of fantasy into her work, Paige Adair builds lavish interior spaces with warm fireplaces. Loose strokes in watercolor allow the imagination to fill in the finer details of the decor, which ranges from colorful wallpaper, gold-framed portraits, taxidermy mounts, chandeliers and flower arrangements. Similarly and somewhat eerily uninhabited by people, Chapel Hill, NC artist April Childers contributes a quirky "Little Italy" series of paintings that mimic the artwork frequently appearing on the top of pizza boxes. With a limited color palette of mostly pink, red and gray, the café scenes emphasize dimensions and architectural design.
Jess Machacek's wall-bound objects repurpose building materials such as pool vinyl, packing foam, latex paint and window screens as a subtle critique of suburban items marketed towards the middle class. Justin Barker's paintings contain beautiful washes of translucent colors and interesting line work that creates a time-lapse illusion of doors closing. Holly Coulis' semi-abstract still life paintings are perhaps the best-suited artwork intended to brighten up a home as decor, and feature bold lines that compress the pictorial plane with vibrating colors.
"House Beautiful" will remain on view through Saturday, Apr. 28. Both the Gallery and GlassCube, which currently features a site-specific installation by Lucha Rodriguez, are participants in Third Thursday, a city-wide event encouraging attendance at Athens' art venues from 6–9 p.m. Visit 3thurs.org for a list of this month's exhibitions.
Like what you just read? Support Flagpole by making a donation today. Every dollar you give helps fund our ongoing mission to provide Athens with quality, independent journalism.