Imagine being able to hear the symphony of chirps emitting from small birds that surround a woman in an oil painting—the "Bird Tamer" by Bob Clements—or the rallying call of "We are the 99 percent" being chanted from an unusual fishbowl full of expressive ceramic faces—"Sounds for Uprising" by Cheri Wranosky. "Resonance: A Bi-Sensory Art Exhibit," co-curated by local artists Melody Croft and Jackie Dorsey, makes it all possible by pairing each piece of art with audio, elevating the visual stories through complementary songs, sound effects, poetry, storytelling, speeches and news clips. Currently on view at the Oconee Cultural Arts Center, visitors are encouraged to spend more time fully absorbing and reflecting on each image by using their phones to scan QR codes that link to recordings.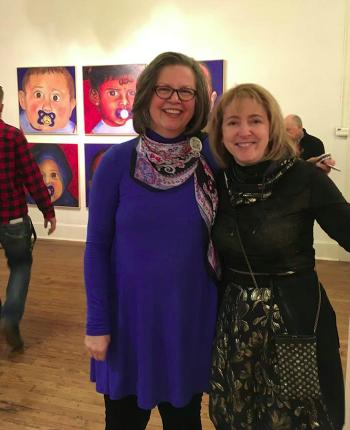 The concept of the exhibition, which originally sought to combine poetry and images, evolved out of Croft's own body of work, which often incorporates collage-like text into oil paintings to emphasize impactful messages. Her previous exhibition, "Sixteen Stories," held at the Oconee County Library a year ago, took these narratives even further by posting background explanations for each painting on Tumblr and in person.
"Attendees to that show stated that the stories invited them to connect with my paintings; however, I found that the addition of another visual stimulus lessened the impact of the artwork," says Croft. "I realized that technology and QR codes would allow me to physically use my voice to virtually reach out from my canvas and guide the unencumbered viewer into my painting."
After Dorsey volunteered to assist Croft in writing the gallery proposal for "Resonance," the two met up over coffee and their brainstorming eventually escalated into tackling the idea of pairing visual artwork with audio through the use of QR codes. They invited participants by searching through online platforms for interesting, thought-provoking pieces that were diverse in medium and mood. The artists then selected sounds to complement their work, and the co-curators facilitated the tech side by acquiring any necessary permissions and uploading the content to a YouTube channel in order to create the URLs.
"I was personally eager to do this since I often have songs that inspire my paintings of musicians, and I have always wanted to share this with my viewers," says Dorsey. "She was eager to do this because her paintings always have a story or message, and this would provide a unique way for getting it across."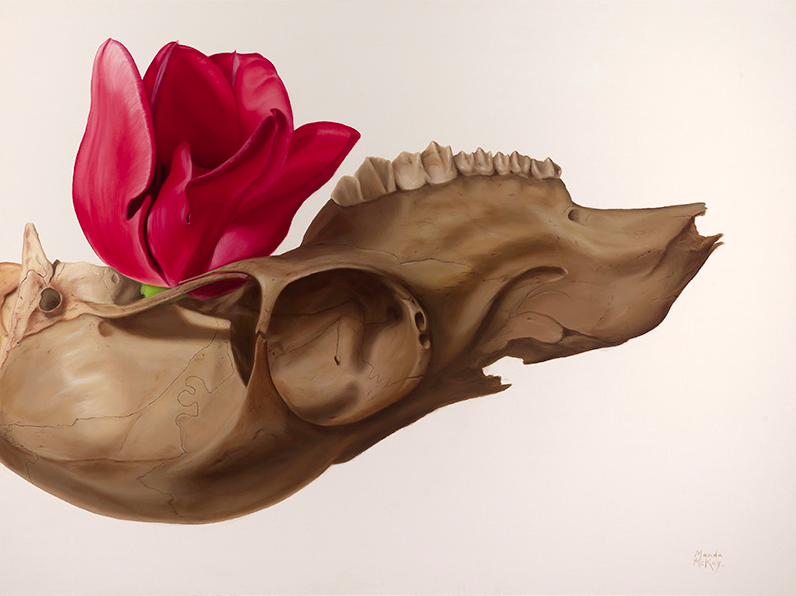 Croft's paintings challenge viewers to contemplate the psychological, sociological and emotional complexities of race, gender, age and culture. "Avon Calling," a tall portrait of a smiling, sharply dressed Avon representative, is paired with a recording of a 1960s commercial to hint at the impact of the beauty industry's ads on the self-image of young girls. "The Pacificists," a 6-by-9-foot hexaptych of babies with pacifiers, is combined with children speaking about peace.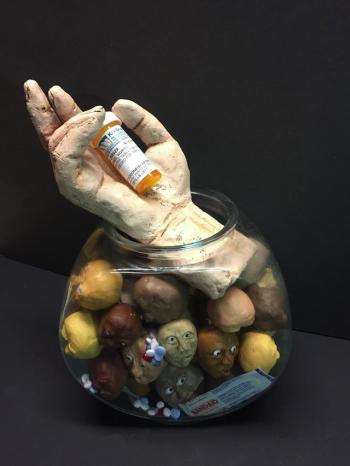 "Music enhances the viewing of visual artwork just like a soundtrack enhances a film," says Croft. "Mary Ann Cox has a beautiful watercolor in the show of an older woman, entitled 'Flossie.' Listening to the opening overture of To Kill a Mockingbird that has been paired with the painting kindles the emotion that the artist feels about Flossie. The orchestrated work chosen by Claire Clements creates atmosphere and implies a sense of space as you look at her landscape of the R.E.M. trestle."
A few artists excitingly had original songs composed for their work—Lucy Bone, Kristin Hyink and Manda McKay—and the exhibition also includes visual work by Margaret Agner, John Ahee, Ryan Dorsey, Denise Stewart-Sanabria and Viviane Van Giesen. Jackie Dorsey contributes five exquisitely photorealistic portraits of musicians—each accompanied by one of their own songs—Gregg Allman, Michael Coast of the Grassland String Band, Pip the Pansy (formerly known as Wrenn), violinist Adam Poulin and Sienna Chandler of Monsoon.
"In my own case it adds to the story of the painting because it shows another dimension of my subject: his or her own art," says Dorsey. "But it also is a way of sharing a little more of me and my process. I paint what I love. I not only get to share the subject with my audience, but also the music that moves me and draws me to them. It is another level of intimacy between me, the subject of my painting, and the viewer experiencing the work."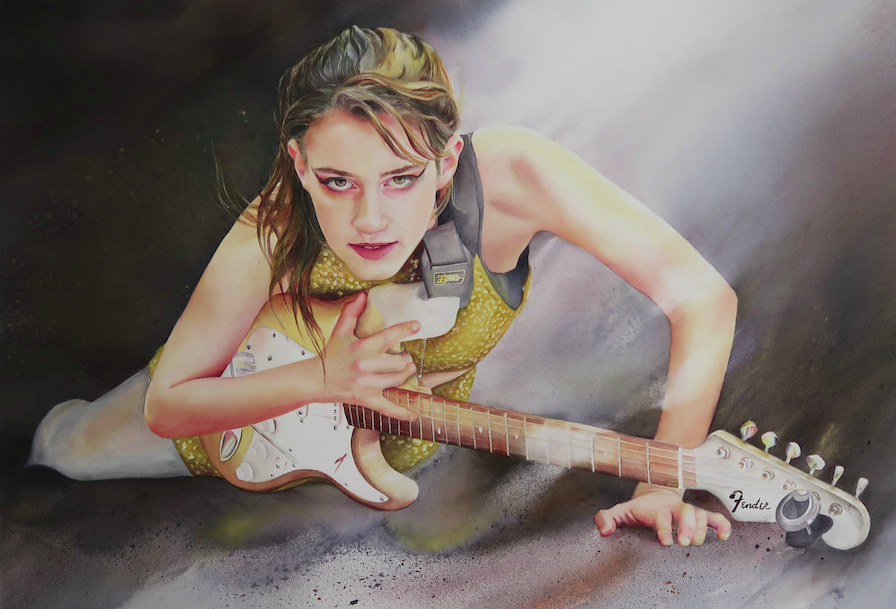 In addition to "Resonance" and Lisa Freeman's solo exhibition "Repercussion," OCAF is also featuring "Typo-poetry: Despite Black and White in Sound," a group exhibition curated by UGA Assistant Professor in Graphic Design Moon Jang. Investigating typography as a method of writing poetry, graphic designers and design educators were challenged to create works using words related to sound and a color palette of black, white and gray.
"I envisioned 'Typo-poetry' in which designers are authors and producers who respond to various issues and focus on typography and type rather than images and full colors," says Jang. "Then, I immediately thought of Concrete Poetry, one of the avant-garde design and art movements in the early 1900s. It is a type of art and design using linguistic elements such as words and glyphs and their arrangements to maximize their meanings visually. 'Typo-poetry' was basically inspired by Concrete poetry."
"Typo-poetry" includes contributions from a total of 18 artists, each of whom provide, a statement illuminating the inspiration behind his or her work. James Chae's "Boom Baps" attempts to translate the reverberating sounds of hip hop into vibrating graphics. Kelly Walter's "Tweet Tweet / Cuckoo Cuckoo" takes a jab at Trump's infuriating Twitter posts by creating a call and response between the two words. Laura Bower's "Your Echo Chamber Is Destroying Democracy" challenges viewers to contemplate how limited community conversations and unopposed thoughts can lead to the reinforcement of narrow world views. Though clean in design, the works collectively approach complex ideas.
All three exhibitions will remain on view through Friday, Feb. 16. OCAF is open Tuesdays–Saturdays from 10 a.m.–4 p.m.
Like what you just read? Support Flagpole by making a donation today. Every dollar you give helps fund our ongoing mission to provide Athens with quality, independent journalism.