For independent art galleries, artist memberships can be invaluable sources of support, alongside grants and donations from the community. The annual "Members' Exhibition" at the Athens Institute for Contemporary Art recognizes its supporters by offering an opportunity to share work in a professional setting. Works by several well-known artists are included, such as Michael Lachowski's chaotic charcoal "Wind" drawing, Robert Clements' golden sculpture of a couple of "Tourists," Didi Dunphy's larger-than-life hot pink "Picket Fence" and Lisa Freeman's mixed-media assemblage "The Shed," a tiny replica of an artist's studio. Excitingly, the exhibition also includes works by artists who are new to town, new to creating artwork or experimenting with a new medium.
Julia Wynn Safer's unusual portrait "Chickadee Del-EYE-te at Night" depicts a wide-eyed woman with her tongue stretched out beneath a small, glowing bird. Eyes dot the dark blue sky like stars, a detail inspired by eyes unexpectedly appearing throughout art history, particularly within Surrealist works. The eyes also represent the idea of women both watching and being watched, an idea that is strengthened when considering "bird" or "chick" being used to reference women in slang.
Safer, who recently moved to Athens from Atlanta, received her MFA in painting from the Savannah College of Art and Design and currently teaches courses in art appreciation at Chattahoochee Tech and GSU-Perimeter.
David Noah's "Grandmother Sheep" is an intriguing portrait of an anthropomorphic sheep reclining backwards with a relaxed expression. Primarily a photographer who specializes in black-and-white images, Noah continues his inclination towards monochrome in this painting, which explores color relations through warm sepia tones. The character was inspired by his grandmother, who was blind from cataracts and lived with his family when he was a child, spending most of her days in a rocking chair, listening to books on records, playing the harmonica and dipping snuff.
"She was a fierce presence, and told stories that could make us laugh or scare the dickens out of us. In my mind, she was not only a teller of tales, but a creature out of a fairy tale herself. A bit like Baba Yaga, maybe," says Noah. "That transformation from human to animal seemed entirely possible. I can't exactly explain why I gave her a sheep's head rather than some other animal, but it might speak to her vulnerability. I painted this directly from the subconscious, without understanding what I was doing or why, but now it's an important image for me. I hope it does some justice to my memories of her."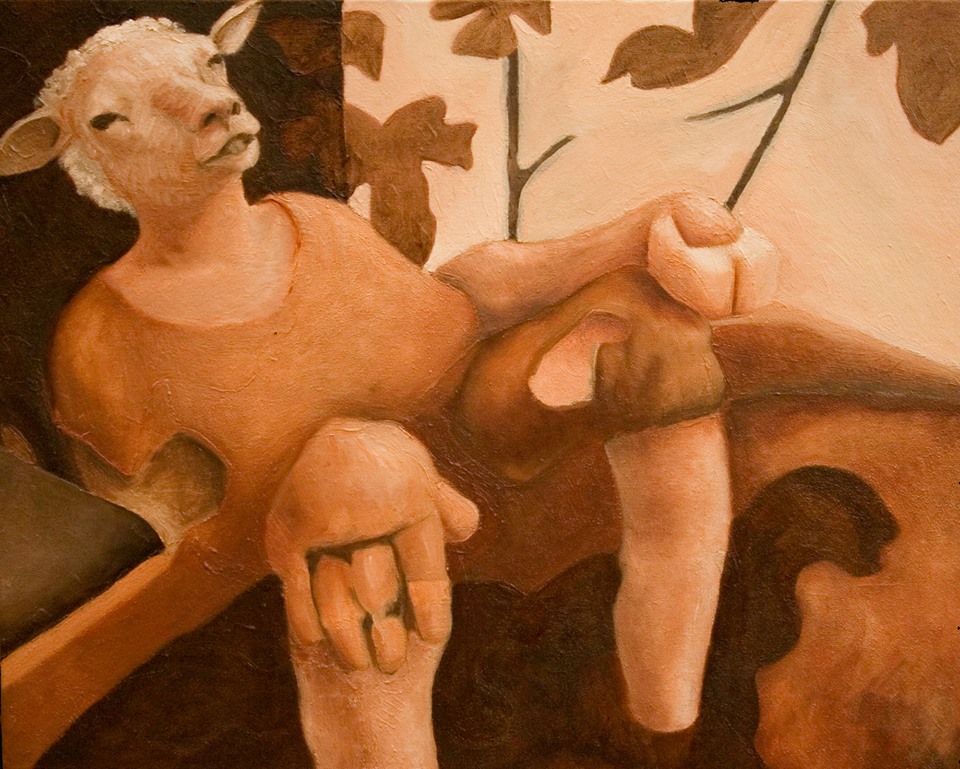 Noah's painting hangs in close proximity to Helen Kuykendall's "Turnip," complementary in its earthy color palette as well as its underlying uncanniness. The turnip is uprooted and flying across a sky, serving as an invitation to contemplate the relationships between humanity and the earth. The deep pink and soft golden tones of the vegetable align with the pastel cotton-candy clouds of a sunrise, balancing realism and a more dreamy romanticism.
"I have a deep angst about our connection to nature as our society becomes more and more urbanized. So, some of that disconnection has become more broadly relevant in my work," says Kuykendall. "The beauty of vegetables are under-appreciated in our aesthetics, but vegetables are more and more important in the health of our society on so many levels—human health, environmental health, climate, water, organics, GMOs, big agriculture, immigrants."
Kuykendall is a former landscape architect who practiced park planning for the National Park Service and Denver Parks and Recreation for over 20 years, and now enjoys tending to a big garden with her husband at their home on the Middle Oconee River. Currently serving as part of the Athens Cultural Affairs Commission, she is fairly new to painting and excited to represent landscapes in imaginative ways.
Similarly emphasizing the beauty of the natural world through her artwork, Liz Minkert Johnson uses her camera to immortalize landscapes, wildlife and macro perspectives of the interesting details she comes across. Shot with a DSLR camera, her photographs are enhanced through software including Adobe Camera Raw and Photoshop. Some, such as the vibrant "Purple Waterlily" at ATHICA, are printed on metallic paper, which adds a subtle sparkle.
"I love seeing. Photography gives me an opportunity, a reason, a purpose to see more: to see more sights, more patterns, more constructions, more views, more details in everything I encounter," says Johnson. "With photography, I can share what I see with others, sometimes showing patterns in a landscape or the personality of wildlife, bringing out the subtle colors in a shell or rock, or odd reflections that reflect upon not just an image, but an idea."
"Members' Exhibition" features 30 artists, with others including June Ball, Cameron Bliss, Claire Clements, Melody Croft, Dorian Edwards, Lauren Fancher, Jennifer Hartley, Mike Landers and Jon Vogt. The show will remain on view through Sunday, Jan. 14, with the exception of Monday, Dec. 18–Wednesday, Jan. 3, when the gallery will be closed for the holidays.
Like what you just read? Support Flagpole by making a donation today. Every dollar you give helps fund our ongoing mission to provide Athens with quality, independent journalism.