Beyond its immediate role of pleasing the eye, color has always held multifaceted significance on personal and cultural levels. Currently on view at Trio Contemporary Art Gallery, "#colortheory" seeks to explore the visual impact of color in all its forms through artwork that incorporates color as a central element. Scratching deeper than what appears on the surface, the group exhibition collectively touches on color's unique ability to set a mood within an environment, evoke emotional responses and carry symbolic meaning. Works by over two dozen artists are included, ranging from abstract paintings by Hannah Betzel and Andrew Indelicato, architectural photographs by Frances Berry and Nirvana SQ, an anatomical sculpture by Kyle Sullivan and an interactive "Pixel Sorting" video installation by Connor Trotter.
Given the theme of the show, it feels only natural that curator Tatiana Veneruso arranged many of the pieces in proximity to others that compliment their colors. In one corner of the gallery, Tammy Cantarella's "Green Dot," a collection of 25 large chartreuse circles, occupies close to the entirety of a small wall. To the left, Beth Thompson's "Red Coneflower Bee" offers a kaleidoscopic photograph of a flower star-bursting across a solid green background. To the right of Cantarella, René Shoemaker's painted silk of a building's facade hangs beside Claire Clements' cut paper botanical "Orchid Vibration," with both pieces continuing this common bright yellow-green thread.
Appearing on the cover of Flagpole this week, Argentinian photographer Karen Navarro's portrait from her series "Deconstruction" emphasizes how a customized color palette can establish tones of surrealism and fantasy within an image. After studying fashion design at the University of Buenos Aires, Navarro relocated to Texas and studied at the Houston Center for Photography. She now combines her interests in fashion and photography through highly stylized pictures that she often views as self-portraits using models.
"This series calls into question the idealization of women, showing how we reconstruct ourselves based on what we have learned and what has been imposed upon us," says Navarro. "The perfect world is only an idea, and here I want to show both perfection and the uncertain."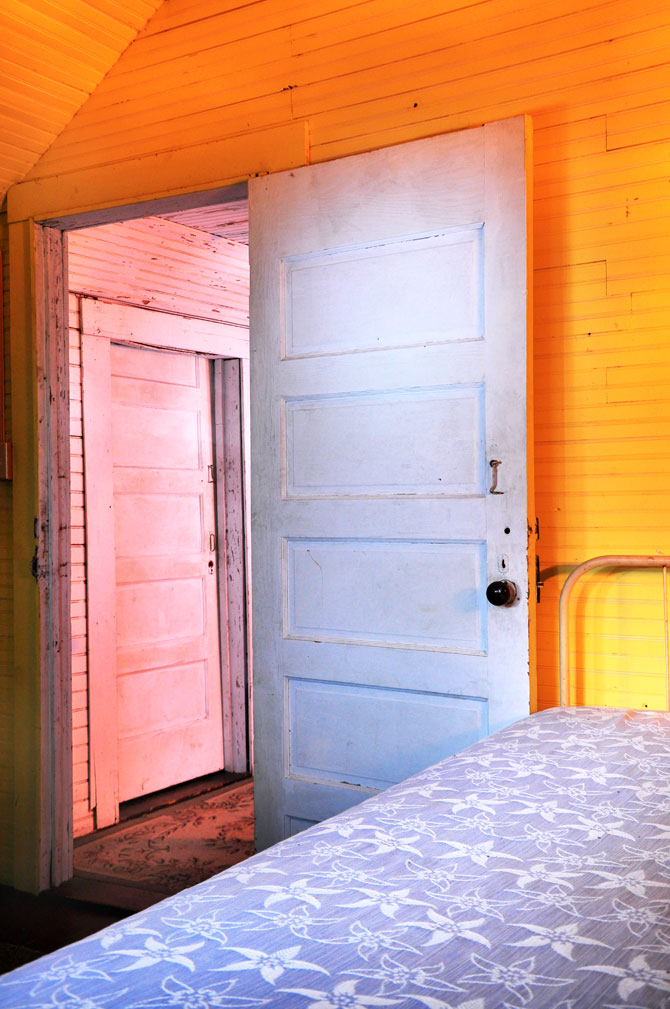 Several of the exhibition's pieces hold deep personal significance for their creators. Ginger Goekjian's photograph "Sweet Dreams" was taken at an old summer house built by her great-grandfather over 100 years ago in Montreat, NC. Taken at night with all of the house lights turned off, she used two flashlights—one with a warm light, one with a cooler blue-toned light—to illuminate individual surfaces. Her ability of layering color and charm onto faded, old wood parallels the inclination of the mind's eye to reimagine cherished memories with increased luster and beauty.
"In 2009, I knew that the house would soon be sold, and I decided that the only way I could 'save' it was by taking photographs of it, to use it to create images in loving tribute to all it meant to me," says Goekjian, who used to visit the home every year when it was owned by her great-aunt Lucy. "The photographs from there comprise my favorite portfolio and resulted from my hiraeth. They are for me a representation of a personal journey. My hope is that they can perhaps evoke memories, feelings, emotions or thoughts for the viewer."
Krysia Ara's "Swatch Out," a grid of shades mimicking house paint swatches, demonstrates how fun it can be to play with colors. Taking inspiration from the countless rooms she's painted since childhood, Ara jotted down color names that came to mind over the course of several weeks. Many of the colors are completely spot on—greens include Uncontrollable Kudzu, Last of the Mojitos, Glint of Mint, Om Hum and Allergic, for example—while others leave more to the imagination, such as Mood Swing, Dentist's Office, Lost Cat Found, Baby's Burp and Nonline Dating.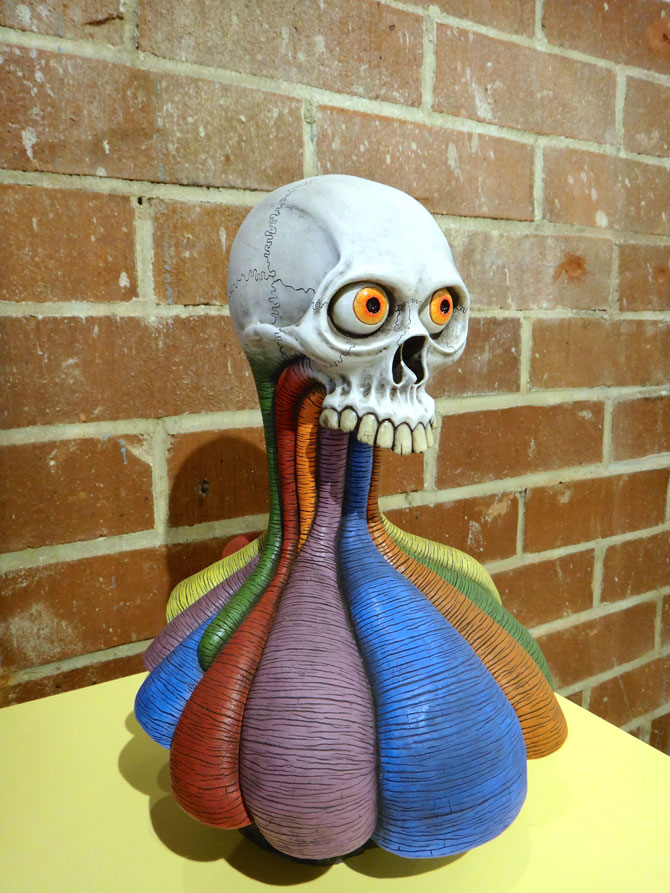 The gallery will host Three @ Trio on Thursday, Sept. 21 at 8 p.m. with music by New York-based cellist Daniel Levin, electronic performance artist L'Or and improvisational guitarist Killick Hinds. Influenced by European classical music, American jazz, improvisation, noise and microtonal music, Levin transcends the limitations of traditional approaches to cello. He is currently on tour in support of his new solo record, Living, which will be released Friday, Sept. 15.
Trio will also host a screening of Akounak Tedalat Taha Tazoughai, a 2015 homage to Prince's cult classic rock opera Purple Rain, on Tuesday, Oct. 10 at 6 p.m. The film literally translates to Rain the Color of Blue With a Little Red in It, as there is no word for "purple" in Tamashek, the language spoken by the Tuareg, a semi-nomadic group in North Africa. Directed by Christopher Kirkley, this first-ever Tamashek-language fictional film tells the story of a musician—played by real-life guitarist Mdou Moctar—trying to make a name for himself in the Nigerien city of Agadez. While touching on universal experiences like challenging artistic rivals, conservative parents and ego, the film offers a rare view into the Tuareg musical subculture popularized by the likes of Bombino and Tinariwen.
The free October screening will be followed by live performances by Mdou Moctar, The TaxiCab Verses and Drunken Foreigner Band (with ex-Athenians Jim McHugh and Jeff Tobias) at 8 p.m. on the Georgia Theatre Rooftop.
"#colortheory" will remain on view through Thursday, Oct. 12. In addition to providing event rentals within Trio's gallery space, Pixel & Ink recently completed a photo studio that is now available for hourly or daily rental, and in-house photographer Jordana Dale offers portraits, styled sessions and product photography.
Like what you just read? Support Flagpole by making a donation today. Every dollar you give helps fund our ongoing mission to provide Athens with quality, independent journalism.