While many of the Athens Institute for Contemporary Art's exhibitions tend to gravitate towards professional work or thematic focuses, the annual "Emerges" show is reserved for rising local artists who are relatively new to the scene. For its decade milestone, curator Madeline Bates invited five artists who promote positive change through their creative practices. Ranging from ceramics to silkscreening, photography and discourse, the exhibition touches on a variety of cultural, political and environmental concerns and emphasizes art's ability to educate and empower communities.
"I find it inspiring to see these artists working tirelessly in our immediate community while considering that the issues they work to change are so widespread across American culture," says Bates. "Each artist is working through their research, their collaborations, and their specific art mediums to build a stronger local community that locks into larger networks of people in other cities, regions, states or even other countries to working on the same things. That's how effective change happens: start small and local, then grow the movement by connecting with other, larger networks working to achieve the same things."
Mariah Parker, also known as Lingua Franca, is a hip-hop performer and community organizer who finds that the two roles often go hand-in-hand. Her academic research in the MA program in linguistics at UGA has focused on hip-hop discourse, and she will soon begin the PhD program in language in literacy education. Outside of the classroom, she is the founder of the Hot Corner Hip Hop showcase, which supports both local and touring artists in an effort to cultivate a more inclusive community.
"The importance of calling people in, rather than out, cannot be overstated," says Parker. "I think music is extremely powerful for its ability to draw listeners into solidarity with the artist. Even when our music boils with anger, there's something about the musical experience that massages listeners into considering our point to a degree they may resist in conversation or when reading an op-ed… That's actually something that I highlight in my piece with Squalle: the grammatical means by which hip-hop artists, as explicit as people want to think we are, actually hedge and soften and circumlocute our call-outs as means of calling in."
For her site-specific installation, Parker visually conveys a thin slice of her hefty 92-page thesis, presenting two wall-bound graphics with an accompanying listening station. Using lyrics from "Crazy Days," the opening track from Squalle's Black Picassoul, as an example, context modifiers and subject identifiers are color-coded to reflect the balance between positive and negative messaging. The analysis explores how language and linguistic devices within conscious hip hop can be used as tools to rally listeners into action.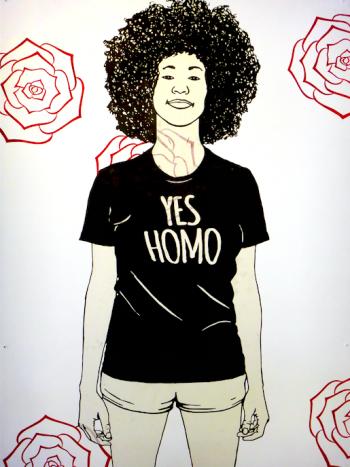 A portrait of Parker by Caty Cowsert appears across the gallery—as well as on the cover of Flagpole this week—standing in the company of several other locals who identify as members of the LGBTQ community and come from diverse racial backgrounds. At just shy of 8 feet tall, the models are impossible to ignore—a deliberate attempt to compensate for the oppression they may face and to promote acceptance of nonconforming identities.
"I believe artists are the perfect catalysts for social and political change," says Cowsert. "We create works that tell what is going on around us through a lens that people can understand on a personal level. It's important to capture this progression from a cultural perspective because in a way, artists document history as it's being made."
Cowsert's second body of work within the show is a collection of porcelain tiles that borrow popular catchphrases from post-inauguration protest signs, such as "Love Trumps Hate," "We're Here and We're Queer" and "Silence Is Violence." The tiles are a much more permanent form than their cardboard predecessors, and Cowsert intends to eventually adhere the small ceramics to public places as a guerilla-style project, ensuring passersby receive subtle reminders to make their voices heard year-round.
Sculptor and civic practitioner Courtney McCracken contributes an installation focused on the visual components of the Athens Free School, a learning network she co-founded in fall 2015. Valuing gift economy, non-hierarchy and a DIY mentality, AFS offers free classes to the public. A collection of collages used as promotional flyers list each month's activities, which range from workshops in yoga, bike repair and kombucha brewing to animation showcases, revolutionary reading club meetings and clothing swaps. A screen-printing unit nicknamed Splinky is currently on view in the center of her display, and will be donated to K.A. Artist Shop for public use following the exhibition's duration.
Trevor Blake, an undergrad studying fashion merchandising and studio art, and Drew Huggins, an art student pursuing photography and videography, combine their keen eyes and skillsets for the collaborative series "Neutral Language." One collection, "Bret," juxtaposes traditionally feminine clothing with symbols or behaviors associated with masculinity, while a second, "Rachel and Declan," blurs gender roles applied to heterosexual romantic relationships. As a whole, the images touch on the fluidity of gender and sexuality through a form of playful fashion experimentation that confronts and dismantles cultural norms.
Huggins also contributes "This Is What French People Look Like," a collection of unusual Polaroid portraits shot while studying abroad in France. After discovering that a country-wide ban was to be placed on the distribution of plastic bags due to the alarming rate at which they are discarded in nature, Huggins set out to document the "endangered" pastel-hued bags in the settings where litter most commonly surfaced.
In addition to showcasing rising artists, "Emerges" is an opportunity for an aspiring curator to take the lead. Writer and artist Bates is the in-house curator for Creature Comforts Brewery, where she has organized over 40 short-term exhibitions. She is also a current board member at ATHICA, and "Emerges" is her first exhibition in a formal gallery. Bates was assisted by Kayla King, an undergraduate art history and studio art student who has volunteered at the gallery since last September.
"I think, in general, it's more palatable to be exposed to new ideas—especially tough social or political ideas—through art in a gallery than, for instance, walking into a rally you might not know anything about," says Bates. "In 'Emerges X,' the artists' work makes these issues seem so personal, so real. If issues don't immediately effect you, if you don't see people on the ground affected by the issues or working on them, it's tough for many people to lend their emotional or intellectual energy to the issue, even if in a vague moral way they're supportive. Art, then, is an engagement method: a way for curious or empathetic individuals to connect to the young generation doing important social work through creative means."
ATHICA will host an Empower Hour Dance Party DJed by Parker on Saturday, July 8 from 8–10 p.m. A closing reception and community potluck will be held the following week on Sunday, July 16 from 4–6 p.m.
Like what you just read? Support Flagpole by making a donation today. Every dollar you give helps fund our ongoing mission to provide Athens with quality, independent journalism.