Showcasing the newest wave of contemporary work from the Lamar Dodd School of Art, the "Master of Fine Arts Degree Candidates Exhibition" shares pieces by graduate students on the brink of metamorphosing into fully-fledged professional artists. Currently on view at the Georgia Museum of Art through Sunday, May 14, the exhibition is an annual tradition that has been carried on for several decades. Interestingly, many of the candidates lean toward incorporating techniques developed through their primary concentrations into multimedia pieces or installation-based work.
As an undergrad, Amanda Scheutzow originally set out pursuing a degree in media arts and animation before switching to sculpture, and then by another twist of fate, to jewelry and metalwork. Now, coming nearly full circle, she applies her interest in sculpting with a stop-motion aesthetic to her unusual and visually stunning metalworks, revealing glimpses into fantasy worlds. Using a large-format camera and a wet-plate collodion process, Scheutzow photographs tableaus composed of odds and ends collected from antique shops and secondhand stores.
"I find old objects to have such personality, and you can see the evidences of their past lives through scratches, rust, worn paint," says Scheutzow. "They tell stories, and that's what I like my work to do."
These meticulously crafted landscapes are then populated by creatures sculpted from old bones and an oil-based clay, an activity that can take up to 40 hours alone. Often, Scheutzow will respond to a found object at hand, and let her imagination guide the narrative. Peering through the botanical metal window of "Eyes of Vulture Mines," you'll see how old lotus pods were transformed into many-eyed monsters. The tops of brass pineapples became crowns for skeletal serpents in the tropical "Trouble in Paradise."
"I hope viewers can experience wonder and the surreal. I want them to suspend their disbelief and, just for a moment, place themselves into my world and let their imaginations play with the narratives," she says. "I think nowadays, we don't get that moment anymore. We are sucked into our digital worlds and absorb information so fast. When looking at my images, you're slowed down and caught in an experience that only one person can have at a time. The stereoscopic images push the experience even more by making the images three-dimensional, which allows the viewer to be pulled in, and makes the spaces seem real and tangible."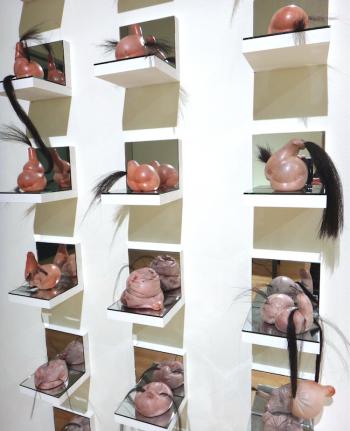 Seeming to share a fascination with the physical body, the works of Ellie Dent and Dan Ba Vu are presented side by side and almost look like they could've been created by the same hands. Exploring illness and bodily trauma, Dent's conceptual pieces contemplate the relationship between visually expressing and healing from pain. Resembling organs with hairy mutations, Vu's lifelike sculptures are exposed on mirrored displays, crammed into a box, or squished between sheets of glass, echoing physical discomfort.
Meirav Goldhour's fairly self-explanatory installation titled "A conversion of an historic yarn mill into a center for the treatment of Post Traumatic Stress Disorder" wonderfully exemplifies the application of design towards social change. A video explains the adaptive reuse and presents research on the potential effects the architectural environment could have on patients. Inspired by Mozart's Sonata K. 570 Adagio, Shuk Han Lui developed an interesting artist book that substitutes visual cues for musical details, such as punched holes for pitches and color rings for rhythm. Arron Foster's body of work, which ranges among prints, video, animation and installations, explores the relationships between time, space and consciousness.
Sculptures fill the floor of the following space, presenting Zachary Harris' "Amendment" series that employs concrete, marble, aluminum and stainless steel, alongside Jon Nowell's mishmash assemblages of miscellaneous materials like Carrara marble, a tennis ball and a kombucha bottle. Focusing on traditional metalsmithing techniques through his research, Thomas Bosse shares tools, drawings and a time-lapse video that reveal the process of creating handmade metal objects.
Sharing a room with Scheutzow's creations, four mixed-media pieces by Julia Megan Burchett are wildly different from each other, incorporating materials that range from shredded rubber tires and handmade paper to a metal door, dyed wool and woven beads. Her series faces a wall full of ceramic squares and rectangles by Reid Brechner, each painted with color blocks of subdued earth tones.
Outside the main galleries, Jamie Diaz's collection of large porcelain pots, solid white and textured with thumbprint indentations, contrast with the Tiffany stained-glass window illuminated by natural sunlight in the background. Large paintings on panels by Ariel Lockshaw line the balcony, depicting summery symbols of leisure like clouds, palm trees and swimming pools through combinations of acrylic, oil, enamel and spray paint. Be sure also to walk to the small gallery at the end of the hall for Stephanie Sutton's installation looping three simultaneous videos.
During MFA Speaks on Thursday, Apr. 20 at 5:30 p.m., the artists will deliver three-minute introductions to their work, offering insight into their inspirations, creative processes and ideas. The museum will also host a Thursday Twilight Tour at 7 p.m., during which docents will highlight selected works from the permanent collection.
Both events will be followed by Museum Mix, the thrice-yearly art party (8–11 p.m.) offering late-night access to all of the galleries, complimentary refreshments and snacks and a special DJ set by Hugh Hodgson School of Music graduate student Kevin Green. His set will focus on salsa, Latin-Funk, Cuban and Brazilian music, possibly dipping into some hip-hop and house blends, too.
The evening falls on Third Thursday, a monthly occasion for which Athens' seven largest art venues—Ciné, Classic Center, Gallery@Hotel Indigo, Georgia Museum, Lamar Dodd School of Art and the Lyndon House Arts Center—extend their closings to 9 p.m.
Like what you just read? Support Flagpole by making a donation today. Every dollar you give helps fund our ongoing mission to provide Athens with quality, independent journalism.