As a volunteer-run organization, the Athens Institute for Contemporary Art relies heavily upon its members, a community of artists and art lovers who recognize the importance of supporting the gallery in its mission of presenting inspiring exhibitions and thought-provoking conversation. The gallery currently has over 50 active members, and their collective memberships provide about 40 percent of its annual budget. ATHICA's first-ever "Members' Exhibition" showcases the diverse talents of over a dozen of these invaluable supporters.
Capturing the raw beauty of rural landscapes, painter Cheryl Washburn has an incredible ability to convey the texture of clouds, peacefulness of animals and delicate sunlight touching the plants of wide-open spaces. In addition to being influenced by the work of 19th Century landscape painters, she has been mentored by locals like John Cleaveland, who shares her love of rural scenes, and Terry Rowlett, whose narrative works have inspired her to delve into the realms of imagination. Many of her paintings start out with combining elements from several photographs, but she finds that the magic truly settles in when she allows her instinct and imagination to guide the paintbrush. Her new oil painting on wood panel, "Phantasie Op. 1 No. 2 (Old Crow Tree)," captures a still and chilly moment, inarguably full of life despite the barren trees and wintery setting.
"I am constantly pulling my car to the side of the road to photograph something that resonates with me—in this case, the old tree branches stark against the dark, cloudy sky," says Washburn. "I began with that photo, but most of the branches and all of the crows flew from my dark imaginings. I never really know what will end up in these paintings until they're done."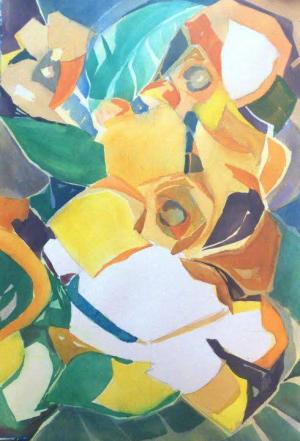 Similarly finding inspiration in the natural world, Richard Huston creates beautiful watercolor paintings of landscapes and botanicals. Deciding that he wanted to become an artist early on as a second-grader at Chase Street Elementary, he studied art and theater throughout college, leading him into a career as a set designer and scenic artist in Los Angeles. Eventually, his work led him back to Georgia, where he took his skills from the set to the canvas.
Huston's painting "Botanical Garden 46, Carolina Jessamine" takes an abstract approach in depicting South Carolina's state flower, which grows as clusters of bright yellow blooms clinging to a slender vine. Undertones of complementary purple help the yellow pop, while blocks of color lead the eye towards familiar leaf shapes. The painting is part of a series that now totals 64 paintings, each of which focuses on a different plant native to Athens or the larger Piedmont region. Though common to the area, these plants are often overlooked; Huston's work draws attention to their beauty and importance.
After reading a self-help book in her early 30s that recommended watercolor painting as a form of therapeutic self-expression, Melody Croft began creating art whenever time permitted. She became a full-time artist in 2009 after retiring from a 30-year career in teaching, and now works almost exclusively in oils, occasionally incorporating collage into her paintings. Croft has joined ATHICA and three other art organizations within the past several months, hoping to grow artistically and professionally and meet some kindred spirits along the way.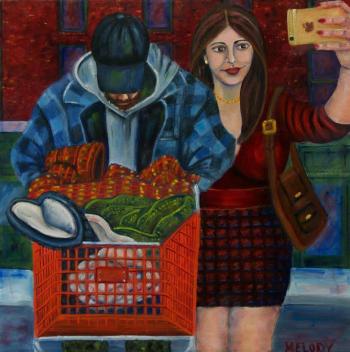 Believing that art can be an impetus for change, many of her narrative portraits approach the complexities of race, age, gender and culture. Her contribution to the gallery's exhibition, "Selfie-ish," is a vibrantly hued scene of a young woman taking a picture of herself beside a homeless man. Oblivious to the inappropriateness of her actions, she's preoccupied with her own experience—one that will appear within the endless scroll of social media and be evaluated by likes and comments from followers.
"Technology certainly has allowed our social interactions to reach global proportions, yet in so doing, it seems ironically to have also become a barrier to actual human contact," says Croft. "The ultimate message of the piece is that we need to stop looking at each other on our individual tech devices and get out into the world and actually communicate."
Fellow educator Luke Graves also became a member of the gallery in hopes of making connections with other artists in the community. After graduating with a BFA in sculpture from UGA's Lamar Dodd School of Art in 2009, he worked at Camp Twin Lakes and created art-based programs for children living with illnesses or disabilities. After a stint teaching painting and drawing at Riverside Military Academy, he is now an art instructor at Athens Academy.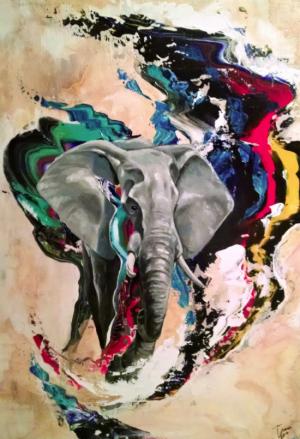 "I have currently been using animals as metaphors for times or situations in my life. The elephant represents my recent career change," says Graves. "I enjoy the fusion on abstract and realism. I try to balance the work around a simple but interesting background and strong focal point."
Drawing inspiration from the Baroque period and its dramatic use of light and dark, Graves often paints realistic animals with abstracted swirls and splashes in the background. At ATHICA, his elephant marches forward from a flurry of bold colors resembling a cloud of dust rising from beneath the animal's heavy steps.
ATHICA will host an opening reception for "Members' Exhibition" on Saturday, Dec. 17 from 5–7 p.m., preceded by a private reception for members from 4–5 p.m. The show will remain on view through Saturday, Jan. 14. Memberships, which start at $25, offer a handful of perks in return, and can be read about at athica.org/membership.
Like what you just read? Support Flagpole by making a donation today. Every dollar you give helps fund our ongoing mission to provide Athens with quality, independent journalism.