Everyone who braved the heat to attend AthFest last weekend ought to have noticed BirdSong, the 20 beautiful birds flying across a wall on the west end of downtown. Commemorating the 20th anniversary of the AthFest Music and Arts Festival, the large-scale public-art mural was commissioned by AthFest Educates. As a commitment to its mission of promoting music and arts education for local youth, the nonprofit announced a call for proposals seeking not only a professional artist but also an organization capable of developing correlated art-based youth programming. The stars aligned, and the $20,000 grant was awarded to illustrator and world-renowned tattoo artist David Hale and the Lyndon House Arts Center to partner in creating a mural for a location fortuitously within sight of where the festival's main stage is anchored each year.
Representing 20 years of AthFest with 20 species of songbirds, BirdSong includes many familiar faces: the eastern screech owl, brown thrasher, blue jay and majestic red-tailed hawk, who appears on this week's cover of Flagpole. The mural is very representative of Hale's larger body of work, stylistically identified by predominantly black-and-white designs with flourishes of bright red that are rich in detailed patterns and reveal a devout reverence for the natural world. In a way, BirdSong exists as a continuation of his role as the AthFest theme artist in 2013, when everything from billboards to T-shirts to banners were decorated with an intricate bird design.
"When I thought about AthFest, I just kept thinking of how it sonically represents the eclectic, inclusive nature of our beautiful town—always bringing together so many genres and styles of music and art," says Hale. "I love birds and the variety of flora and fauna that surrounds Athens, and have found it to possess similar variety and depth. I do not think this is a coincidence, and felt that 20 local birds with their varieties of songs, tones and appearances all coexisting would accurately represent all these amazing years of AthFest and all that it has brought to this town."
Adorning an exterior wall of Philanthropy at the corner of Pulaski and Washington streets, the mural covers the same location of a previous mural painted by Hale at the request of the building's former tenant, Sunshine Cycles. After the bike shop relocated to Baxter Street in April 2014, the deteriorated and graffitied mural—a flock of birds in a palette of orange and seafoam green—was removed by the property owner in order to complete masonry work before the next tenant. The public was outraged, but the ordeal catalyzed a discussion between Philanthropy's owners and the artist to design a replacement. With the proper time and resources made possible through the AthFest grant, Hale feels that BirdSong is the mural Athens deserves.
Serving as the youth-organization component of the project, the Lyndon House Arts Center was responsible for facilitating the participation of approximately 70 kids through workshops and summer camps. Realizing an opportunity to structure the mural project as an artist-in-residence program, something program supervisor Didi Dunphy had already been looking to develop, the center set aside its sculpture studio for Hale to keep a regular schedule for four months.
"The studio was open so our visitors were able to visit and witness the working artist environment and the process and labor of creating a massive project," says Dunphy. "This is the best result of a residency program—the contribution to the whole through the sharing of art and its creative process."
Hale selected four high school students as his interns—Jeremy Kiran Fernandes, Kalib Hubbard, Sam Watson and Mara Bastow—based not only on their merit as budding artists but for their demonstrated dedication to the labor of art.
"I never could have done it without them, and it is just as much theirs as it is mine," says Hale. "They were my favorite part of the whole project; when I look at that wall as an old man, they will be who I think of first before anything else."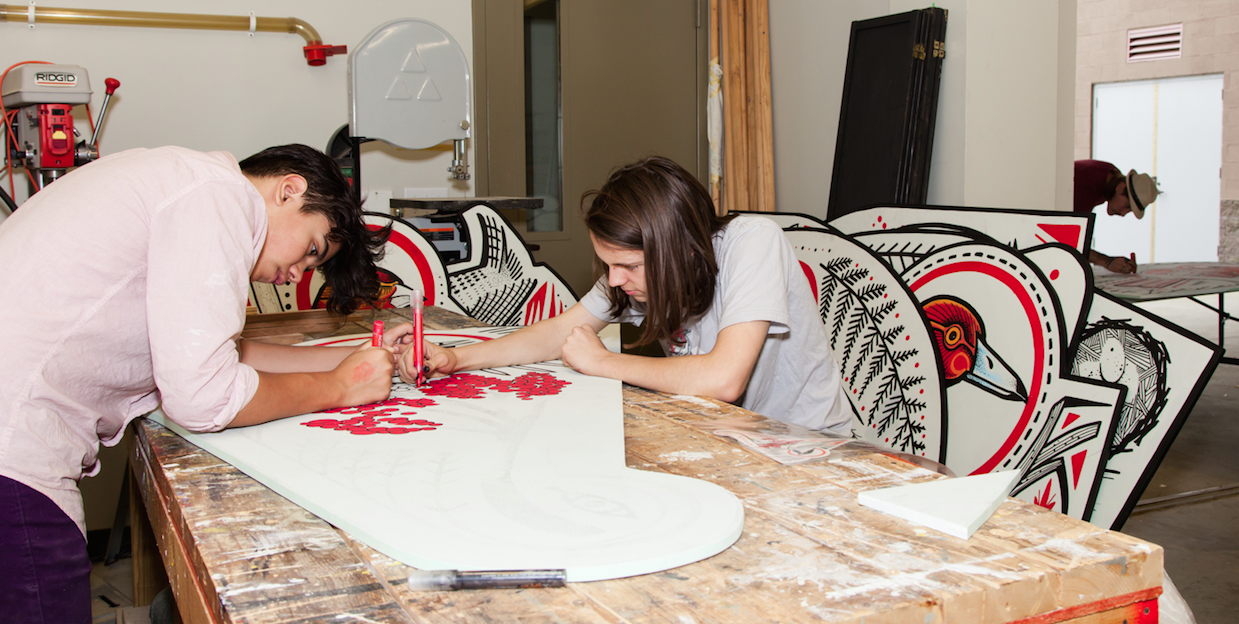 Photo Credit: Lyndon House Arts Center
Each bird was primed and painted onto its own panel by Hale and his team of interns within the studio, a practical approach that allowed for a convenient and safe—not to mention climate-controlled—environment. Once completed, all the panels were installed onto the wall and the remaining spaces were embellished with simple shapes to enhance cohesiveness. Anyone concerned with the impermanence of murals should take comfort in knowing that, hypothetically, the panels could be removed and relocated elsewhere should the current site ever be compromised by unforeseen circumstances.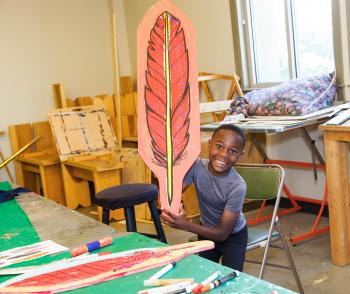 Photo Credit: Lyndon House Arts Center
The Lyndon House's programming was designed with an artist in residence in mind. In one specialty workshop, Hale assisted kids in building bird sculptures from repurposed skateboard decks. During a two-day Spring Break Art Break program, participants visited Bear Hollow to speak with naturalists, observe the zoo's inhabitants and search for patterns in nature to inspire their own feather-shaped panels. Over the course of two weeklong sessions of mural-themed summer camps, kids designed and painted a dozen three-foot mandalas, which were displayed during the mural's dedication at AthFest.
"David was great in the classroom," says Dunphy. "We hire professional working artists to interface with the youth in the studios as learning, rubbing elbows and sharing stories with the artist is of unmeasurable value."
In addition to providing a workspace and facilitating camps, the Lyndon House allocated a portion of the AthFest grant to create a mural map of Athens. Designed by Micah Jones with accompanying photography by Shannon Williams, the trifold presents a guide to popular murals and will be available at various locations around town.
Hale finds constant inspiration through the beauty of the world around him, and is looking forward to his next major project, a series called "Beloved Land" based on the Creek name for watersheds of the forks of the Oconee River. He continues to offer "Gratitude Designs," 10–12 illustrations a month that double as tattoo designs, through his Love Hawk Studio newsletter.
"I simply love birds; they speak to me and I listen to them," says Hale. "They fly close to the heavens and speak of the same. There is a reason that throughout our collective human experience they have been so heavily, and heavenly, depicted in our works of art. I hope my work inspires others to take a time to look and listen to these beautiful creatures."
Like what you just read? Support Flagpole by making a donation today. Every dollar you give helps fund our ongoing mission to provide Athens with quality, independent journalism.