Bringing in the summer season with an inspiring place to cool off, the Lyndon House Arts Center has been gracefully sweeping through various transitions lately. Most notably, the center's co-founder, Nancy Lukasiewicz, recently retired after 40 years of service, and Beth Sale, who previously worked as the director of art galleries for the University of North Georgia, has been hired as the new exhibitions curator. Outdoors, the majestic heritage willow oak tree, which has witnessed much of Athens' history, was removed after reaching the end of its life cycle and now lives on through various exhibitions and projects of Oneta Woodworks. Meanwhile, the Ware-Lyndon Formal Garden has been officially completed, and features four statues representing the muses as well as perennials and herbs reflecting local heritage. Of course, the Lyndon House also has a handful of new exhibitions, this time thematically centering around printmakers of Georgia.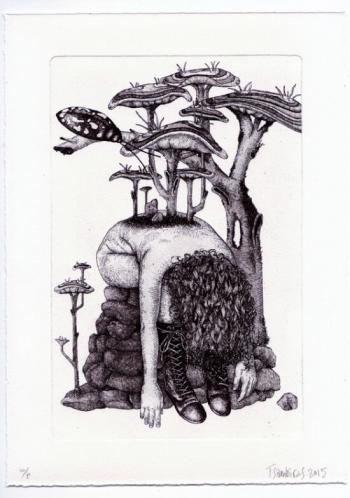 PUSHING THE PRESS: Highlighting contemporary art in Georgia, "Pushing the Press: Printmaking in the South" focuses on nine artists with distinct styles. Curated by Lyndon House program supervisor Didi Dunphy, the exhibition was organized in partnership with the Georgia Museum of Art, which assisted in logistics and lent several works. Its focus on printmaking is particularly complementary to the museum's "Paper in Profile: Mixografia and Taller de Gráfica Mexicana," an expansive survey of three-dimensional prints by 60 contemporary artists, which opens this Saturday.
Balancing techniques learned through still life and scientific illustration with influences drawn from art history and mass media, Curtis Bartone explores the relationship between humanity and the natural world. Inhabited with coexisting creatures like a bat, snake, great horned owl, ferret, Siamese cat and cows, his large-scale etchings investigate how the idea of wilderness has morphed from a pristine place to a mythologized world.
The intricate etchings of Joe Tsambiras seamlessly blend influences of surrealism and symbolism into bizarre narratives inspired by fairy tales, science fiction and fantasy. In "Fairy," a girl in laced-up boots lifelessly hunches over as a forest of mushrooms sprout from her back. In "Dream/Window," a sleeping girl reclines out of a frame, allowing her Rapunzel-like hair to extend downwards through the floor and ceiling, disappearing into the silhouette of a curled body.
Born in Daegu, South Korea, and currently based in Atlanta, Jiha Moon juxtaposes Eastern and Western imagery into her artwork to explore themes of "foreignness" and cultural pluralism. Her works often begin by employing the flowing brushstrokes of traditional Asian landscape painting, but then are imaginatively layered with everything from embroidery, emoticons and pop culture references. One such piece, printed on the shape of a Chinese take-out box combines a Lucky Cat and cranes with peaches and "Bless this House" hearts.
Melissa Harshman contributes a collection of chandelier-inspired works that include both real and printed crystals, while Kristen Casaletto prints etchings directly onto a three-dimensional clothing iron and canned ham. "Pushing the Press" also includes colorful screen prints influenced by graffiti and pop culture by Chadwick Tolley, monoprints repurposing leftovers of previous works by Jon Swindler, a pair of prints with undertones of deterioration by Tom Nakashima and 3D-printed nylon shapes in Plexiglas cubes by Ann Stewart.
MULTIPLE: Entering the main floor of the Lyndon House, you'll find the works of Arron Foster, Ry McCullough and Katherine Miller, three current or former graduate printmaking students at UGA's Lamar Dodd School of Art. "Multiple" presents contemporary works that apply digital influences to traditional printmaking techniques. Foster contributes a series of three-dimensional shapes on gridded paper alongside a video loop, while McCullough offers pixelated black-and-white images alongside a trio of images that transition from full-color to shades of gray.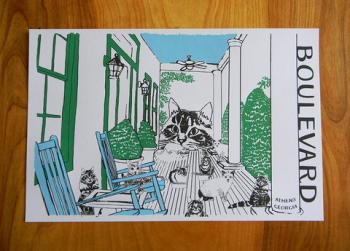 ATHENS NEIGHBORHOOD: Offering a hyperlocal focus on printmaking in Georgia, "Athens Neighborhood" is a series of screen prints designed by Prince Avenue studio Double Dutch Press. The selected districts include Boulevard, Cobbham, Chicopee-Dudley, Eastside, Five Points, Forest Heights, Newtown, Normaltown and Pulaski Heights. Each print aims to visually represent the charm of its hood; Forest Heights has a small herd of deer peeking out from behind a metallic dusted forest, while Cobbham's print is covered in yellow roses, orange sunflowers and purple wisteria to honor the location of America's first garden club, established in 1891. The exhibition also includes a peach-filled silhouette of the state and a landscape of the Classic City's most infamous invasive species, kudzu.
THERE AGAIN: Created between printmaker Jon Swindler and sculptor Michael McFalls, "There Again" combines pieces of previous collaborations with new elements into a large, site-specific installation. In the past, the two artists collaborated on "From Here to There," an experimental work made while McFalls was completing a Fulbright Fellowship at the University of Gothenburg. Blurring the lines between disciplines, UGA printmaking professor Swindler's collages of textural, irregular shapes became the backdrop to McFall's installation of bare, pale barked trees.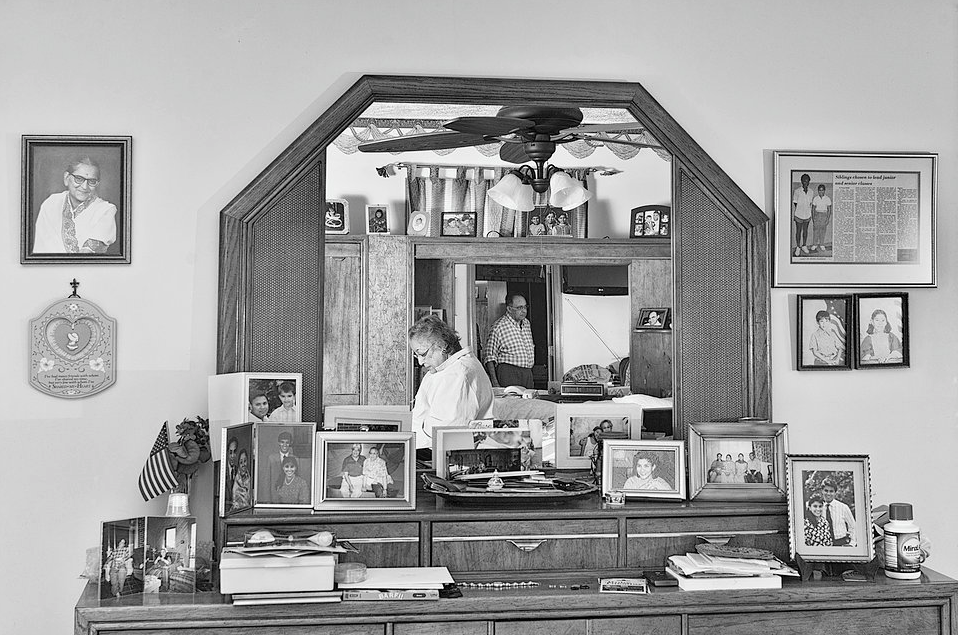 REFLECTIONS ON YUMA TRAIL: Dedicated to quarterly solo exhibitions by emerging artists, the Lounge Gallery is currently showing "Reflections on Yuma Trail," a photography series by Deepanjan Mukhopadhyay, a graduate student at Lamar Dodd who is originally from Kolkata, India. The black-and-white images document the artist's grand-aunt and grand-uncle as they prepare to move to a new residence after spending four decades in their home in Georgetown, KY. Each portrait is framed in a way such that the eyes are drawn to the faces hanging in frames on the walls and the material possessions that make a house feel like a home. The series is overall visually stunning in the way the couple is often captured indirectly through reflections in mirrors, alluding to all of the memories that will linger long after relocating.
An opening reception to welcome the new exhibitions will be held on Thursday, June 2 from 6–9 p.m., and "Reflections on Yuma Trail" will have its own closing reception coinciding with Third Thursday on Thursday, Aug. 18 from 6–8 p.m. With the exception of Mukhopadhyay's show, which remains on view through Saturday, Aug. 18, the last day to view the exhibitions will be Saturday, Aug. 6.
Like what you just read? Support Flagpole by making a donation today. Every dollar you give helps fund our ongoing mission to provide Athens with quality, independent journalism.