The galleries at UGA's Lamar Dodd School of Art will unveil four new exhibitions this week, pulling in the works of artists from across the country. An opening reception will be held Friday, Sept. 18 from 6–8 p.m., featuring music spun by DJ Yung Yang, portraits by Michael Lachowski's Foto Pixx, tacos from the Streets Cafe food truck and popsicles from Hip Pops.
ROLE MODELS: Both Monica Lewinsky and Brandi Chastain became the stars of scandals in 1999: Lewinsky for her relationship with President Bill Clinton, and Chastain for removing her jersey after scoring the winning penalty kick in the Women's World Cup. In their joint exhibition "Role Models," Dodd MFA candidate in photography Miranda Maynard and Chicago-based artist Phaedra Call materialize their adolescent fixations with Lewinsky and Chastain, respectively, with an installation of objects based on previous photo and video work. A pile of pink carnation bouquets beneath shadow boxes preserving a blue dress and a black sports bra—articles of clothing overemphasized through mass media coverage at the time—represents an altar-esque memorial, honoring the two women who were under the magnifying glass amidst a complicated national dialogue concerning gender performance and female sexuality.
"The Clinton-Lewinsky scandal broke when I was in middle school, and I think for a lot of kids like me it was this really, really bizarre thing where we hadn't even known that sex existed for all that long, and then all of a sudden sex was on the news," says Maynard. "In one way, it was particularly surreal, because the whole country started acting like middle schoolers, obsessing over others' sex acts (How far did they go?), obsessing over bodily fluids (the stained blue dress), obsessing over what does and does not count as sex and, of course, judging the shit out of women—both Monica and Hillary were derided constantly."
Located in the Bridge Gallery, "Role Models" will remain on view through Thursday, Oct. 8. Maynard will give a lunchtime gallery talk on Wednesday, Sept. 23 at 12 p.m.
SLAGFIELDS: Taking its name from the landscapes formed by steel companies depositing impurities skimmed from molten steel, "Slagfields" serves as a dumping ground for Dodd Printmaking and Book Arts MFA candidate Ry McCullough and Findlay, OH artist Ian Breidenbach. Ranging from photographs, sculpture, zines, prints, collage works, text, sound and video, the exhibition melts together portions of each artist's continued narrative works: "Verses 01-04," a section from McCullough's Days at Night, and "The Petrified Forest," a chapter from Breidenbach's Ann Commanding Infinity.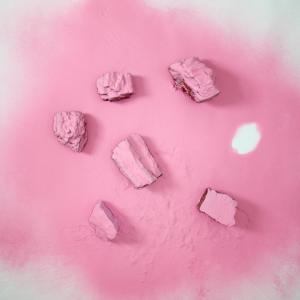 Whereas Breidenbach's works follow the journey of petrified wood—"from the initial unearthing of petrified wood by natural forces, to the illegal gathering within or lawful purchase of pieces in the nearby town of Holbrook, AZ, to their eventual gathering of dust as a piece of a collection," he says—McCullough's document the creation of a myth told through reclaimed materials and appropriated images removed from their original context.
"I believe that geological phenomenon, Situationist International texts and oral folk traditions are structures that have compelling relationships with landscape, time and ownership," says McCullough. "Depending on how you unpack each of those influential components, one could discover that they all contain elements of storytelling, evidence of experiences and essential cultural residue."
McCullough will offer a lunchtime gallery talk on Wednesday, Oct. 7 at 12 p.m., and the exhibition will remain on view in the Plaza & Suite Galleries through Thursday, Oct. 8.
STEP TWICE: Through an experimental darkroom process of creating photograms, L.A. artist Farrah Karapetian stages reenactments of human experiences or memories using sculptures, which serve as intervening "negatives" between photosensitive paper and a light source. To address issues of migration and water in "Step Twice," Karapetian welded a large steel sculpture based on a diagram used to build fishing boats, then asked students to pretend they were migrants traveling across the sea between Syria and Greece in order to create a five-panel photogram using the sculpture.
"My effort, though, is not to remain trapped in some literal parallel between my process in the dark with students and a distantly framed photograph of migrants; that would be a false premise for an artwork. It would presume that I know exactly what it is I want to represent, and it would entail trying to force a parallel on the students that they simply aren't going to achieve in that immediate moment," says Karapetian. "What I do want to represent is the struggle to be human, and part of that struggle is trying to understand our own and others' experiences. I want to take all of these associations and process them through physical action in the dark, where other senses fall away."
Karapetian will present a lecture in room S151 on Tuesday, Sept. 15 at 2 p.m., and her exhibition will remain on view in Gallery 101 through Friday, Nov. 6.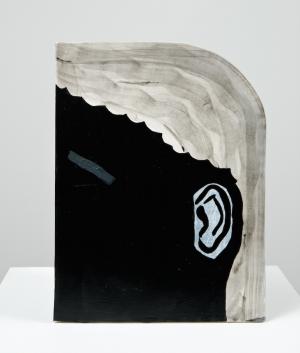 THE FIGURE 8: The works of New York artist Elizabeth Jaeger, Birmingham, AL artist Amy Pleasant and L.A. artist J. Parker Valentine explore the ambiguous relationship between the figurative body and abstract nature of form and color. Jaeger contributes a series of handmade, ombre-dyed ambulance stretchers, as well as a pink leather bean bag drooping against a museum bench, establishing a mood influenced by minimalism and mourning. The clay sculptures and mixed-media scenes by Pleasant provide silhouettes of faces, suggesting ambiguous interactions between figures. Two works by Valentine resemble stretched hides, employing an elaborate process involving a single manipulated negative, natural sunlight and UV-developed dye on silk.
"As I do with much of my work, I make images which likely can be perceived as several different things at once, or try to create a type of essence," says Valentine. "However, the imagery or object is specific to what it is as a sign, and not specifically a shoe or a horse or a table or a face, or whatever you might see within it. I like this play of possibility and pareidolia, and I think it creates a narrative of viewing."
The artists will give a gallery talk on Thursday, Sept. 17 at 6:30 p.m. as part of Third Thursday, and curator Katie Geha will lead a tour on Thursday, Oct. 15 at 6:30 p.m. The exhibition will remain on view in Gallery 307 through Friday, Nov. 6.
Like what you just read? Support Flagpole by making a donation today. Every dollar you give helps fund our ongoing mission to provide Athens with quality, independent journalism.