In less than a month, the streets and venues of downtown will swarm with musicians and club crawlers during AthFest, the beloved music and arts festival that contributes not only fun in the sun, but some serious funding for AthFest Educates. The nonprofit, which has awarded nearly $200,000 in grants since 2009, supports the advancement of music and arts education through programs organized by local schools, community organizations and government agencies.
This past winter, AthFest Educates announced its current wave of recipients, awarding a total of $15,000 in grants towards equipment and cultural programming. The 11 grantees are remarkably diverse, ranging from stop-motion animation workshops at the Lyndon House Arts Center, ukelele instruction at J.J. Harris Elementary and Whit Davis Elementary, and an arts-based nature exploration program at the Garnett Ridge Awesome Clubhouse at La Escuelita.
Another interesting project brings the ancient art of shadow puppetry to the Pinewoods Library—also known as Biblioteca y Centro Educativo de la Communidad de Pinewoods—which is located within a mobile home park predominantly populated by residents of Hispanic heritage. After a three-day workshop, children of the Pinewoods community gave a public performance, in which their handmade, cut-out characters were illuminated from behind a translucent screen.
"The library is an integral hub for not just the kids that go there after school, but for the entire community," says organizer Nicole Akstein, an artist and instructor at Lyndon House Arts Center. "When I saw the opportunity to apply for the AthFest grant last year, I immediately met with [Pinewoods Library branch manager] Aida [Quiñones] and asked her what kind of project the kids would like to see happen there."
Inspired by a shadow puppet show that the Athens-Clarke County Library performed last summer at Pinewoods, Akstein reached out to Children's Librarian Jonathan Dolce to collaborate on the proposal.
"Jonathan and I had both previously worked with Aida and the Pinewoods Library and felt a personal connection to the community. The kids do have an incredibly contagious energy, but perhaps it's also because Jonathan and I both have familial ties to Latin American culture and feel at home somehow," says Akstein. "We're also aware of the lack of resources the Pinewoods Library has had for arts programming and hoped that this project could spark an ongoing program—one that has been off to a good start so far."
During the three-day workshop, children were guided through constructing puppets and rehearsing lines for the public performance. The shadow puppets, which were cut from poster board, laminated and attached to bamboo sticks, are both highly affordable and easily storable in comparison to other incarnations of puppets—an important consideration given Pinewoods' limited resources and physical space.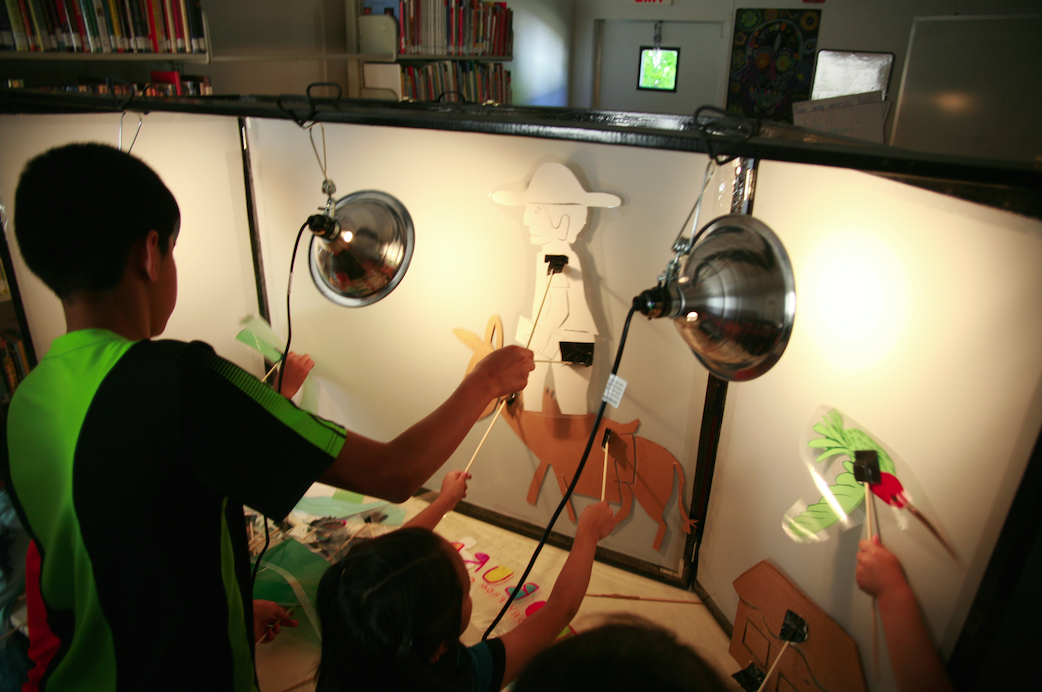 The performance "Cada Heroe Tiene Una Historia," which debuted at Pinewoods' celebration of El Día de los Niños, El Día de los Libros (Children's Day, Book Day) on Saturday, May 2, is comprised of three main storylines that relate to Hispanic heritage.
"We wanted to tie in literacy, thus we chose to bring two popular picture books to life, one of which, El Biblioburro, is based on a true story, and the other, Niño Wrestles the World, a Georgia Children's Book Award nominee," says Dolce. "The last portion was based on Aztec and Mayan iconography put to music, specifically Shakira's hit song, 'Ojos Asi.'"
Impressively, the shadow puppet show will be included in the Athens Regional Library System's summer reading program, modified so that it can be performed by two employees at each destination. Kicking off at Oglethorpe County Library on Tuesday, June 2 at 10:30 a.m., the bilingual adaptation will tour to 10 libraries and community centers over the course of five weeks. Visit athenslibrary.org for a schedule of shows.
OPEN HOUSE: If you missed WUGA's Artists in Residence tour of local architect Lori Bork Newcomer's personal home back in February, rejoice; three modern houses created by Bork Design, Inc., will swing open their doors this weekend. Modern Atlanta, a creative hub dedicated to cultivating and showcasing international design, will present the ninth annual Design is Human Atlanta, a weeklong series of architecture tours, talks, workshops, exhibitions and more during the first week of June. Though the bulk of events are centered in Atlanta, satellite tours will be extended to Asheville and Raleigh-Durham, NC, and Athens.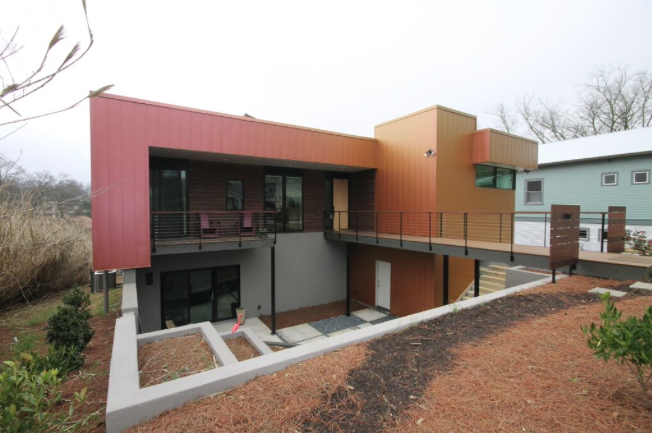 Carefully crafted with environmental responsibility in mind, Newcomer's homes vary stylistically but always incorporate sustainable designs by way of energy-efficient systems and locally sourced construction materials. MA's tour will visit a newly completed home on Autumnwood Avenue, as well as two Pulaski Heights spots—the Stroud and Ebell-Bierema residences—which were recipients of the 2014 Athens Heritage Award for "Outstanding New Construction in a Historic Neighborhood."
The tour will be held on Saturday, May 30 from 10 a.m.–4 p.m. Tickets are $10 and can be purchased in advance on ma-designishuman.com.
Like what you just read? Support Flagpole by making a donation today. Every dollar you give helps fund our ongoing mission to provide Athens with quality, independent journalism.