DROPS ADD UP: In a creative approach to water conservation, the Athens-Clarke County Stormwater Management Program and ACC Water Conservation Office will co-host their fifth annual Roll Out the Barrels, a silent auction featuring 20 rain barrels hand-painted by local artists. The barrels serve as eye-catching, functional pieces of art that simultaneously conserve water and beautify neighborhoods.
"In Athens, it makes sense to infuse environmental stewardship with art, and rain barrels are a particularly effective form of environmental stewardship," says Anna Truszczynski, education specialist for ACC Stormwater. "Rain barrels play an important role in reducing water pollution by capturing stormwater before it becomes runoff. By treating rainwater as a resource, ACC residents can conserve water by using this stored rainwater for landscaping, gardening and car washing, instead of drawing from city water."
Several of the artists on this year's roster have participated previously, including Cap Man, Christy Wooke, Jamie Calkin, Lily Swindle, Dan Smith, Lorenza Chico Rozier and Christina Ward. The project actively seeks ways to engage new audiences, however— an endeavor made evident by last year's incorporation of young artists from Athens Christian School, Athens Academy, Winterville Elementary, Chase Street Elementary and Clarke Middle School.
This year, at the suggestion of Andrew Lentini, who created last year's popular PBR-inspired "Athens Blue Ribbon Water" barrel, organizers extended invitations out to local tattoo studios and signed on Mike Groves, Kim Deakins and Matty Goldstein of Pain & Wonder Tattoo.
Organizers also reached out to local colleges' art departments, bringing in Alea Hurst, a recent UGA graduate with a BFA in painting and drawing, and Brittany Ranew, who has a BFA in sculpture and a master's in art education from UGA. Cindy Jamison, a student at Athens Tech, painted a mosaic owl, her school's mascot, perched beneath a full moon.
Proceeds from the auction support the Green School Program, an initiative that encourages environmental education in Athens-Clarke County schools by providing funding for field trips and resources for beautification projects such as community gardens. In addition to Roll Out the Barrels, ACC Stormwater hosts free workshops for attendees to build their own barrels throughout the year.
Barrels are currently on view at various locations around town, including the Bobby Snipes Water Resource Center, Hotel Indigo and the State Botanical Garden. Roll Out the Barrels' silent auction will be held on Wednesday, May 27 from 4–7:30 p.m. at Creature Comforts, and will feature appetizers from Last Resort Provisions and live music by the BorderHop Trio. Winning bids at last year's event ranged between $70–275, with barrels going home at an average of $120 a pop—a price comparable to basic barrels available at hardware stores. To view the lineup in advance, visit athensclarkecounty.com/6606/roll-out-the-barrels-2015.
IN FULL BLOOM: Founded in Athens in 1891, the Ladies' Garden Club was the first formal garden club established in America. As part of a five-year Southern Garden Series celebrating the club's 125th anniversary, the Lyndon House Arts Center is currently hosting "Summer," a floral-focused show showcasing works by signature artist Annie Laurie Dodd and members of the Athens Arts Association and Athens Area Porcelain Artists.
"Summer" is a garden of artwork exemplifying Georgia's most iconic flora. The focal point of the show is a watercolor painting of the Sunstruck rose by Dodd, who has also created a series of signed commemorative prints: a narcissus for winter, iris for spring, camelia for autumn and rose for summer. A portion of print sales will benefit the Founders Memorial Garden, Lyndon House and State Botanical Garden.
A closing reception for "Summer" will be held on Thursday, May 21 from 6–8 p.m., in conjunction with an opening reception for photography by MFA graduate Lucas Underwood. His exhibit, which will remain on view in the new Lounge Gallery through Saturday, Aug. 8, features snapshots of Georgia places and characters.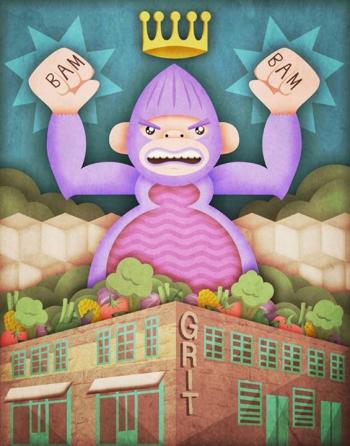 PACK YOUR BAGS: The Athens Institute for Contemporary Art's upcoming project, "Detour Thru Your Mind: An Illustrated People's History of Athens, GA" will combine the works of both visual artists and writers to create an impressionistic glimpse into what makes Athens such a distinct place. Focusing on notable faces, landmarks and legends, "Detour" will double as both exhibition and publication of artwork and literary musings.
Over two dozen artists and writers have contributed to the project, including photographer Jeremy Ayers, illustrator Matt Blanks, Broad Collective's Alex and Josh Brown, Elephant 6-er Jill Carnes, Athens, GA: Inside/Out producer Bill Cody, PhD candidate in comparative literature Jordan Rothacker and photographer Jason Thrasher.
An opening reception for "Detour Thru Your Mind" will be held on Saturday, May 23 from 6–8 p.m., and the exhibit will remain on view through Sunday, June 21. Copies of the publication will be available to purchase throughout the duration of the show, with proceeds benefiting ATHICA's programming.
Like what you just read? Support Flagpole by making a donation today. Every dollar you give helps fund our ongoing mission to provide Athens with quality, independent journalism.