You Better Shut Up and Listen: "Boxers and Backbeats: Tomata du Plenty and the West Coast Punk Scene," currently on display at the Georgia Museum of Art, presents boldly colored portraits of boxers and musicians painted by David Xavier Harrigan, aka Tomata du Plenty, one of the founders of the '70s punk scenes in Seattle and Los Angeles.
Best known for fronting acclaimed L.A. synth-punk band the Screamers, du Plenty had an uninhibited, manic stage presence, often appearing fearfully bewildered and panic-stricken one moment, fervently incensed or cooly controlled the next. His dramatic displays were strongly influenced by a background in performance art. As a 20-year-old, du Plenty visited San Francisco at the zenith of its Flower Power movement and became a member of the Cockettes, an influential, psychedelic drag queen troupe that helped usher in the modern gay liberation movement. After moving to Seattle in '69, he founded a similar counterculture performance group called Ze Whiz Kids.
As the story goes, du Plenty began painting after the Screamers disbanded, when he stumbled onto an old kit of paints and brushes in an alley off Hollywood Boulevard in 1982. Though he was self-taught as an artist, du Plenty's style was not uninformed; he served as an art critic during the late '80s-early '90s on a public-access cable show in L.A. called "What's Bubbling Underground?" and worked at the Art Center of South Florida in Miami Beach when he was creating this series in the mid-'90s. The DIY aesthetic and accessibility of punk rock carried over in many ways to du Plenty's artwork, valuing the execution of expression over any conventional appraisal of quality.
Graphic art played an essential role in developing the West Coast punk scene's visual aesthetic, and this exhibition is rounded out with prints and zines by additional artists. Raymond Pettibon made graphics for Black Flag and the Minutemen, Gary Panter created the Screamers logo, Winston Smith designed imagery for the Dead Kennedys, and Mark Vallen is known for making fanzines and album covers.
Elephant 6: "The…of E6," also on view at GMOA, is part of Athens Celebrates Elephant 6, a citywide, season-long series of exhibitions and events commemorating the recording company and music collective's cultural impact on the local scene. Founded in the early '90s by Ruston, LA, hometown friends Robert Schneider, Bill Doss, Will Hart and Jeff Mangum, Elephant 6 helped define a psychedelic pop revival and the indie rock scene in Athens, influencing over two decades of musicians.
Focused on visual arts, the exhibition presents pieces made by E6 performers as well as work by close artist friends and collaborators, demonstrating the synergetic spirit and expansive influence of the collective. Among the relics on view are pen and ink drawings by Mangum, photography by Amy Hairston, Polaroid portraits and drawings by Jill Carnes, illustrations by David Barnes and paintings by Terry Rowlett, Beth Sale, Lucy Calhoun, John d'Azzo, Andy Cherewick and Vernon J. Thornsberry.
Prior to the efforts undergone by Athens Celebrates Elephant 6 to gather and document the collective's visual art, the most widely recognized imagery associated with the label would likely be album artwork, and several original paintings that led to covers were tracked down for the show. Hart, whose beautifully vibrant, soft-edged Cubist paintings contribute a significant centerpiece to the show, designed the covers for Olivia Tremor Control's Black Foliage and Peel Sessions as well as Circulatory System's Signal Morning, Mosaics within Mosaics and an eponymous album. Additional album covers include Steve Keene's painting for The Apples in Stereo's Fun Trick Noisemaker, Joanna Vasa's painting for Elf Power's Creatures and Hannah Jones' paintings for The New Sound of Numbers' Liberty Seeds and Invisible Magnetic.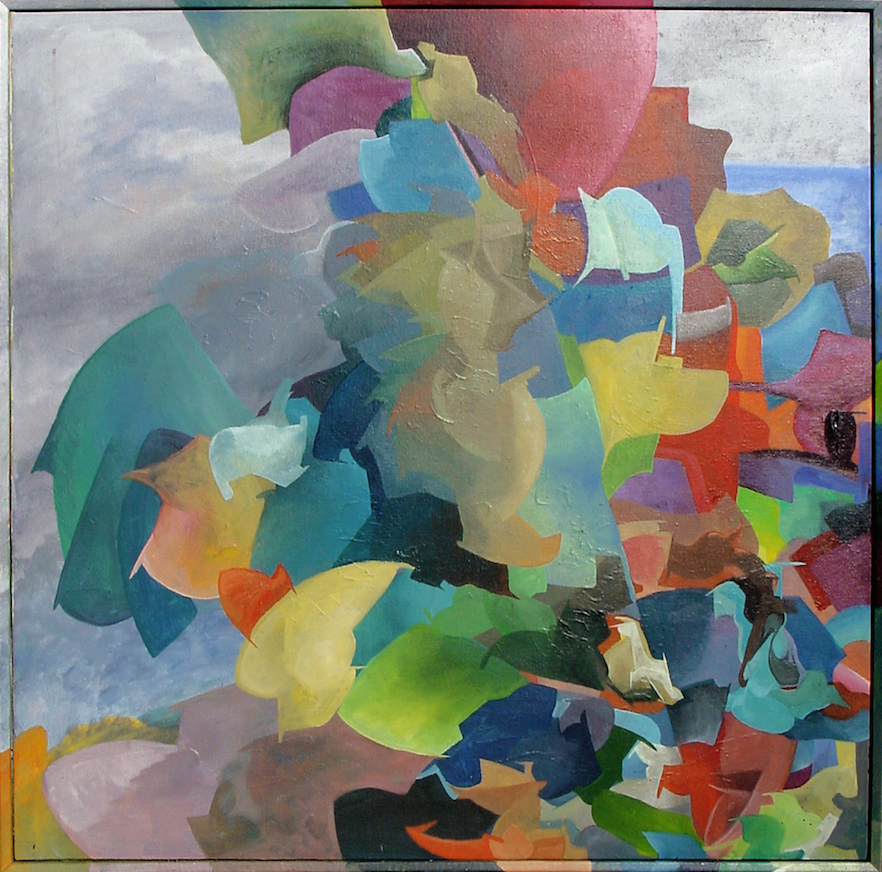 "Boxers and Backbeats" and "The…of E6"—both of which were curated by Lynn Boland—will be highlighted during Museum Mix, GMOA's thrice-yearly late-night art party, on Thursday, Oct. 16 from 8:30 p.m.–12 a.m. The free event includes full access to the galleries, complimentary snacks and music selected by four members of E6: Jamey Huggins, John Fernandes, Dottie Alexander and Bryan Poole. Museum Mix will follow Student Night, which will be held earlier in the evening from 6:30–8:30 p.m.
Additional events include Teen Studio: Art and Music on Thursday, Nov. 6 at 5:30 p.m. in which local artist and educator Hope Hilton will lead teens through creating their own music posters and album art. Later that evening at 7 p.m., the museum will screen The Past is a Grotesque Animal, a documentary that offers a candid portrait of Kevin Barnes, eccentric frontman of Athens-based group of Montreal, as part of its Music on Film Series. On Thursday, Nov. 20 at 7 p.m., the series will continue with Population: 1, a terrifically warped 1986 punk rock musical starring Tomata du Plenty as the sole survivor of a nuclear holocaust, with appearances by Carel Struycken (Giant on "Twin Peaks"), Penelope Houston of punk band The Avengers, a 12-year-old Beck and '50s horror icon Vampira. Both exhibits will be on display through Sunday, Jan. 4.
Like what you just read? Support Flagpole by making a donation today. Every dollar you give helps fund our ongoing mission to provide Athens with quality, independent journalism.