The flurry of student exit shows held at the UGA Lamar Dodd School of Art near the end of the semester are widely popular, yet the Dodd Galleries also host plenty of other exhibitions throughout the year. Four new shows which opened this past Friday—"Local Color," "Menagerie," "PhotoTopos1" and "Suspended Preservatives"—present the works of both established and emerging, as well as local and non-local artists.
Artist in Residence: During his monthlong residence at Lamar Dodd, visiting artist and Los Angeles-based sculptor Ry Rocklen submerged himself into developing ceramic works begun previously this year, as well as experimenting with new pieces that will inform future projects. His exhibition, "Local Color," presents scaled-down furniture constructed out of holographic and faux-marble trophies, as well as a collection of porcelain tiles made from textiles.
After folding, molding and casting his entire wardrobe in porcelain—creating texturally-detailed yet monochrome white replicas—Rocklen moved on to other everyday objects like monitor screens, flattened tin cans and slices of pizza. "The porcelain casts are meant to communicate a sense of stillness and infinite time," says Rocklen. "The objects are all super familiar, yet their material has been transformed."
Though ruined in the process, the items were essentially given permanent, albeit fragile, life—changing their function from utilitarian to a form of portraiture. "I hope the viewer is able to experience the object outside of its relationship to them in particular," says Rocklen. "To see clothes as things not worn, but adored or imagined."
Wild Weaving: In "Menagerie," UGA MFA candidate in textiles Zipporah Thompson presents an eclectic exploration of the metaphysical through the material world. Animal hide-like tapestries of thick wool hung beside delicate paper collages suggest contemplations on tribalism, heritage, race and the fragility of life.
"Recently, I've experienced a number of peculiar dreams and encounters involving certain animals," says Thompson. "Borrowing from the beliefs and folklore of my African and American Indian ancestors, I hope to make sense of my own personal dream world, meanwhile exploring ideas of the human psyche and unconscious. The works included are concerned with spirituality, ritual, death and the afterlife, human and animal relationships and primitivism."
Working within a wide range of organic materials and found objects like wool, fibers, animal bones, clay, handmade paper and wax, Thompson's work embodies a deep connectedness to nature.
"My strict upbringing was one in which free time was usually restricted to reading, playing outdoors at home or on our family land, and other quiet activities," says Thompson. "This environment caused me to simultaneously fall in love with the outdoors and with collecting things. I have been an avid collector, gatherer and forager since then."
A lunchtime talk with Thompson will be held on Thursday, Oct. 2 at 12 p.m.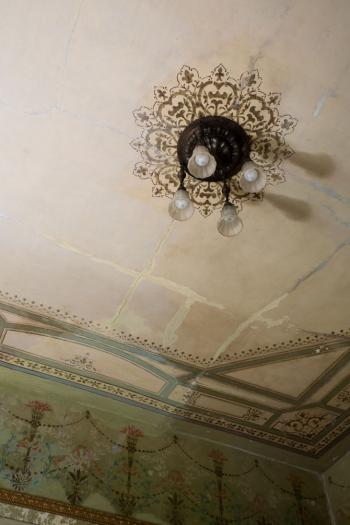 Place of Light: "PhotoTopos1," organized by Associate Professor of Art Asen Kirin, is the first edition of a new photography biennial for the school and contemplates ideas surrounding site and place. Through the work of three local artists—unpopulated interiors by Rinne Allen, an elaborate self-portrait consisting of images of cameras used over the past four decades by Michael Lachowski and happenstance portraits of randomly-encountered Athenians by Carl Martin—the exhibition deliberately fragments a sense of place into interiors, objects and figures. This invites viewers to consider the ways in which photographers can offer new perceptions of physical environments through the images they create.
Though Allen's series of interior spaces appear slightly lonesome in their stillness without the physical presence of inhabitants, they retain strong identity through their unique customizations and worn, lived-in appearance. She collaborates regularly with other artists—Beauty Everyday, a photo-a-day book created with Kristen Bach and Rebecca Wood was released last summer—and often documents the works of others through her photography.
"They are all spaces that I have used as backdrops for other creative projects, so they are almost like recurring characters in my work," says Allen. "I do not include many people in my work; instead, these interior spaces are my characters."
Kirin will lead Artists in Conversation on Wednesday, Sept. 24 at 6 p.m.
Material World: "Suspended Preservatives," a collaboration between UGA MFA candidate Jessica Machacek and University of Kansas MFA candidate Ella Weber, attempts to explore the presence of everyday objects through a collection of mixed-media sculptures and photography. The duo, who both received their BFAs from the Hixson-Lied College of Fine and Performing Arts at the University of Nebraska, reflects on themes of overconsumption and superficial realities by juxtaposing found and fabricated materials. A lunchtime talk with Machacek will be held on Wednesday, Sept. 17 at 12 p.m.
The Dodd Galleries are open to the public every Monday through Friday from 9 a.m.–5 p.m. The exhibitions will remain on view through Thursday, Oct. 9, after which another four exhibitions will go on display.
Like what you just read? Support Flagpole by making a donation today. Every dollar you give helps fund our ongoing mission to provide Athens with quality, independent journalism.